My Weekend in Manchester was amazing, and when I got to the Trafford Centre I thought I was back in America!! Very American style mall – even included a Krispy Kreme drive thru!
The Food Court was impressive, it was split by fast food & sit down restaurants. The Choice was endless. I had noticed that Chow Street Kitchen and Pizza Hut were under construction.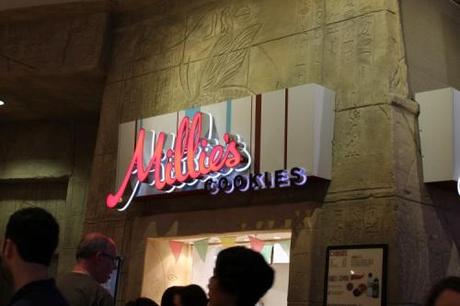 Good Ol' mall favorite Millies Cookies – actually I think there was about 3-4 of dotted around the shopping center.spent the last 25 years perfecting the way we bake. And if you've tasted one of our fresh from the oven cookies or melt in the mouth muffins recently then we think you'll agree we've got pretty good at it.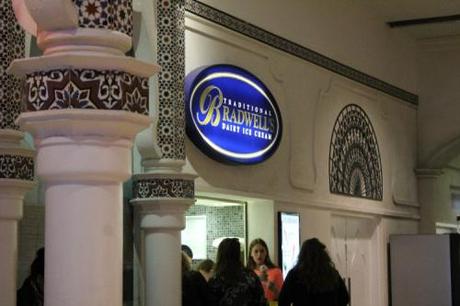 I think Bradwells Ice cream parlour must have also had an exclusively deal as there must have been about 3-4 Bradwells ice cream places planted around the shopping center.Bradwell's Diary Ice Cream has been lovingly made in the little village of Bradwell in the Peak District, Derbyshire for over 100 years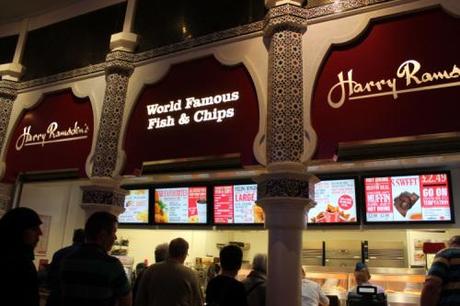 Fast food Harry Ramden's World Famous Fish & Chips for the English food fix ( My Husband had what seemed to be a massive portion of fish and chips!)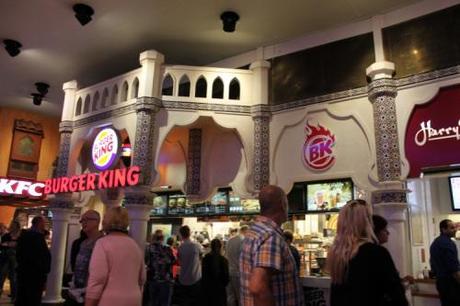 Fast food king – Burger King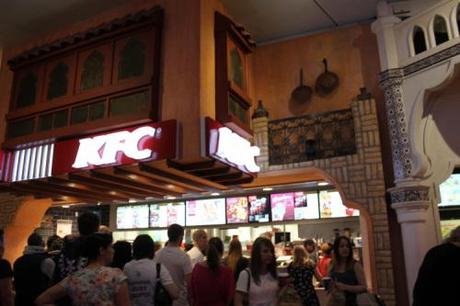 The other fast food local KFC – Whether you're feeding the family, looking for a tasty treat or fancy something quick, you'll find it on the menu. It's finger lickin' good!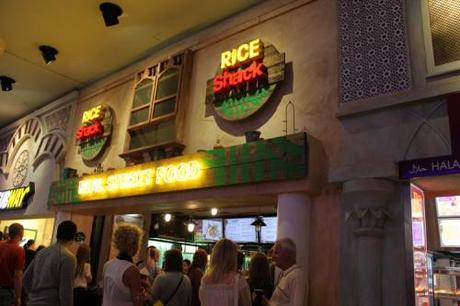 Caribbean flare with Rice Shack. Tuck into some real street food at Rice Shack with some exciting tastebud tinglers from across the globe including Chinese Bang Bang Chicken, Jamaican Jerk Chicken and Australian BBQ Lamb Ribs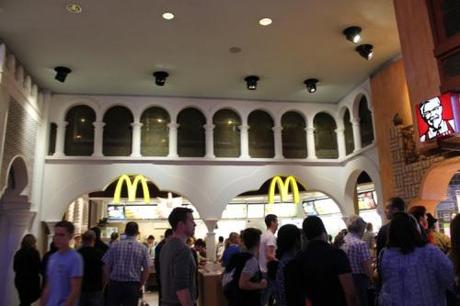 Classic Golden Arches! McDonald's have seen plenty of change in recent years. They now offer more choice than ever with Snack Wraps, premium salads, premium coffee and tasty sweet snacks.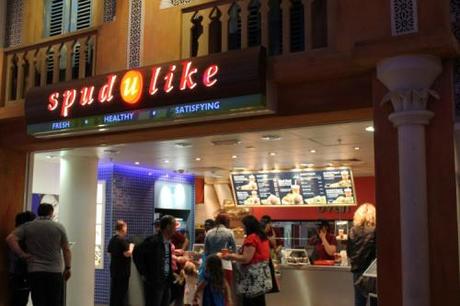 Jacket potato heaven – Spud U Like (Fresh and healthy food to satisfy every taste and budget)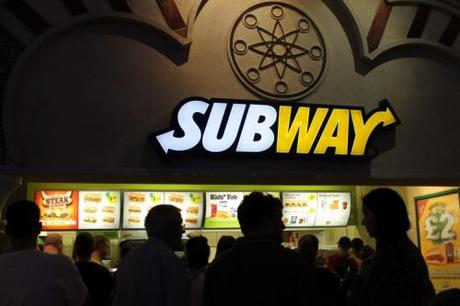 Subway (My kids had a sandwich and salad)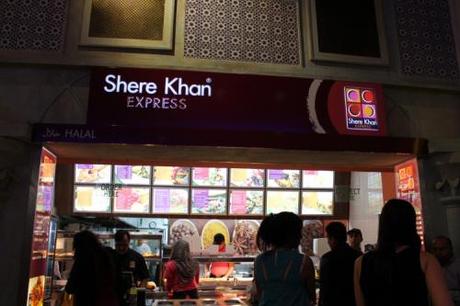 Shere Khan Express Indian style grub (Delicious classic curries on the go)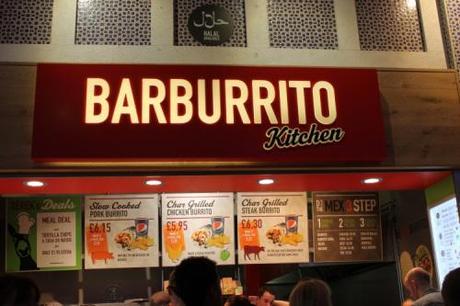 Mexican Barburrito Kitchen (Barburrito serves fast, healthy Mexican street food. You choose exactly what you want and how you want it, and let them make it while you watch. Let them build your perfect burrito, nachos, tacos or salad. Every one of the dishes is made fresh, right in front of you) This is what I had – a Naked Burrito Bowl with veggies and was scrummy!
These above were all the fast food style food court, where everyone can have something different but all eat together with lots of seating.
So next we have the sit down restaurant choices: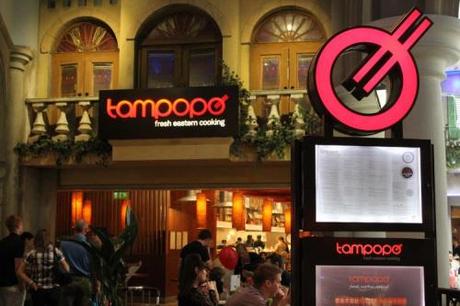 Tampopo – Tampopo in The Orient to experience the authentic tastes of Thailand, Vietnam, Malaysia and Singapore, Indonesia, Philippines, Japan and Korea through healthy, high-quality food at value-for-money prices with quick, friendly service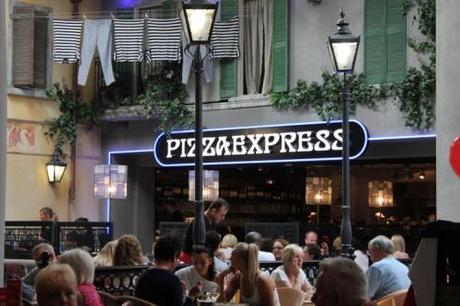 Pizza Express – Over 40 years, the passion for pizza hasn't wavered. Now featuring the Leggera range of lighter pizzas – we've removed the center of the dough and put a fresh salad back in its place.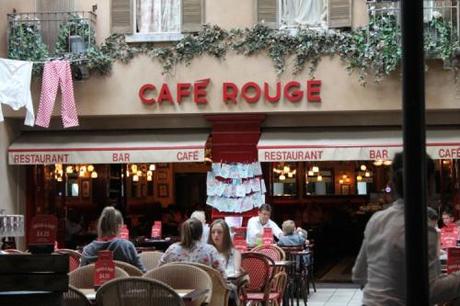 Cafe Rouge – A taste of France with delicious bistro cuisine including steak frites, moules marinières, bouef bourguignon and sumptuous desserts. Ooh la la!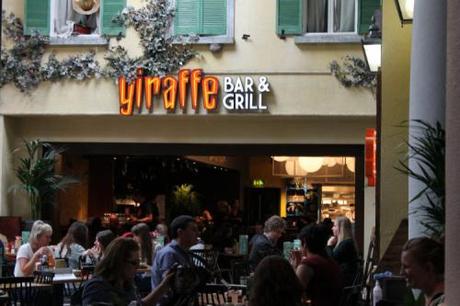 The giraffe concept is simple. It's about freshly cooked, global food, great people and music guaranteed to make you feel good!
The menu – inspired by the best flavours from around the world – includes must-have brunches, stacked high burgers, fresh salads, steak & grills together with hand roasted coffee, healthy smoothies and a selection of cocktails, beers and global wines.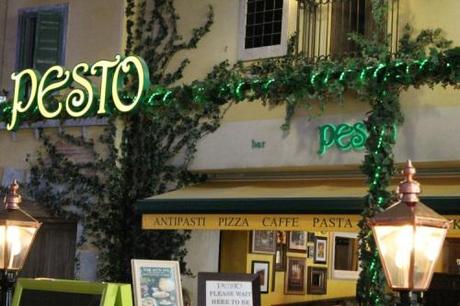 Pesto offers a range of original, fresh Italian piattini in a relaxed and comfortable environment, perfect for parties, working lunches or family outings.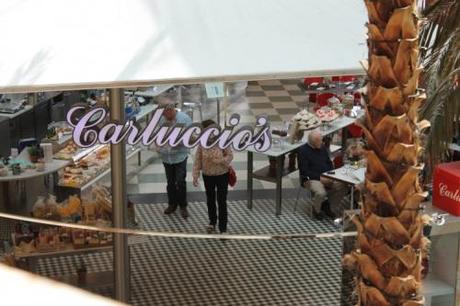 Carluccio's is a lively and friendly café/restaurant where you can enjoy a freshly cooked Italian style breakfast, lunch or dinner and children are welcome too with a well-priced menu just for the little ones.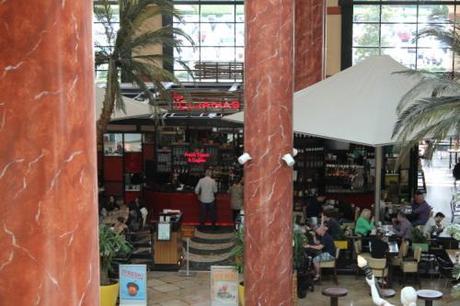 Las Iguanas is all about escape. It's about getting away, and discovering a place more vibrant, more fun, more energetic and altogether more Latin. It's about Living Latin Life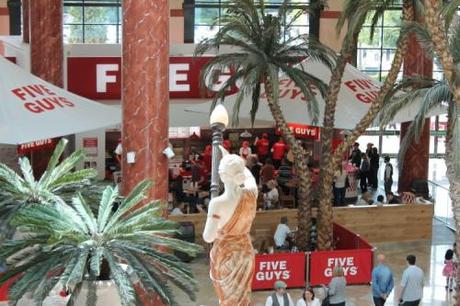 Five Guys – has been a Washington, DC area favorite since 1986 and boasts none other than Barack Obama as a fan. Under the guidance of Jerry and Janie Murrell the family served only hand-formed burgers cooked to perfection on a grill along with fresh-cut fries cooked in pure peanut oil. The little burger joint quickly developed a cult-like following and Five Guys became the place to get a fresh, juicy burger with all the toppings you could stuff between fresh-baked buns.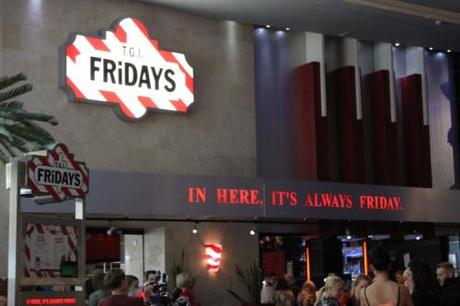 TGI Friday's – the American bar and restaurant expert. The restaurant gives shoppers a real taste of America. With its extensive menu and lively bar atmosphere, it's the perfect combination for a great time out.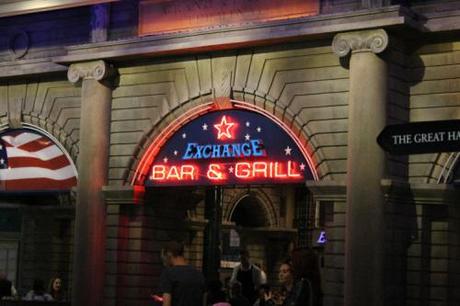 Exchange Bar & Grill – All American style diner offering a mouthwatering array of steaks, ribs, chicken and much more.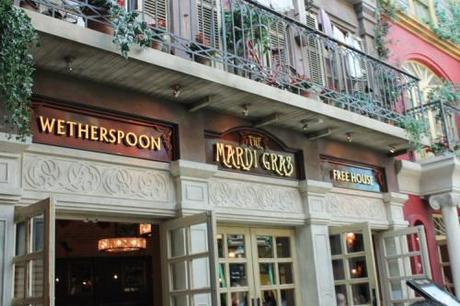 New Orleans Pub – Traditional pub fare serving everything from delicious breakfasts through to classic steaks and grills.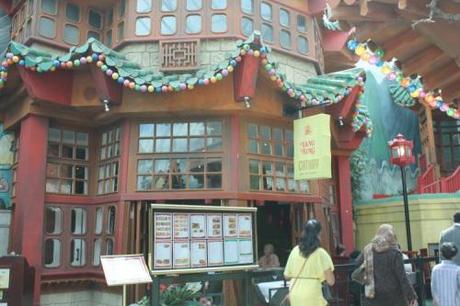 Yang Sing Cathay – the highly acclaimed Yang Sing sets the standard both within Manchester and beyond as a Cantonese restaurant of the highest quality.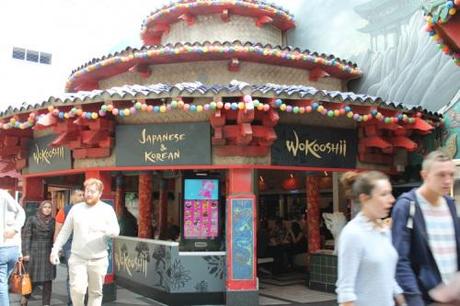 Wokooshii – Delicious Korean and Japanese food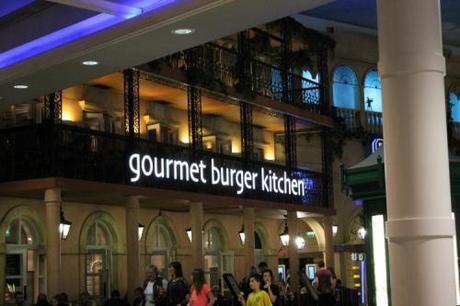 Gourmet Burger Kitchen is all about the burger. They use the freshest ingredients and create classic and innovative taste combinations to make the 'best burgers in town'.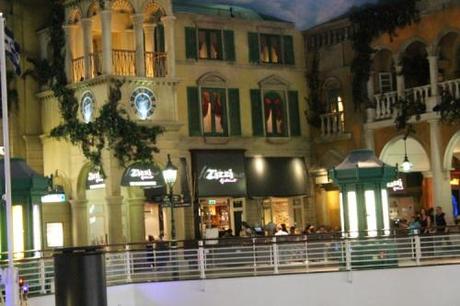 Zizzi love simple Italian cookery – there's nothing tricksy about it – pizza, pasta, salads, risotto, carne, pesce (that's meat and fish). It starts with the ingredients – fresh, in season and well prepared.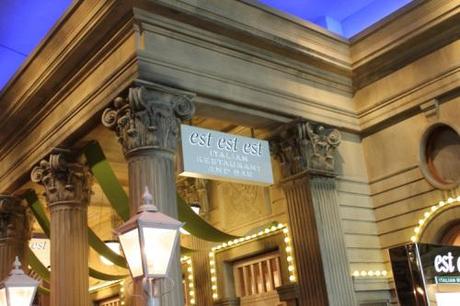 Est Est Est Italian restaurant and Bar welcomes you for authentic Italian food and drinks throughout the day, including morning coffee, breakfast, pizza, pasta, specialities, beers and wines.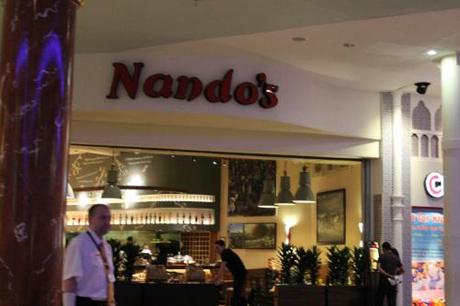 Nandos – Our specialty is succulent, Portuguese, flame-grilled PERi-PERi chicken guaranteed to spice up your taste buds and served in a warm, fun and vibrant atmosphere.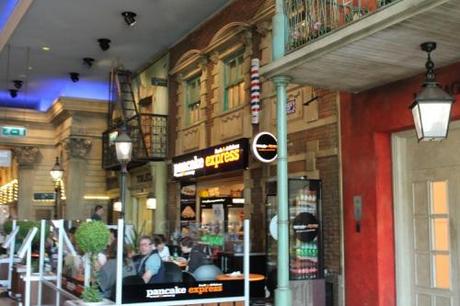 Pancake Express – Every day is pancake day! From simple sugar and lemon to Death by Chocolate and savoury pancakes too!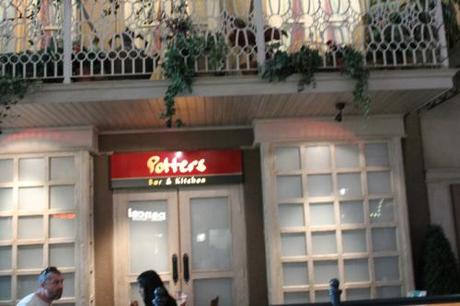 Potters Bar & Kitchen is all about serving great food in relaxing and comfortable surroundings. We have something for the whole family with our menu of timeless British food as well as a fantastic kids' menu.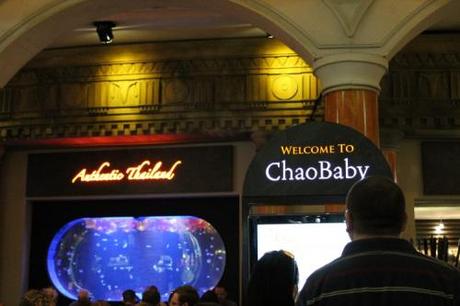 Chaobaby is a Thai banquet style experience replicating Thailand's street market culture with all of its theatre, sights and sounds. The restaurant offers a wonderful array of authentic Thai dishes featuring classics from different regions of Thailand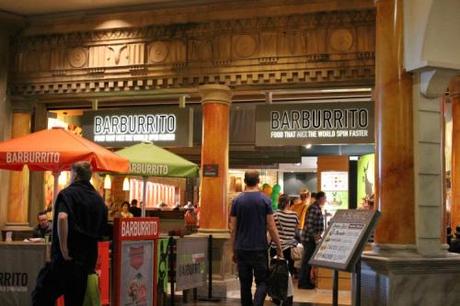 Mexican Barburrito Kitchen – Barburrito serves fast, healthy Mexican street food. You choose exactly what you want and how you want it, and let them make it while you watch. Let them build your perfect burrito, nachos, tacos or salad. Every one of the dishes is made fresh, right in front of you.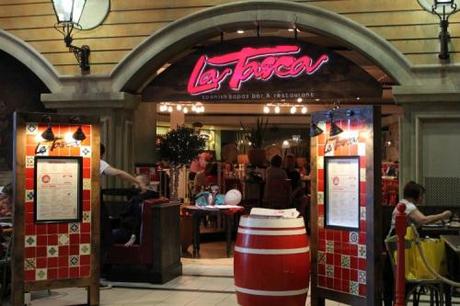 La Tasca – Spanish food thrives on the freshest, quality ingredients. Authentic paellas, cooked in traditional style in a classic paella pan, are a great way to enjoy the taste of Spain! Fragrant 'jamón serrano' (cured dry ham) from the cool Spanish mountains and rich creamy 'Manchego' cheese from La Mancha (land of the windmills) are just some highlights.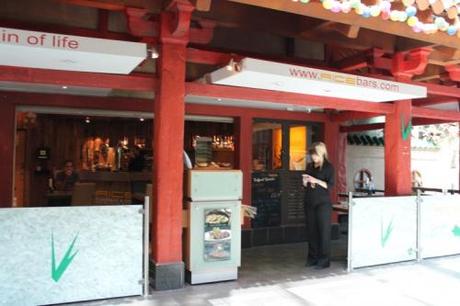 Rice Flamebar & Grill – The mission of RICE is to bring the most flavoursome culinary tastes from all corners of the world to your palate, creating a unique and healthy dining experience. Dishes range from Jamaican jerk chicken to the exotic Thai red curry combined with a choice of rice or rice noodles including Indonesian coconut rice, hopping john rice and Thai sticky noodles.
I must have missed 2 that I wasnt able to take a photo of:
Frankie &Bennys New York Italian American fare including F&Bulous burgers, freshly cooked pasta, succulent steaks and BBQ ribs, light and crispy pizzas andmuch much more.Badabing!Saffron – New to intu Trafford Centre, the multi award-winning SAFFRAN offers amazing meals at amazing value. All made from natural ingredients, with tastes inspired from European and Mediterranean cultures, mixed with traditions from the Middle East.