Imagine descending a spiral staircase built with materials of the earth, a vast valley of vineyards as far as you can see. You continue to spin down the steps, like wine through an aerator, knowing that the decanter below holds one of the most elaborate cellars of the modern age. This is the new
Cantina Antinori
in Tuscany--a wine museum, auditorium, cellar, tasting room and restaurant in one. Basically, wine heaven.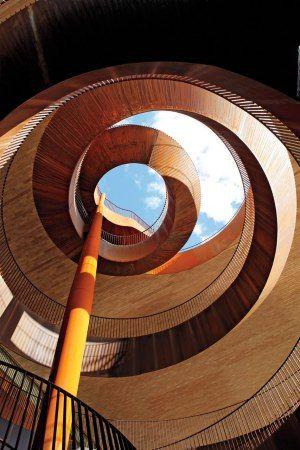 Condé Naste Traveler
I love wine (in case you didn't know already), and I also love Italy. So, naturally, this has been added to my list of places to visit. I've been to Tuscany a few times, but this new winery only opened a year ago, giving me one more reason to go back.
The Antinori Family has been harvesting grapes and creating wine in Tuscany for centuries, but this
new structure
shows just how innovative they are as they look toward the future of viniculture and wine education. Designed by acclaimed architecture firm Archea, the cantilevered headquarters pay homage to the region of Chianti Classico and blends harmoniously into the landscape around it. It is made with local materials and has a minimal impact on the environment.
The design is not only beautiful, but functional. The cellars in which the wines are produced and stored were conceived to allow the grapes and natural materials to be moved with gravity, meaning there is no use for mechanical pumping, which results in a more natural process and a more balanced, elegant wine.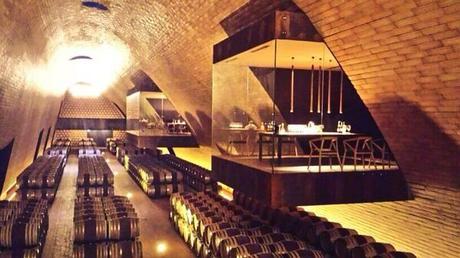 Antinori Cellars
The museum
is a showcase of the Antinori Family's history alongside contemporary works of art. The artwork comes from three international artists: Yona Friedman, Rosa Barba and Jean-Baptiste Decavèle. All the items relate to themes like landscape, memory and territory. The Auditorium is a wood-panelled room where visitors can watch videos, short films and documentaries on the family, its estates and, of course, its wine.
The restaurant, which serves as a nice end point to a visit, sits on the roof of the cellars, providing sweeping views of the rolling hillside. Rinuccio 1180 offers visitors perfectly matched food and wine, with dishes that highlight the Tuscan countryside.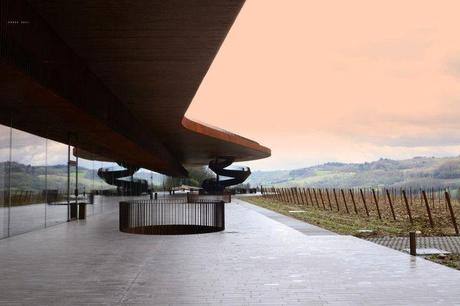 Cantina Antinori Source: Antinori Facebook page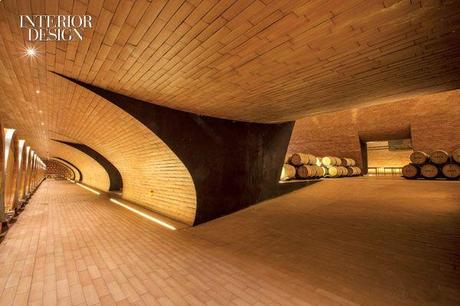 The winery is certainly impressive and I cannot wait to make a trip back to Italy, head straight to Bargino (20 minutes outside Florence) and start exploring (and tasting) the fresh yet classic concepts developed at this advanced winery.