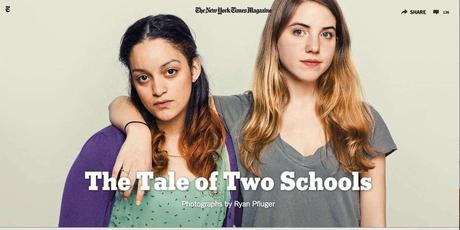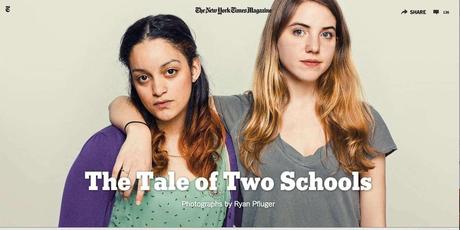 On the surface, there is nothing in this piece from The New York Times, titled  The Tale of Two Schools, that could be described as new and/or innovative.
However, on closer look, what this piece does is to capitalize on text and photos, two reliable tools of storytellers for decades, not to mention that the story itself engages us from the start: 

Fieldston and University Heights are in the same borough but worlds apart. How much understanding between their students can a well-told story bring?

University Heights High School is on St. Anns Avenue in the South Bronx, which is part of the poorest congressional district in America, according to the Census Bureau. Six miles away is the Ethical Culture Fieldston School, with its arched stone entrance and celebrities' children and $43,000-a-year tuition. Eight years ago, as part of a program called Classroom Connections, students from the schools began exchanging letters, which eventually led to a small group from University Heights visiting Fieldston for a day. "At the time in our school, these were tough street kids," said Lisa Greenbaum, who has been teaching English literature at University Heights for 10 years. "They walked into Fieldston, and they were just overwhelmed. They couldn't imagine that this was just minutes from where they lived, and they never even knew about it. One kid ran crying off campus. It made them so disheartened about their own circumstances."
Just as one student from each school was paired with another student from the other school across town, in the story the pairs are photographed together, with only a brief description with their name, school, age and grade.  No need for anything in the caption.  The photo suffices to tell us thes tory.
The photos appeared dispersed as "interruptions" throughout the text. There is no video. There is no sound. Only a well written and reported story and magnificent portraits.
The Tale of Two Schools is also a tale of storytelling at its best, utilizing simple well tested tools that never fail to work successfully.
TheMarioBlog post #1483
Please enable JavaScript to view the
comments powered by Disqus.
comments powered by

Disqus