David%20Fowler%20/%20Shutterstock.com">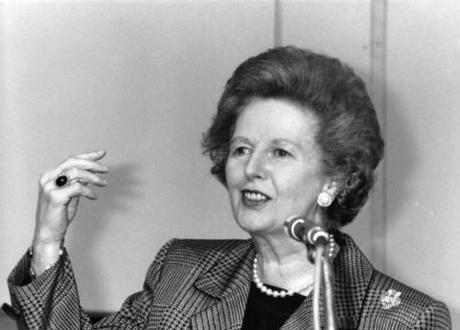 Margaret Thatcher broke the unions. Photocredit: David Fowler / Shutterstock
The background
The Trades Union Congress is going on in Brighton this week. T-shirts celebrating the death of Margaret Thatcher were put on sale, bearing the slogan: "A generation of trade unionists will dance on Thatcher's grave."  Trades union membership is at its lower level since the 1940s. Trade unionists blame Margaret Thatcher for the erosion of workers' rights in the 1980s, and for the decline of industry. However, her supporters argue that she rejuvenated the economy by bringing in free market reforms.
So what's the big deal? Commentators say that trade unions are important; but that the T-shirts are sickening.
Trade unions not strong enough
Nothing, said Seumas Milne in The Guardian, puts the press "into paroxysms of abuse and class contempt as workers having the gall to withdraw their own labor." Surely pay freezes, pay cuts, attacks on pensions and the loss of jobs "would be a reasonable basis for an undustrial dispute." These cuts are "part of an austerity programme opposed by most of the population," and aren't even reviving the economy. Yet unions are labelled as boneheaded. The real problem with our economy is that the unions are "far too weak." In fact, unions are even "popular," as are the strikes – last year's public service strikes were backed by nearly 80 percent of young people. Unions, said Mark Steel in The Independent, are for "seemingly powerless people" to "stick together" so they can make an "impact," and "defend themselves against the powerful." They need to learn how to be powerful.
T-shirts beneath contempt
Baroness Thatcher, said The Express, was right about the unions. Those who wish her death "are still beneath contempt. The trades union movement should be deeply ashamed of them."
Don't get angry about the T-shirts
Rowan Pelling in The Telegraph took a more lighthearted view – she said slogan T shirts were "naffer than covering your loo roll with a crinoline-skirted dolly." Remember Katherine Hamnett wearing a political T-shirt when she met Thatcher? Thatcher would have been "unflappable" had she met the makers of the T-shirt. We shouldn't be angry about it, though – that's what they want.
Tories should be sympathetic to unions
The conservatives, said Chris Dillow on Liberal Conspiracy, should like trade unionists. They're examples of "non-statist self-reliance," after all. So if you want "less state intervention and stronger growth," you should be "sympathetic towards unions. So, why aren't Tories mourning their decline? I mean, it's not as if they just blindly hate the working class, is it?"