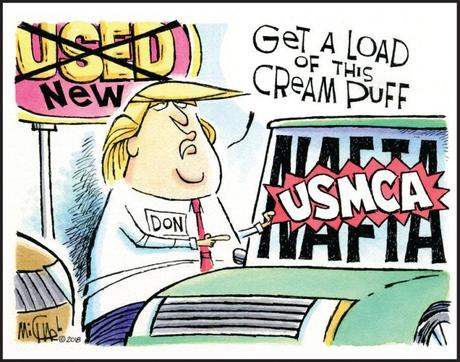 We might have another trade deal!
Yeah, that's right, I'm going to pretend to be excited about signing the US-Mexico-Canada trade deal and I'm going to pretend it's not just NAFTA with a different name and I'm going to pretend that deal wasn't supposedly all set 18 months ago and is only finally being ratified by Congress in a meaningless gesture that changes nothing.  Of course, it's not ACTUALLY being ratified but – PROGRESS IS BEING MADE – so the market is, of course higher.
Meanwhile, back in the real World, China's Ministry of Commerce says "external rumors" about the trade talks are not accurate and that the "so called" phase-one agreement may not be completed until next year as Beijing presses for greater reductions in tariffs and the Trump Administration pushes back with its own demands.  Trump has, so far, been sticking to his threat that tariffs will INCREASE on Dec 15th – it's very hard to imagine any deal getting done if that happens, as it would then look like China is breaking under Trump's tariff pressure and China would rather walk away than look weak.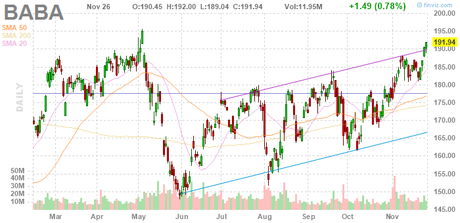 At least Alibaba (BABA) is having a good day, raising $11.2Bn in Hong Kong despite stores being shuttered and the streets smokey with tear gas.  BABA stock popped 6.5% this morning as they raised money on that exchange though that was already anticipated in a weeklong run on their Nasdaq proxy (BABA) – so don't expect the same over here as it came in right around their original HK target of $24, which they then lowered, so they could beat it.
Alibaba's share sale was the largest offering of any kind in Hong Kong since 2010. The money raised by Alibaba will be added to the company's cash pile, which is now $43 Billion – enough to buy M, JWN, KSS, BBY, BBBY, LB AND HBI – if they ever want to escape Hong Kong's Democracy and come to America…  
China's banking sector grew riskier over the last year, with about 13% of the nation's 4,379 banks and other financial firms considered "high risk" by the central bank.  Over in Japan, The IMF called on Japan's government and central bank to cooperate more in support of the economy, Germany's economy looks to be carrying slightly more momentum, writes Jamie Rush, suggesting the growth outlook is now a little brighter and Prime Minister Boris Johnson's manifesto has left a question mark over the size of the fiscal boost, suggesting a rate cut being the Bank of England's next move is more likely.  
So the World is still a very uncertain mess but, thankfully, we have a "very stable genius" overseeing our corner of it.  I resolve to be more bullish, hopefully, in the new year but, for now, I will enjoy my CASH!!! into the holidays.
Do you know someone who would benefit from this information? We can send your friend a strictly confidential, one-time email telling them about this information. Your privacy and your friend's privacy is your business... no spam!
Click here and tell a friend!