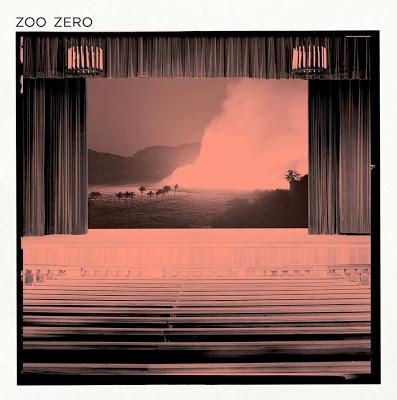 Zoo Zero are an exciting London-based band who are releasing their brilliant self-titled debut album today (September 30) via their own Crest Cont Recordings label. Available as a digital download and as a heavyweight white vinyl, the four-piece's 32 minute debut combines their "avant-rock" sound with thrilling melody. According to the press release, "'Zoo Zero' finds the band exploring their more experimental influences – including Sonic Youth, Mission Of Burma and This Heat – while journeying further into the nocturnal psychedelic pop of Julian Cope, Robyn Hitchcock, MGMT, XTC and Deerhunter..."
"I guess we're interested in music where noise and weirdness clashes with melody," says singer/guitarist Tom Pinnock. "It's way too easy to make some avant-garde, instrumental record – it's harder to combine the unexpected with actual songs."
The opening 'Fraktion' confirms their arrival by whipping up a storm, as a pacy almost motorik beat brings a heavy element of krautrock into the picture, and the tense vocals highlight a somewhat manic quality. The guitars are also key elements; one second they're ringing out harmoniously, the next they're urgently tearing into furious riffs, and by the end they're growling, squealing and crackling in amongst a howl of feedback. The bass pounds away at a single note for long periods of time, making for a greater impact when it lifts off for the song's infectious instrumental hook. This awesome track is also available as a free download HERE, so get yourself a freebie and then treat yourself to the album...
https://www.facebook.com/zoozerouk‎
http://zoozero.bandcamp.com/
https://twitter.com/zoozero
zoozero.tumblr.com/