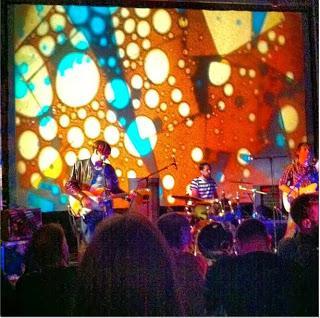 The brilliant return of Suede was one of the things that highlighted ex member Bernard Butler's absence from the world of music. Listening to his excellent 1998 album 'People Move On' recently was another thing that made me wish this man would return with some new material. So I was rather pleased to hear that he is back with a new group, although it's very different to Butler's solo work that's for sure. 
Trans is a duo made up of Butler and 
Jackie McKeown (of The Yummy Fur and The 1990s), and they make for a rather interesting proposition. The music is described as "a cross between Can and Television, a freeform guitar-sparring extension along the path trodden by Quicksilver Messenger Service. Two era-defining guitarists, free from restrictions, undertaking new sonic explorations, this is a project of pure, glorious artistic impulse." Taking their lead from Klaus Dinger's "apache beat" and featuring lovely helpings of intricate guitar, here is a song called 'Jubilee', which doesn't appear to be on their upcoming debut album, out on October 7. Although I'm told that it is in fact an EP, the tracklisting confirms 15 titles. More info HERE.
https://www.facebook.com/transrecordingsofficial
http://www.transrecordings.com/