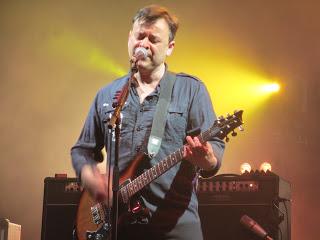 Continuing our look at tracks from 2018's best albums, here's the mighty Manic Street Preachers with one of the many highlights from 13th LP 'Resistance Is Futile'. Recalling the intense power of their early work, this driving heatseeker of a track delivers a classic Manics chorus.
After a four year absence, the Welsh legends returned earlier this year stronger, wiser and more versatile than ever. Longterms fans like myself have stayed faithful to the band since the 90s, but 'Resistance Is Futile' finally delivers that long-awaited "return to form" that the devoted have hoped for throughout the last decade or so. While every one of their albums have their moments, I would be rather in-denial to claim that the Manics have been operating at 100% over the last 20 years.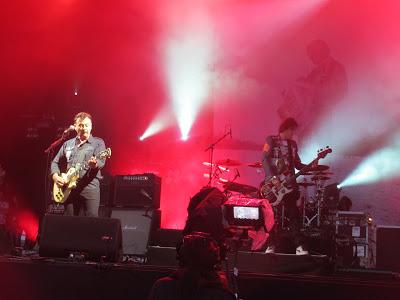 While the 90s bought acclaim and huge commercial success, it was followed in the early 2000s with some relatively challenging records which signalled a desire to change direction. After the public didn't warm to 'Know Your Enemy' or the brilliant 'Lifeblood', the group made an attempt to revert back to their big, anthemic rock sound in the late 2000s. As the whole music world changed around them, 2010's "last shot at mass communication" 'Postcards From A Young Man' failed to produce the huge hit singles the band were hoping for. Defeated, they would reconvene to work on the low key 'Rewind The Film', which would address and mark the end of their youth, and the reinvigorating 'Futurology', where the Manics seemed to be rebuilding their sound and discovering new possibilities. In the years since that 2014 album, the group have marked the 20th anniversaries of 'The Holy Bible' and 'Everything Must Go'. When people are still listening to your music after 20 years, you reach a new status; that of a legend.
'Resistance Is Futile' seems to be the beginning of a new era, and sees the band emerge from the other side of a long transitional period. Right from the first track, that air of confidence is back, along with the big choruses. But the sounds, rhythms and sideways departures of the last two albums are present too. They have finally found the right balance of interesting sounds and solid songwriting. And although it sees the return of the prime quality Manics of old, lyrically and characteristically it's unmistakably 2018, addressing the madness of the present day and making sense of their place in the world today.
'Resistance Is Futile' was picked as one of RW/FF's Albums Of The Year 2018. Read the full list HERE.