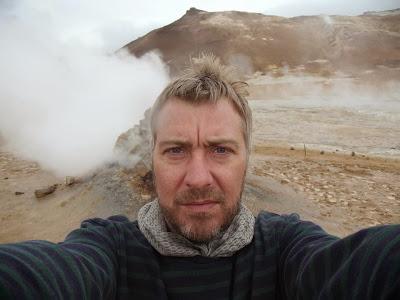 Although some claimed it was a bad time for music, I really enjoyed the post-Britpop years of the late 90's. One if the finest bands to emerge from those times was Manchester's Doves. They were also one of the few indie bands to carry on making great music in the 2000's, in fact without their four albums the decade would have been a lot worse. After releasing a 'best of' collection four years ago the trio have been on an extended hiatus. But this has given frontman Jimi Goodwin the opportunity to make a solo record, which will be coming in March of this year. 'Odludek' was co-produced by Jimi and Dan Austin (Doves, Pixies, Cherry Ghost), and is set for release on Monday 24 March 2014 through Heavenly Recordings. 

'Odludek' is a Polish word, meaning "recluse". Goodwin spoke about the LP: "I wanted to make this mad mixtape, the kind you'd pass back and forth with your mates. That's the way we've all discovered music over the years isn't it? We join our own dots to make it all make sense.
"As I got into making the record, it felt like I was proving something to myself, making a point that I could do all this on my own. You know - I can play bass, I can play guitar, I can orchestrate. As the methods changed, the original concept stayed intact. It's me, powering through ideas, kapow kapow, no pause for breath. It's not trying to be wilfully eclectic; it's just a reflection of how I schizophrenically devour music." On 'Oh! Whiskey', his voice is emotive, authorative and wonderful throughout, as hints of Dylan and Springsteen join with that distinctive Northern melancholy that Goodwin does so well. He will support Elbow on a series of arena gigs in April, including Manchester on Wednesday 9 April 2014.