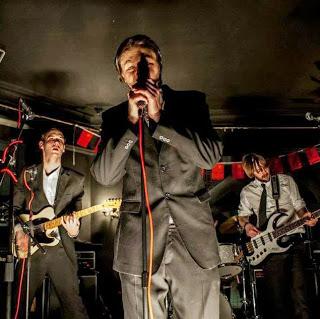 A tune that I genuinely can't get enough of, and a must-listen for indie and punk people alike. Eight Rounds Rapid

 are a band from Southend-On-Sea who have recently been championed by

 Steve Lamacq

 and 

Gideon Coe

 amongst others. Amongst other things I can detect hints of 

Elastica's attitude, Dr Feelgood's energy, the repetition of The Fall

 and the no-nonsense delivery of the 

UK Subs

. I would definitely like to hear an album from this lot. In the meantime they have just released 'Writeabout' on a 7" single limited to 500 copies, with the fantastic 'Steve' on the flipside. According to the band: "y

ou can buy the vinyl single at 3 places:

 Pouch of Douglas near Westcliff High School (an art emporium),

 'Fives' record shop in Leigh-on-Sea and

 the Norman Records online store...". I've also been informed that rough Trade have copies too. More info can be found at their Facebook page 

HERE

...
Buy your 7" copy of the single HERE (if there are still any available!)
www.eightroundsrapid.com
https://soundcloud.com/eight-rounds-rapid
https://twitter.com/8RoundsRapid