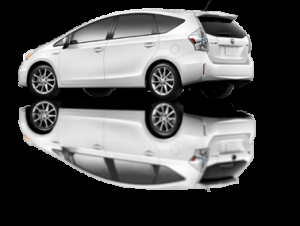 The Prius v, a larger version of the "traditional" Prius that has become borderline ubiquitous in many parts of the country, will go on sale across the United States this fall. It represents the first of the expanded Prius line to come to market. In addition, the plug-in Prius, oft discussed (including on 2nd Green Revolution as far back as June of 2009 and again in December of '09 with news that it would come to market in 2011) will soon be stateside as well. While a specific date for the plug-in's release is difficult to come by, the Prius v is currently available for pre-order at some Toyota dealerships and appears set for a September delivery.
The Prius v is being marketed to young, active families. According to the website, the "v" stands for "versatility" and it has "more cargo space than 80 percent of small SUVs." The Prius v will be rated at 42 mpg combined city and highway. Click here for the vehicle information.
Autoblog reports the Japanese version of the larger Prius, The Prius Alpha, achieves a fuel economy of 26.2 kilometers per liter (61.6 miles per gallon). "Toyota has set a monthly sales target of 3,000 units for the Alpha. Pricing starts at 2,350,000 yen ($29,095 U.S. at the current exchange rate) and tops out at 3,305,000 yen ($40,919)." They also report that a European version is schedule for delivery in 2012.
Toyota is now taking orders for the plug-in Prius. To pre-order, click here. Initial roll out of the plug-in Prius will take place in the following: Arizona, California, Connecticut, Hawaii, Maine, Maryland, Massachusetts, New Hampshire, New Jersey, New York, Oregon, Rhode Island, Vermont, Virginia and Washington. According to Toyota, "availability will open up to all other states in 2013." No definitive date has been set for the 15 states to receive the plug-in Prius, but Toyota expects them the get the car "around spring 2012."
[Image source]