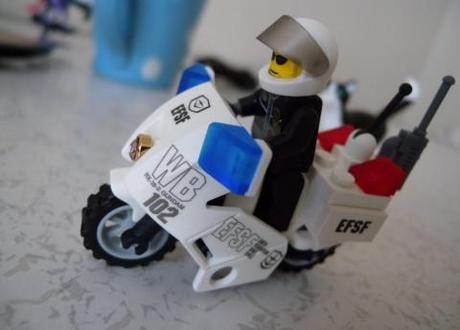 Will the Russians send in the Lego police to quell toy protest? Photo credit: 5th Luna, http://www.flickr.com/photos/5thluna
Why has a collection of tiny toys prompted Russian police to consult prosecutors?
Political protestors in Barnaul, a city in South Siberia, have found a rather unusual way to make their point after two unsanctioned demonstrations against alleged fraud in the December 2011 elections were dispersed by Barnaul police.
Since the authorities have refused to issue approval for opposition protests, placards denouncing the electoral violations have been shrunk to miniature size and placed in the tiny plastic hands of toy figurines, set up in public spaces. As The Guardian reported on Thursday, dozens of small dolls –teddy bears, Lego men, Kinder Surprise toys and South Park figurines – were arranged to mimic a protest, each holding signs bearing slogans such as "I'm for clean elections" and "A thief should sit in jail, not in the Kremlin". The Independent reported one miniature placard reading "146%", in reference to the southern region where state television inadvertently claimed a 146 percent turnout at a recent election.
Check out photos from the protest here.
But even children's toys can't escape the wrath of the Russian police – authorities are now trying to figure out a way to prosecute the plastic protest's organisers.
"The authorities' attempt to limit citizens' rights to express their position has become absurd," said Lyudmila Alexandrova, a 26-year-old graduate student and protest organiser. "We wanted to hyperbolise this attempt and show the absurdity and farce of officials' struggle with their own people."
The police are not amused.  For the authorities concerned, this was no laughing matter. According to The Guardian, police carefully examined the placards and took note of their messages. "Political opposition forces are using new technologies to carry out public events – using toys with placards at mini-protests," Andrei Mulintsev, the city's deputy police chief, said at a press conference this week, according to local media. "In our opinion, this is still an unsanctioned public event." Women's website Jezebel hoped that "he also repeated this in a teeny-weeny voice so the dolls could understand."
"While the authorities restrict our constitutional rights to freedom of peaceful assembly, the rights of toys have so far been untouched," one of the protest organizers, 30-year-old IT specialist Andrei Teslenko, wrote in a post on Russia's most popular social network Vkontakte.
They are definitely not amused, but not sure what to do about it.  The events, labelled "nano-meetings" by organisers, were not approved by authorities; the organisers were also present – arguably making them demonstrations. "Somebody has brought the toys there and therefore expressed his opinion in such a way," said Mulintsev. However, "nano-meetings" do not feature in the federal legislation regarding public events, so the police, unsure of how to proceed, have asked prosecutors to investigate the legality of the protest.
The prosecutors are also not amused and very sure what to do.  Prosecutor Sergei Kirei told RIA Novosti, the Russian News and Information Agency, that he didn't understand why police had asked them: "I believe there are certainly grounds to initiate administrative cases." Given that the toys were "agitation material", Kirei believed the gathering was "a picket". "People are not stupid," he went on. "The figurines did not come there by themselves. They did not write the placards on their own. They have not invited anyone in social networks to join the public event." If found guilty organisers could face fines of up to $33 or arrest for up to 15 days.