Long, long ago, not far away (from where I now live in Thornton Cleveleys, Lancashire), there was a stretch of coastline that was bleak marshland, inhabited only by seabirds and wildlife.  Wild winds blew the sand onto sea grasses and over eons, a chain of sand dunes developed, (probably occupied by sand people  - oh don't worry - there are only 16 days to The Force Awakens - for anyone who is not a Star Wars fan, I hope you will stick with me for a while - at least to read the poem at the end). The largest sand dune was named by locals as Top Hill.
As we know, under the feudal system, areas of this country were divided up and came under the auspices of Lords and this land of dunes was part of the estate of Lord Hesketh. His son and heir, young Peter used to have picnics with his family on Top Hill and he would look out from the summit at the incredible views, imagining that he was a sky-walker.  The force was strong with Peter.  He had a vision for the future, so he added his mother's name, Fleetwood to his own and set out to design and build his own Utopia on the Fylde Coast.
At this stage in the story, Peter joins forces with a Jedi Master in the shape of architect Decimus Burton.  The two now discuss Peter's extraordinary plan to build an incredible oasis in the sand dunes. It is to be a port to rival Liverpool and a holiday resort better than St Leonard's on Sea. In 1839 the two draw up plans for Fleetwood: a stylish resort of elegant avenues, emanating from a central point at Top Hill. Burton sets to work on the construction of a Chinese pagoda tea room that will be a vantage point for viewing the town as it is developed.
As we know, the force has a dark side. Our hero, Peter will need to convince people to come to his new resort.  Big, bold, brassy Blackpool is a mere six miles away and already has the attention of the working-classes. Peter needs a hook. He decides to invest his inheritance, to keep it away from Darth Tax-Collector, in building an extended railway line from Preston. This is a canny manoeuvre: the railway cannot yet carry passengers over Shap and beyond into the land of Scots.  On completion of the railway line, passengers traveling North can now alight at Fleetwood, stay at the North Euston Hotel, (another Burton building) and then embark for The Lake District and beyond by steamer ship.
Decimus Burton designs and builds three light houses that, when aligned, can safely guide ships into the difficult Wyre Estuary. Soon Fleetwood is a fashionable resort and comes to the attention of Prince Albert, consort of the newly crowned Queen Victoria, who decide to pay a visit... Peter takes the Prince up to the summit of Top Hill to view the town.  Naturally there are many other events in the story of Fleetwood. This is just the beginning...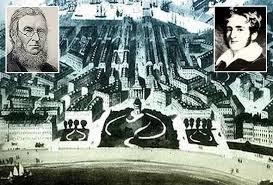 On Top Hill
Misty windows soaked with spray,
shroud from me the timeless view
of mountain back-dropped Morecambe Bay,
once reserved for privileged few,
who picnicked on Top Hill.
And as he looked out from the rise,
at seascape skirting, rolling skies
with sweeping landscapes every side,
Lord Hesketh-Fleetwood was inspired
by standing on Top Hill.
Just like a crow's nest on the sea
he set his structure at the peak,
Chinese pagoda serving tea,
a charming central place to meet,
to chatter on Top Hill.
And seen from high on grassy Mount,
stylish avenues began.
a visionary plan, splayed out
designed just like a Chinese fan,
extending from Top Hill.
They came from near and far and wide,
by ship and railway, powered by steam.
Prince Albert brought his blushing bride
to share the joy of Peter's dream
and whistle from Top Hill.
Thanks for reading.  Adele
Email This
BlogThis!
Share to Twitter
Share to Facebook
Reactions: