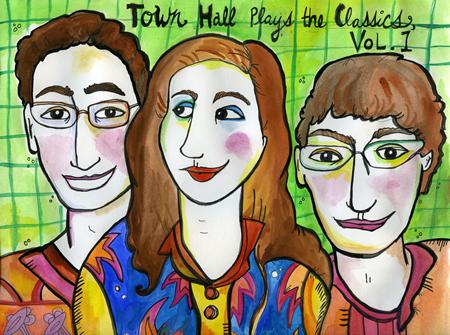 Afer putting out videos over the last couple of months, Brooklyn folk trio Town Hall have assembled the the tracks of their covers project on the free EP Town Hall Plays the Classics, Vol. 1. They have a broad taste, so don't be surprised to find a song by rappers Ja Rule and Ashanti sitting next to folk legend Frank Marvin. Album artwork by Elizabeth Cohen-Scheer.
Town Hall Plays the Classics, Vol. 1 is a self-released EP. Dwonload it for free from the band's website.
Tracks:
Always On Time (Ja Rule + Ashanti)
Old Man Duff (Frankie Marvin)
Didn't Leave Nobody But The Baby (Traditional)
Text Me (R. Kelly)
The Middle (Jimmy Eat World)
Live date:
07/12 Ace Hotel, New York, NY
HCTF review of Roots & Bells.