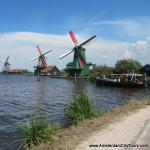 A day trip outside of Amsterdam brings quaint Dutch villages to life
Just outside Amsterdam's city limits lie the three quaint, typical Dutch towns of Volendam, Edam, and Marken. A day trip to any one of these towns provides tourists a great way to relax and see the more provincial side of the Netherlands without straying too far from the country's capital.
Volendam, known for its old fishing boats and residents in traditional Dutch clothing, is a popular tourist attraction. Situated just at the mouth of the Ij River, Volendam is home to a small museum about the town's history and traditional clothing, as well as the football (soccer) club FC Volendam.
If you're after a picture of yourself with friends and family in typical Dutch costume, Volendam is the place to go. Once you've had your photo taken, take a stroll around town admiring the sights of the harbor and checking out the shops. Stop at one of the many cafés for a drink or a meal.
Amsterdam City Tours offers numerous Volendam Tours.
Marken is an island that is now connected to the mainland via a causeway. Named after the Markermeer – the body of water surrounding it – the town of Marken is best known for its characteristic wooden houses.
Another popular tourist attraction, Marken is included with Volendam in several Amsterdam City Tours. Daytrips to Marken and Volendam include the Marken, Volendam and Windmill Tour and the Volendam and Marken Tour.
The last (though certainly not least) town that should be on your sightseeing list is Edam. Without a doubt, Edam is best known for its cheese. The Edam cheese market has been held since 1922, though it has been carried out only as a re-enactment for tourists as of 1989. These re-enactments are held each Wednesday from 10:30-12:30 every year during the months of July and August.
The old town center, now protected by the government, is a must-see in and of itself with the 15th century St. Nicolas Church, old Town Hall, Edam Museum, and Carillon.
Excursions to Edam are also offered by Amsterdam City Tours and include the windmill village of Zaanse Schans.
In addition to the canal cruise tours listed above, Amsterdam City Tours also offers bus tours throughout the Netherlands and Belgium. You can book bus trips to Volendam, Marken and Edam.