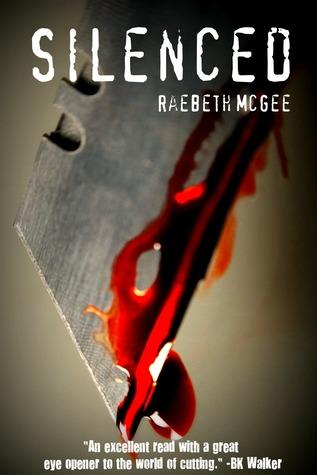 Genre: YA Contemporary
Published: December 13, 2012
Series: #1 (Silenced)
Length: -
Source: author (review copy)
"Amber Brown spent her entire existence believing Dave was her father. When her mother reveals this is untrue, she goes through an emotional spiral with depression. It's hard for her to believe her mother had lied to her all this time.
A move to a new home and town causes Amber to be consumed by her "darkness" and reverts to cutting to free herself from her pain.
When Casey, her new friend enters her life, she introduces Amber to parties, drugs, and Amber's new boyfriend Landon. The secret of cutting begins to take affect on Amber as she tries to hide it from her friends and family. In the mist of everything, Amber has the desire to find out who her biological father is.
Follow Amber through her trials of depression and cutting, along with the discovery of love."

Silenced is a story that for sure someone has experienced before. Although not everyone will relate to it, the author did an awesome job because I sure felt a connection with the main character, Amber. The story isn't just about depression and cutting, it's also about friendship, family, love, and growing up. What I love the most about this book is that Amber developed as a character as the story was progressing. You could see and feel how hard it is for her to resist cutting herself. Yes I do think some readers will be bothered by the part where Amber cuts her wrist. It made me flinch while reading it, but I am glad that the author did not take out the details because it made it easier for me to feel what Amber was feeling during the time she was cutting herself. Besides Amber, I also liked the rest of the characters.
I really like Amber's boyfriend, Landon. He is a year older than Amber (he's 18) and drinks & smokes. At first you'd think "uh oh" this guy will be a bad influence to Amber. Surprisingly, he wasn't and his character was the complete opposite of my first impression of him. He's very important both in the story and Amber's life. Another thing that I liked about Silenced is there's more to "finding-my-real-father". While Amber's in the search for her biological father, she encounters problems with her new friend Casey and her mother who refuses to tell her the truth. At the same time though, the thing I didn't really like is those problems with her friend and mom took more place in the story when the main point is finding who her real father is. Let's just say she spent more time thinking about her situation with Casey and her mother than her father.
Overall I recommend Silenced to contemporary lovers, to those who have been depressed or IS in this kind of situation,  and to anyone, really. I'll be on the lookout for the next book as the ending was a cliff hanger! I love cliff hangers btw as long as it has a second book (lol). I hope to see more of father daughter relationship and I can't wait what really is up with Amber's friend Casey.