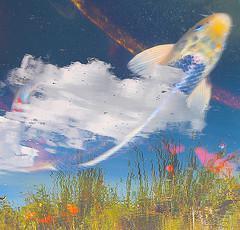 photo : Psyberartist
Austria is widely known as Europe's favourite place for fishing. Its drinking quality clear crystal waters are a haven for endangered fish. And that's why they have tough laws to limit the impact of fishing on native species.
Fishing Laws
Although there are fiercesome fishing laws in Austria, they're there for a reason. With around 74 native species and about 43 endangered species, there's every need to be protective to safeguard the stocks of naturally bred fish. So if you plan to go fishing in the many beautiful clean rivers and lakes generously dotted around the country, you need to be aware of a few facts:
most rivers, small lakes or pools, are privately owned and those who manage them do not take kindly to anyone just ramming their rod into the riverbeds without first seeking permission
there are public waters, but equally permission needs to be sought before casting begins
licenses are needed to fish in the lakes and rivers. These are available from owners of private riverscapes and from Tourist Offices for public waterways
hefty consequences are meted out to those caught breaking the rules, whether deliberately or accidentally.
But if you think that's bad, spare a thought for the aspiring Austrian angler – he or she has to study courses and sit exams in order to be granted a license. At least as a visitor you only have to pay the fishing fees!
Around 1000 tonnes of fish are caught annually in Austria's rivers and lakes, many of which are returned immediately as there are strict measures in place to ensure over-fishing doesn't occur. In provinces like Salzkammergut, Salzburg, Carinthia and anywhere by the Danube river, these cold-blooded aquatic animals form a significant part of the country cuisine. So fishing is encouraged and widely enjoyed, it's just that the eco-friendly Austrians don't want anyone to exploit the environment unnecessarily.
When to Fish
Whereas in many western European countries (like the UK for example) fishing may begin in the early spring, in Austria the season starts much later. This is largely because the snow-melt from the mountains lowers the water temperature in the rivers and lakes. Whilst fish may be cold-blooded, they still like their warm water baths like the rest of us!
Thankfully for fly and classic fishermen alike, Austrian springs are well known for being very short and air temperatures rise quickly – by day at least. By mid-May most riverine landscapes are abundant with naturally bred native stocks.
And summer lingers longer where the Mediterranean temperatures have touched the summer skies. So fishing tends to be good through to late October / early November, when the snow cycle starts again.
Where to Fish
When on holiday in Austria, anglers are advised to head for the nearest local Tourist Office for information about fishing in the area. Rules and regulations do vary a little from place to place, so it's best to be sure that you know what you can or can't do before you start casting about. A good (on)line place to start is with the Austrian Fishing Association, where you can find information to help you decide where to go for the best fishing in your holiday area.
Or for more information of a less formal sort, why not check out some fishing blogs like this one or maybe this one here.
Chalet Lowonahill is an all-season, traditional style holiday home in Styria. It's the ideal place for you to discover the delights of the 9 provinces of Austria. To find out more, simply click here.