"We make your memories for you"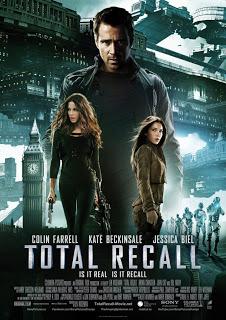 Directed By: Len Wiseman 
Cast: Colin Farrell, Kate Beckingsale and Bill Nighy

Plot
Douglas Quaid, a simple factory worker living in a future cosmopilis begins to feel as though his life is becoming boring and so decides to visit a place called recall. It is a machine that can implement memories into your mind an give you experiences as if they actually happened.  Unfortunately, the process brings to light that Doug may not be who he says he is and from then on all calamity ensues. After being attacked one morning by his supposedly beloved wife; Quaid begins to find out due to clues left by his previous self that he is part of a much greater feud between the two main groups on the planet. The united federation of Britain and the colony. People familiar with the original Arnold Schwarzenegger film will know this side of the story. The part that is not included in this new rendition is the fact that Colin Farrell's  Douglas Quaid does not visit mars.

Acting
I remember watching Arnold Schwarzenegger and thinking that although he may not be the most versatile actor in the world, his light hearted nature and massively apparent muscular features made his performance entertaining and fun to watch. This element of the film, has been lost in Colin Farrell's version of the character. He has a very moody expression on his face throughout the film and there doesn't seem to be much in the way of character development. Although there were not many stand out performances; I felt that Lori (Kate Beckingsale), the undercover agent posing as Quaid's wife,  gave a strong and at times quite frightening performance. This helped when trying to distinguish her from the other supporting female actress played by Jessica Biel as they both share a striking resemblance.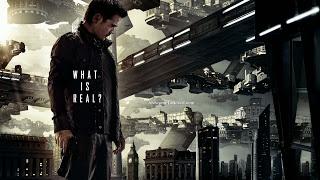 Positives
This film makes a massive point of using CGI to give a better sense of scale. The early 90's version, was renowned for using a wide range of cutting edge special effects, However the film always felt too confined. Fortunately with the advancements in technology they are now able to present a more vibrant and living city that helps give a greater sense of scale in the film.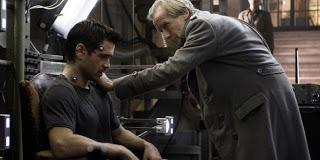 Recycling of the Narrative
I have to say that I was somewhat hesitant as to the idea of watching a film that was the re-make of an original, especially as it was an action film. I felt it may be a carbon copy with nothing new. Fortunately, the film stays true to the original story whilst still managing to keep a fresh twist on the films narrative.

Points for improvement
The issue I have already aired in this post is that the performances within the film seem to be rather wooden and struggle to hold your attention as much as the original did. I believe that an action film done in earnest is always going to be a let down unless it is based on fact. I kept waiting for the film to give a witty one liner or show me something rather funny, however the comic relief fails to present itself.                    

Summary 
A fun action film that has some impressive visuals, with interesting character chemistry but very little development. It will not keep you as entertained as the original and is a fairly adequate attempt to rejuvenate this great science fiction thriller.
You might be interested in buying the Blu-ray of Total Recall to watch with a big bowl of popcorn! 
Preacher's Message: If you share my views or think they are completely wrong please let me know in the comments down below. Leaving a plus one or sharing this post means more people will see it and more will be able to preach about this film!
So if you did enjoy it let me know!