"You Jump I Jump"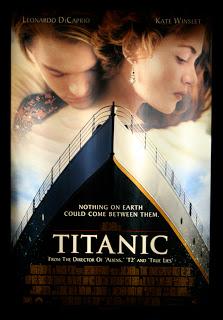 Directed by: James CameronCast: Leanardo Di Caprio, Kate Winslet and Frances Fisher

Plot
A love story Intertwined with the devastating events of the Titanic. When Jack, a poor boy from England and his mate Fabrizio; manage to win a bet allowing them two tickets for the titanic they think it is the best thing in the world and for a short while it is. The story then switches to the daughter of a controlling mistress, named Rose. After she decided that the the pressures of an aristocratic life are becoming to much to bare, she decided to attempt suicide. Fortunately, Jack Dawson, who has fallen in love with her at this point preys upon her attempt and steps in before anything bad can happen. The rest of the film follows the couples adventure's throughout the voyage with some very memorable scenes such as 'Sketch scene'. Involving Kate as a Nude model and Jack drawing her. 

Acting
This film is a real triumph in character development. Each one has very unique attribute and all are equally enjoyable to watch. I particularly enjoyed the evolution of Kate Winslet's character as I always like to see any kind of drastic changes in attitudes in behavior on screen. I also enjoyed Roses interactions with her mother Ruth. Frances Fisher (Ruth) portrayed a snake like parenting characters who although may like to appear all things to everyone was only interested in her families upper class status.

Positives
A great adventure made simply more interesting by the fact that this is not a film that you will remember for the sinking of the ship but more for the great interplay and development between the characters.  The love story is going to make you cry and the controlling nature and snobbery of the upper classes will make you cringe. All the character trigger all the right responses and they do it well.
Now this wouldn't be a review about the Titanic if I didn't at least say something about the astounding special effects. Although this film is old the special effect are expertly put together. There is one point in particular, were the bow is up in the air and the ship is about to be submerged it looks epic!

Points for improvement
I feel that this film actually could do with something being subtracted from its equation. I watched the Blu-ray remastered version and have to say that I was not impressed. Although some area looked like they had more colours, there were area which had not been done very well and the strength of the colours in some of the shots looked grossly unrealistic. A minor grip though for a classic movie!

Summary
A must see love film with the epic nature of film making we have come to expect from James Cameron. I love the way he has managed to not only glorify the majesty and achievement of the ship whilst intertwining an endearing and interesting love story which really pulls on your heart strings.
Preachers Message: Hope you enjoyed this Review of this film why not let others in your circle know about it by pressing plus one at the bottom of this post. Your support is always as wellas your own correspondance. If you have an oppinion on this film please feel free to comment down below!