I have to say, I'm not a big fan of Jamie Oliver.
He comes across as extremely fake with the way he acts and we all know he's not as common as he makes out.
He's made even more of an enemy with me because of "Jamie's Money Saving Meals" which is useless to anyone who doesn't have at least two ovens in their kitchen and who don't usually flit away hundreds of pounds on food a week that they'll never eat.
Next week in fact, I will be devoting the whole week to what you can get up to with a delicious gammon joint!
Anyway, the reason I tolerate him sometimes is because of "Jamie & Jimmy's Food Fight Club" and the later series of almost the same format but different name "Jamie and Jimmy's Friday Night Feast".
I do like Jimmy Doherty, his companion in these, who has done some interesting shows of his own (See: Jimmy and the giant supermarket and Food Unwrapped) but the main reason I liked those shows was because they supported British foods.
In Food fight club they pitched our cheese, sausage, beer and so on up against others said to be the best in the world proving that Britain really doesn't have to put it's food down compared to other countries!
In their Friday night feast show they had a segment which visits and revives old British foods and drink that are becoming extinct because people just don't know about them.
On one of these episodes they were reviving the little known Tosset Cake which is really what we would call a biscuit today.
I had to try them out because of course it is part of my heritage and also because they sounded rather interesting because they feature a mix of caraway and coriander seeds!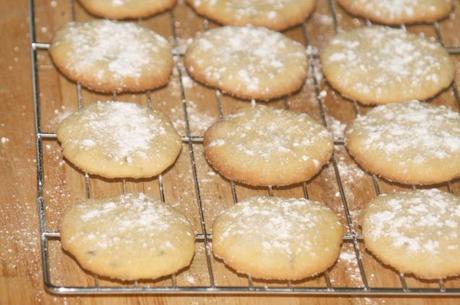 They make a nice change from shortbread but are similar because of their high butter content!
As evil as butter may seem it is essential, don't use margarine here!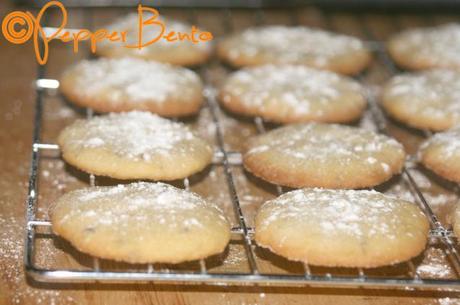 I formed my little cakes by hand as I imagine an original Tosset cake would have been made, no rolling pin or cookie cutters here, though I will tell you how to do it the usual way.
Tosset Cake (biscuits)
Makes 50 (small)
 
Ingredients
500g plain flour, plus extra for rolling
500g softened unsalted butter
150g caster sugar, plus extra for sprinkling
1 heaped teaspoon Caraway seeds
1 heaped teaspoon Coriander seeds
Icing sugar for dusting
Method
In a large bowl, sieve in the measured flour and sugar.
Cube the butter and add into the mixture, rubbing it into the flour and sugar mixture with your hands until there is no flour and sugar left unincorporated.
In a pestle and mortar or using a clean tea towel and a rolling pin add the seeds and crush them up until finely ground.
Add the seeds to the bowl and mix until evenly distributed and dough like.
Wrap this mixture in cling film and place in the fridge for about an hour or until the mixture is cold enough to be very sturdy.
Dust a surface with flour and roll out the dough to about half a centimeter thick.
Preheat the oven to 180oc.
Cut out circles with a 6 cm cookie cutter and place them on a baking tray dusted with flour.
Sprinkle each with caster sugar and place in the oven for 10 – 15 minutes turning half way through.
They should be firm and pale, only slightly browning on the edges.
Leave on the hot baking tray for a couple of minutes, until they are firm enough to transfer to a cooling rack.
Leave to cool then dust with icing sugar and serve!