Grand Cinema Digiplex in Bucharest screened Tosca tonight, the 2011 ROH production starring Angela Gheorghiu, Jonas Kaufmann and Bryn Terfel. 
Promotional flyer, an A4 printed program on each seat, smiling people inviting us in, comfort, huge screen, perfect image and sound, around 100 people in the theater. It was perfect!
It's impressive to be able to watch the opera from so close. In the venue you never get that close to the stage so part of the movements, sights, details of the sets and costumes can't be noticed. In cinema, you have close ups. So many emotions, characters so well outlined, amazing voices. Tosca remains my favorite opera, from the first to last note. I could watch it over and over and over again. And I always think it ends too soon... Recondita armonia...Te deum...Orsu, Tosca, parlate...Vittoria...Vissi d'arte... Lucevan le stelle, the jump... pufffff.... finished :(  
I'm happy. It was a joy to see Tosca again, not to mention that it was brain healing after a hard day's work. Tomorrow if you want to talk to me just look up. I salute you from my white, fluffy operatic cloud.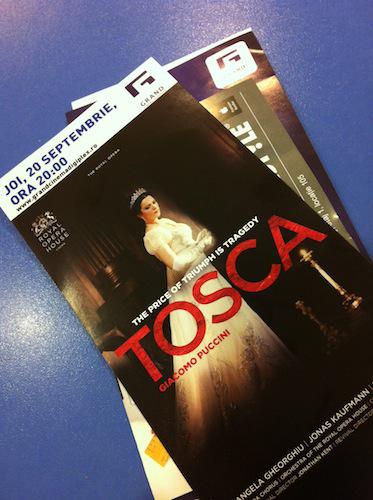 .