"The Goal of arguing is to convince others to accept your ideas of their own free will by presenting to them good reasons for accepting your ideas."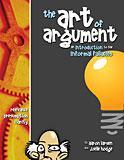 The Art of Argument, An Introduction to the Informal Fallacies
Classical Academic Press
7th grade and up
Teachers Edition $24.95
Student Edition $21.95
DVD Set $54.95
"Logic is a fascinating subject for students in middle school or high school.  As a fundamental part of the trivium, logic study will impart to students the skills needed to craft accurate statements and identify the flawed arguments found so frequently in editorials, commercials, newspapers, journals and every other media.  We regard the mastery of logic as a "paradigm" subject by which we evaluate, assess and learn other subjects--it is a sharp knife with which we can carve and shape all manner of wood.  Mastery of logic is a requisite skill for mastering other subjects."
Welcome to the world of fallacies....28 of them to be exact!  Join Socrates, Tiffany and her boyfriend Nate as they help you navigate this new world!
In the Art of Argument, you'll learn how to find the main issue by asking the four most important questions of any fallacy.
Making your way through each chapter, you'll be introduced to a specific fallacy, its' definition and complimentary vocabulary words.
For example, the first chapter's fallacy is "Ad Hominem Abusive".  The book gives examples of this fallacy and even includes fictitious, snappy ads to illustrate the fallacy at work "in the real world".  Next,   an exercise which presents two arguments and it's up to the student to pick the one that is 'ad hominem abusive' and explain why.
The end of each chapter review contains a definition of fallacies, an identify exercise (give you examples for you to tag correctly), and an application (find or write examples of a specific argument).  Starting with the review at the end of Chapter 2 are Cumulative Fallacy Worksheets.
Further on in the book, the exercises encourage you to look for fallacies in newspapers and magazines.  Given that this is an election year, I'm sure there's plenty to find.  (Oh!  Was that a fallacy too?)
Check out a sample chapter and teacher's manual.
Our experience:
My 8th grader and I enjoyed reading through each fallacy.  The workbook is nicely laid out and easy to read.  The problem we both faced was that there's A LOT of information to retain!  I can see where having a background in Latin would be helpful in keeping the fallacies straight.
I was VERY grateful to be able to view one of the DVDs from the set.   It really helped to cement some of the materials.  Set up in a conversational, relaxed tone, 2 teachers and 4 students talk about each lesson and offer more examples for additional reinforcement.
In my opinion, this topic would be best taught in a group setting or at least using the DVDs.  For us, it was a bit too much overload!
Check out other Educational Resources, Foreign Language and Bible Curriculum from Classical Academic Press at 
http://classicalacademicpress.com/
.
See what other crew members are saying!
I received a Teachers and Student Edition Book plus 1 DVD free of charge in exchange for an honest review.This post written and property of Homeschool Circus and can be found at: www.upatdawnreadytowork.blogspot.com . If you are reading this from a source other than www.upatdawnreadytowork.blogspot.com you are reading a scraped copy!