This just in: the
Republican National Committee selected Cleveland
to host the 2016 presidential convention.

Cleveland Skyline © Wikipedia
This is a huge win for the city, which beat out Dallas for the convention. Cleveland convention officials view the event as an opportunity to promote the city as a great meeting and convention destination, as well as a solid leisure destination. The city has undergone billions in new development and renovations downtown, and is eager to show off the recently opened 750,000-square-foot convention center.
The city will provide venues and security for the four-day event, and provide hotel rooms for the estimated 40,000–50,000 delegates, journalists, party officials and guests that will descend upon Cleveland in the summer of 2016.
But apart from the convention center, meeting spaces and hotels, Cleveland will also take the opportunity to promote its culture, nightlife, dining scene and attractions. These conventions bring a lot of national attention to the city that hosts them, as well as many writers who will document their experience, not just at the convention and during the presentations, but also around the city.
So, what can visitors do in Cleveland? A lot, actually.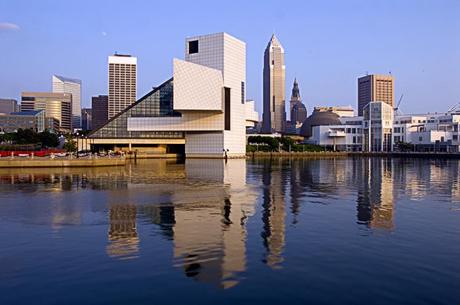 Rock & Roll Hall of Fame © Wikipedia
The top attraction has got to be
The Rock & Roll Hall of Fame and Museum
, showcasing the evolution of the musical phenomenon through dozens of ongoing and temporary exhibits. You can see John Lennon's Gibson J-160E acoustic guitar, or artifacts from contemporary artists like The Black Keys.  The venue also hosts concerts throughout the year, and the gift shop is free to browse.
Interact with nature at the
Cleveland Botanical Garden
, or come face-to-face with wildlife at the
Cleveland Aquarium
or Cleveland Metroparks Zoo. There are plenty of museums covering a range of interests, from art to history to sports. Marvel at the 45,000 works of art at the Cleveland Museum of Art, discover bones, gems and more at the Cleveland Museum of Natural History, or pay homage to one of America's favorite pastimes at the Pro Football Hall of Fame (located in Canton).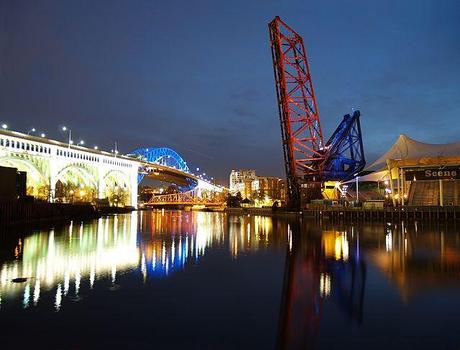 West Bank of The Flat © Wikipedia
If you prefer the outdoors, Cleveland delivers there too. The city is called the "Emerald Necklace," due to its lush greenery and thousands of acres of hiking, biking, boating and swimming. Do some kayaking right downtown, in The Flats, or take a nine-mile bike ride at Cleveland Lakefront State Park.
Foodies will revel in the selections at Cleveland West Side Market, featuring more than 100 vendors selling meats, cheeses, baked goods and prepared foods. And speaking of food, you'll find an incredible array of dining options, including delicious spots from celebrity chef Michael Symon such as
Lola
,
Lolita
and
B Spot
. Cleveland's diversity also makes it a great food destination, with a plethora of ethnic restaurants that run the gamut of traditional, family-run establishments to trendy, must-go-there-now hot spots. You can also enjoy a number of distinct bars, breweries and wineries – yes, wineries, 50 to be exact!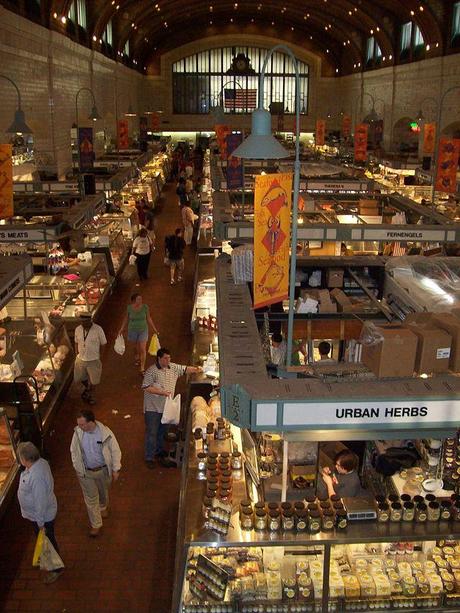 West Side Market © Wikipedia
Cleveland also offers great shopping, unique annual events and festivals, thrilling nightlife and entertaining sporting competitions.
I think the convention will definitely be a boost for Cleveland, a city that seems to be rising and is ready to show the country what it's made of.