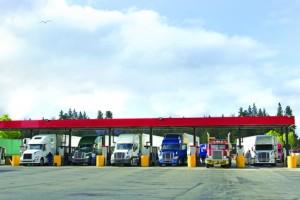 Although mobile fueling as an option for fleets isn't new, some new trends are raising awareness of the solution among owners and operators.
Mobile fueling, also known as on-site fueling, is a service in which vehicles receive fuel at their company's location while they are off duty and/or domiciled. While the convenience of the service is a strong positive for those considering it, there are other benefits too.
First, the Federal Motor Carrier Safety Administration (FMCSA) has been increasing its scrutiny of commercial drivers' hours of service (HOS). Regulations now require strict accounting of on and off time for drivers, who have to fuel vehicles while on the road. With this in mind, fleet managers have a choice: They can choose to have their drivers spend time driving or fueling. Most would prefer that their drivers drive rather than fuel. Using mobile fueling to fuel vehicles during their downtime delivers this efficiency and proper asset utilization. Perhaps most importantly, when drivers spend time on fueling, operators lose valuable revenue while both driver and asset are tied up. To put this concept into perspective, when drivers spend time on fueling, operators lose revenue from decreased asset utilization while at the same time incurring the cost of labor. So, changing the equation from cost reduction to asset utilization and revenue and margin optimization brings new light to the mobile fueling proposal.
Innovations in technology are also driving many fleet operators toward mobile fueling. At Ryder, we require bar code driven automated systems that allow us to capture fueling information in real time. These types of systems feed directly into our online reporting platform as well as make fuel tax reporting easier, reduce"shrinkage", and make trends easier to spot and leverage. Mobile fueling combined with these systems is the ideal solution for companies because they no longer have to account for drivers fueling at multiple disparate locations. It's all done at the company's base and is trackable through the automated system.
We at Ryder have considered these trends and recently launched a mobile fueling solution designed with them in mind that also offers an industry first: a mobile fueling provider network that covers all of the U.S. and Canada with the highest levels of insurance and risk mitigation. In the past, mobile fueling was only offered by small or medium sized companies limited to local or regional networks, which was problematic for companies that have high insurance requirements or operate nationwide who prefer or require a strong and consolidated vendor network.
To find out more about Ryder's mobile fueling solution, visit ryder.com
For more information, visit ryder.com.
-Authored by Chris Nordh, Director of Advanced Fuels & Strategic Infrastructure at Ryder System, Inc.