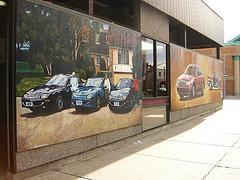 Image by Toban Black via Flickr
Buying a new car always involves time and effort and this is even more the case when you are parents looking for a family friendly vehicle. There are a number of things that you need to think about, beside the number plates when you are looking for the ideal family car.
Tip 1.  Get the Right Kind of Car Seat
If you have a young child then the law says that you need to have an adaptable car seat for your child. It's a good idea to take the car seat with you when you go to buy a new car so that you can ensure the seat fits snugly. Ideally a car seat should not move more than an inch when the car is in motion and it should fit snugly into the car seat.
Tip 2. Don't Let the Sun Hit Your Son
Whether you have a son or a daughter in the back of your car, the one thing you don't want is the sun full in the face of a child in a rear facing car seat. Make sure when you are buying a new car that the rear window is not slanted in such a way that it allows the sun to stream in. If your child no longer uses a rear facing car seat then this is not such an issue, but it is something to bear in mind.
Tip 3. Better Safe than Sorry
More important than the age intimated on the registration plates are the safety features on a vehicle. Check the windows and doors on the car, most vehicles are now fitted with child proof locks, particularly in the rear of the car. If there is anything that you're unsure about when it comes to safety in a family car then ask. It's a rare person that can remember everything so always ask about any extra safety features your car might have, just to be sure.
Tip 4. Move Over Rover
If you have an additional passenger then you need to check out how much room there is on the back seat once the child seat is in place. There needs to be enough space for the other person to be able to sit comfortably without being bumped by the movement of the car seat.
Tip 5. Packing the Pushchair
No matter what type of saloon style car you prefer, you will need plenty of storage space, at least enough space to hold a pushchair and all the paraphernalia you cannot believe you will ever need. So make boot space a premium when you are buying a car.
Tip 6. Four Doors are Better than Two
Two door cars might have the same or a similar amount of room as a four door but it's a lot harder to get a car seat in and out of a two door car than one with four doors. A four door saloon makes it much easier to get your child out of the car seat because you are not leaning in at such an awkward angle as you would with a two door.
This article was written by Crispin Jones on behalf of The Plate Market, suppliers of unique number plates and registration plates.

Crispin recently had his first child and so needless to say, car safety is vital to him.