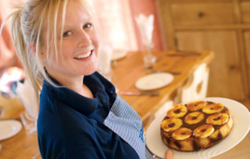 If you're thinking of escaping to a ski resort for the winter and looking for a job to help finance the project, then you could always do what hundreds of people do - become a chalet host for the winter.
A great chalet host can really make a ski holiday for the guests that come through his/her door and it can be an extrememly fun and rewarding thing to do.
Here, Tim, of The Tasty Ski Company, who specialise in luxury, gourmet catered chalets in Morzine and the Grand Massif, give us his top tips for how to snag that job.
Top Tips for Chalet Host Job Hunting - How to impress your potential employer
With only a month or two until the season starts we move into the rush for the last remaining seasonnaire jobs. But fear not if you are still looking - companies will be on the hunt for chalet hosts and hostesses right up until the start of winter season 2013/14. Your dream job is out there somewhere - you just need to show your potential employer why you are the right person for the job! Here are our top tips of how to impress them at interview:
1. Don't be late - it sounds obvious but you would be surprised how often this happens! If you're late then there is a good chance you might not even get to speak to your potential employer - they might speak to 20 other people that day and they won't be able to slot you in.
2. Tell them why you want to work for THEM - Companies don't like applications that have been copied and pasted for hundreds of other employers. They want to feel special - research them online, read their website, and say why you would like to work for their company in particular.
3. Turn your skype video on! - Often chalet companies like to interview candidates by video conference. With only two months before the season starts they might not have time to meet you face to face. Skype bridges the gap between a telephone call and a face to face interview. Turn your video on and don't be shy!
4. Explain that you are a hard worker - Seasonnaire jobs are hard work - particularly if you want to ski every day. If you have worked long hours for a previous employer - maybe in a pub or restaurant? - then let them know.
5. Tell them about your relevant experience - Let your potential employers know if there is anything you have done in the past that will make you stand out from the crowd. If you have done lots of work as a nanny, let them know! Chalets will be full of children during the school holidays and companies want employees with experience looking after them.
6. Demonstrate that you are a team player - Companies like people who they know will get on with their other staff and fit into their team seamlessly. Let them know that you get on with people and can work well as part of a team. 
7. Smile and be positive - as a chalet host you are the face of a company. You will have more contact with guests than anyone else in their organisation. Show your employer how lovely and charming you are!
Some great tips! Clcik the links to find out more about The Tasty Ski Company and their luxury catered chalets.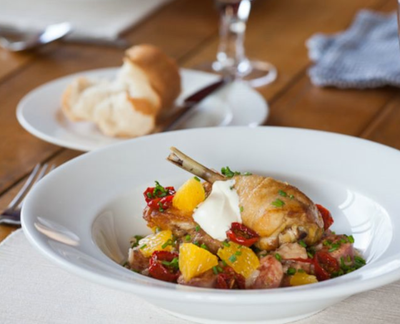 Some tasty fayre from The Tasty Ski Company - luxury gourmet catered chalets in Morzine and the Grand Massif.