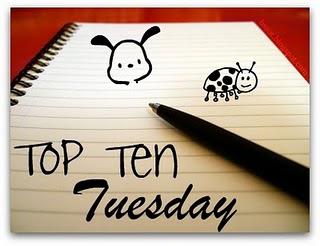 Top Ten Tuesday is a weekly meme hosted by The Broke and the Bookish where you post the 'top ten' for each week.
This week, the top ten was: Top Ten Websites/Blogs that you visit that aren't about books! Most of these are just in my bookmark toolbar at the top of my Firefox, and I gave a little biography on each one!
1. Facebook
I have to admit it: I'm a Facebook addict. But I have reasons! I SWEAR! I'm one of the only teenagers at my school that is so deprived and does not have a cell phone. This means I have little to no means of communications with my friends, thus Facebook. I only use it for chatting with people, and I'm not one of those ridiculous people that posts statuses every hour. I'm lucky if I post one a week.
2. Twitter
Well, this kind of has to do with books since it's the reason I use it. I just like to keep track of my friends, other bloggers, and authors! 
3. Yahoo! Mail
I'm constantly checking this email, since it correlates with my blog. And it's all nice and organized because I don't like seeing all these things in my inbox. I like seeing it empty, so all my special emails are kept in folders!
4. Gmail
I use Gmail for my personal email, and I actually prefer it very much over Yahoo, but I'm too lazy to go through all my blog accounts and change everything to Gmail. Much like my Yahoo, this email has folders to organized my emails.
5. Formspring
Formspring is fun! I love answer questions, even though most of the time they're about books. I love stalking other bloggers and authors on there! ;) All the really witty authors/bloggers have a Formspring and they always have hilarious answers to some of the questions. 
6.  Google Drive/Google Docs
I used to DESPISE Google Docs, but now I really love it. I type up all my documents in there, but I got so frustrated when they would still be on my mail Google Docs page and wouldn't just show up in the collections. Now with Google Drive, I can create folders/collections much like in my email!
7. PowerSchool
Some of you may not know what this is, but this is the website that my school uses to keep track of grades and GPA. Each student has a username and password they use so they can access their grades to see what they have in each class and what they received on each test or assignment. Also, it keeps your lunch balance and your tardies/lates/absents from class. I'm a bit of a nerd, and I probably check my grades at least 3 times a day, just to see if they changed at all!
8. Stay Positive (staypositive.me)

This is a really awesome site that I found through Tumblr when I was obsessed with it a few months ago. It's just got lots of awesome quotes about romance and life. I'm always looking at it for inspiration!
9. Love Gives Me Hope (love.givesmehope.com)
Who doesn't love a good love story!? People post their real life love story in one small paragraph! If you go through these, you'll be saying 'AWWWW' every few seconds.

10. College Board
Even though I'm only a sophomore in high school, I'm really worried about college so I'm looking for all the help I can get. This website helps plan for the journey to college and it's really supporting and helpful!