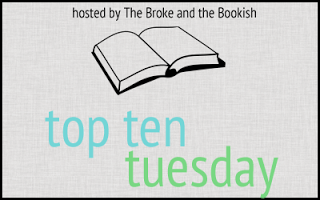 Top Ten Tuesday is a weekly meme hosted by
The Broke and the Bookish
where you post the 'top ten' for each week.
This week, the top ten is: ten most intimidating books. I generally don't get intimidated by books, so I don't know if I'llbe able to make 10 books on this list!
Eragon by Christopher Paolini. My boyfriend loves this series, but I feel like it will be a waste of time because I'm not interested in the subject and they're LONG books! 
The Great Gatsby by F. Scott Fitzgerald. I love other works by Fitzgerald like This Side of Paradise and The Ice Palace, but I have yet to read The Great Gatsby! I want to read it, but I worry I won't appreciate it like I should.
Beautiful Creatures by Kami Garcia/Margaret Stohl. Everyone loves these books, but I just don't know about them. They don't seem that original or interesting...
Any memoirs. Getting an insight in someone's head via a memoir is different than a fictional novel. I just don't know if I'll be able to handle that. I'm hoping to read some soon! 
Adult Books.  There will always be some adult novels that sound good, but I'm always afraid to pick them up because I don't want to be bombarded with sex-talk!  
Holy Bible. I've never been very religious, but there's times where I love looking at different bible verses. I wish one day I'll be able to start to read this one. 
So I was only able to find 6 books/series that intimidated me. Leave in the comments books that intimidate you!