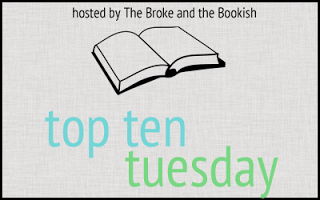 Top Ten Tuesday is a weekly meme hosted by
The Broke and the Bookish
where you post the 'top ten' for each week.
This week, the top ten is: ten of your favorite books so far in 2013. These aren't all books released in 2013, but rather books that I've read this year. Instead of ten, I'm actually going to be showcasing the 11 books that I've rated 5 stars this year.
Eleanor & Park by Rainbow Rowell. This is one of those books that just sucks you in. I don't even like historical fiction, but this was just one of the best books that I've read so far this year.
Reboot by Amy Tintera. I just read this book this past week, and I fell in love with it. I was able to read the sneak peek early in the year, and I knew I had to get a hold of this book. I'm very thankful that I did! 
Siege & Storm by Leigh Bardugo. If you haven't read Shadow & Bone, then you better start right now! This sequel was riveting and simply the best sequel on this world. Seriously. 
The Indigo Spell by Richelle Mead. The same goes for this one. The Indigo Spell is the third book in the Bloodlines series by Richelle Mead, and I keep falling in love with these characters as the series progresses. 
Let the Sky Fall by Shannon Messenger.  This book is so unique - of course I had to include it on this list! The characters, setting, the whole concept of the book - blew my mind. 
Out of the Easy by Ruta Sepetys. Another historical fiction book that I thought i would hate. I honestly didn't like Between Shades of Gray by Ruta Sepetys, but I'm glad that I picked this one up. I fell in love with in within the first few pages. 
Origin by Jessica Khoury. I just loved everything about this book. Pia is a character that you can never get enough of, as well as Eio. I need more of these characters, NOW! 
Just One Day by Gayle Forman. I know there has been some controversy revolving around this book, but I loved it anyways. Even though I did not approve of Allyson's actions throughout the book, I still fell in love with the setting and other characters. I desperately need Just One Year. 
Black City by Elizabeth Richards. Vampire dystopian? Who would have guessed that I would have loved this book. ;) 
Clockwork Princess by Cassandra Clare. The Mortal Instruments and Infernal Devices are one of my favorite series ever. Of course this would be on my list. 
Unravel Me by Tahereh Mafi. Another amazing sequel! I need more of Juliette, Adam, and Warner! 
What books have you loved so far this year?