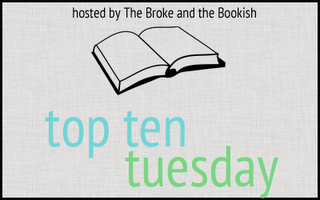 Top Ten Tuesday is a weekly meme hosted by The Broke and the Bookish where you post the 'top ten' for each week.
This week, the top ten is: characters that remind me of... It can be any character that reminds you of any person: your friends, yourself, your parents, ANYONE! 
1. Clary from The Mortal Instruments reminds me of myself.
This seems like a really conceited thing to say, since Clary is so awesome. To be honest, there are only some aspects of Clary that resemble me! Besides the fact that I'm tall, and with blonde hair, me and Clary both have quick wit, care for others more than we care for ourselves, and people tease us all the time!
2. Vee from Hush, Hush reminds me of my best friend, Morgan.My best friend Morgan is just hilarious. Enough said.
3. Jeremiah from the Summer series reminds me of my boyfriend, Michael.Honestly, Michael is a total Jeremiah. He's sporty, outgoing, funny, and all around an amazingly sweet guy!
4. Rollins from Slide reminds me of my friend, Amanda.One of my really good friends has a tougher home life, so she kind of reminds me of Rollins because she's ALWAYS there for me, but she doesn't like to talk about what it's like for her at her house.
5. Hector from Dreamless reminds me of my friend, Trevor.Trevor is two years older than me, and he's like an awesome big brother! He's HILARIOUS and loves giving people hugs and for some reason that reminds me of Hector. The only difference is that Trevor is gay, and Hector is not!
6.  Patti from Sweet Evil reminds me of my friend's mother, Monica.
My friend Morgan, who's mentioned in #2, has an awesome mother, Monica. She's just really sweet and adorable and she's actually a pretty good friend and a person to talk to!
7. Jules from Die For Me/Until I Die reminds me of my boyfriend's friend, Cal.
Cal is a MAJOR flirt, and that doesn't stop him from casually flirting with me even though I'm dating one of his best friends! He's hilarious though, and very sweet and protective!
8. Emma from Of Poseidon reminds me of myself.
I know I just mentioned earlier that I was like Clary, but I also find myself in Emma as well. I'm just a bit klutzy, have a major temper at times, and I get jealous and curious very easily!

9. Sage from The False Prince reminds me of my brother, Kyle.
My brother is a total introvert, but when he does speak he has that same tone and spice that Sage does. He just kind of stands on the sidelines and observes things, rather than getting in on the action.
10. Haven from Illuminate reminds me of myself.
Haven is extremely smart, considerate, curious, and sweet - and I must say that I have SOME of those attributes! She also is cautious about falling in love, but once she feels a hint of love, she falls hard! I must say that I'm the same way!