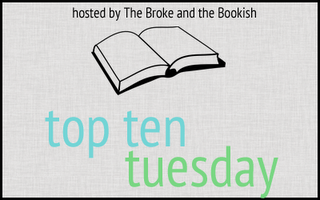 Top Ten Tuesday is a weekly meme hosted by The Broke and the Bookish where you post the 'top ten' for each week.
This week, the top ten is: books for people who like x book. For the book this was: most vivid worlds and settings. I don't pay TOO much attention to the settings in the books I read, but I know of some really good ones!
1. Clary Fray from The Mortal Instruments

I wouldn't mind having to kill a few demons in order to have Clary's life!
2. Hazel Grace Lancaster in The Fault In Our StarsThis one may come as a surprise, but I'd like to see what it would be like to walk in her shoes. Hazel is just so strong and wonderful. Oh, and I'd like to be her during the first portion of the book, rather than the last...
3. Katsa in Graceling
You have to admit, it would be pretty cool to be able to survive practically anything! And Katsa and Po's relationship is super cute!
4. Anna Oliphant in Anna and the French Kiss
Being in Paris with an awesome group of friends and an even more awesome boyfriend...? WIN!
5. Annabeth Chase in Percy Jackson and the OlympiansMe and my cousin play PJO at my grandma's house. Yes, we are nerds. So I'd love to be any character at Camp Half-Blood, but particularly Annabeth because of how awesome she is!
6. Belly in The Summer Series
Belly kind of has it rough, particularly in the second book, but she still surprises me. I like how her relationship grows with Jeremiah, and I have to admit that my relationship with my boyfriend is kind of like theirs!
7. Hermione in Harry Potter

Just being at Hogwarts would be a dream come true - honestly! Plus, Hermione is just awesome and intelligent, but I'd prefer if she were in Ravenclaw!
8. Amy Pond in Doctor Who

Okay, so this isn't a book character, but she is still a character of sorts! I would love to time travel with the Eleventh Doctor and Rory - and her story is just so intriguing!

9. Sydney Sage in Bloodlines
I'm in love with Sydney's intelligence- she is one of my favorite characters lately! Everything about her screams so cool, plus she's got a thing with Adrian! :)
10. Spencer Hastings in Pretty Little Liars
I so totally WOULD NOT enjoy getting the creepy text messages, or making out with Wren and whatnot, but Spencer's achievements are so great that I would love to be her. Honestly, I love Spencer's style and study habits and worrying about school. She's a good idol when it comes to THAT stuff!