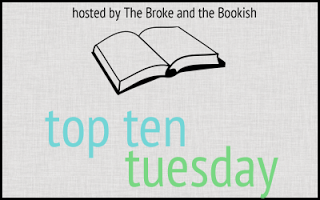 Top Ten Tuesday is a weekly meme hosted by
The Broke and the Bookish
where you post the 'top ten' for each week.
This week, the top ten is: ten books that I read before I was a blogger. There are a couple of these, but I have a feeling it will be difficult remembering if I read them before or after blogging!
The Twilight Saga by Stephenie Meyer. So this was my magic book. I was obsessed with this series and read it twice. 
Thirteen Reasons Why by Jay Asher. I really liked this one, but I feel like I didn't like it as much as everyone else did!   
The Clique Series by Lisi Harrison. This was one of my guilty pleasures when I was younger. I was faithful to this series for SO LONG! 
Vampire Academy by Richelle Mead. Well I read the last two when I was a blogger, but I did start this series before I started blogging! So happy the movie is being made!  
Graceling by Kristen Cashore.  This was one of my favorites right before I started blogging. I read the last two when I was in the middle of my blogging, but this one kind of kick-started my blogging experiences.
City of Bones by Cassandra Clare. This whole series was amazing to me before blogging. It still has the same impact on me now that I'm blogging! 
House of Night by PC Cast. Everyone and their mothers has started this series at some point. I think I only got through like 6 books though and then I got too bored and gave up. 
Along for the Ride by Sarah Dessen. Okay, not just Along for the Ride, but almost ALL of Sarah Dessen's books. I just have to read Keeping the Moon, and I read What Happened to Goodbye while I was blogging. 
Blue Bloods by Melissa de la Cruz. This is one of those series that just died out for me. I think this series is still continuing?
Gone by Michael Grant. Bleh, this series just went on and on and I got bored with it. 
I feel like a lot of these were series! And the fact that I started them over 2 years ago and they're STILL making them kind of makes me lose faith in them. Anyways, this was fun looking through my read list and finding the ones with dates before my blog started!