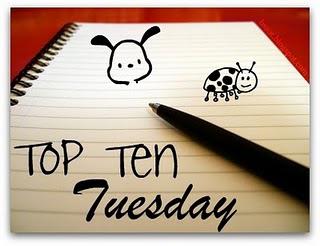 Top Ten Tuesday is a weekly meme hosted by The Broke and the Bookish where you post the 'top ten' for each week.
This week, the top ten was: Top Ten All Time Favorite Characters! I know this one is going to be very hard for me to decide, so I'm just going to choose my favorite characters out of some of my favorite books!
1. Katniss Everdeen.My favorite series is The Hunger Games, so of course she would be on here. Katniss is pretty much my idol - she's strong, courageous, and she's always so driven.
2. Hazel Grace LancasterHazel is a teenage girl with cancer, and she's awesome in The Fault in Our Stars. She's the type of character that I love reading about. She's philosophical and she's always knows the right thing to say.
3. June IparisSHE'S AWESOME. June is the protagonist in the 2011 debut, Legend. Her attitude is so fierce and I wish I knew someone like this in real life. She's got amazing combat skills and she's got a slight mouth to her as well!
4. Clary FrayWith her red hair and short stature, Clary doesn't seem like much of a threat. Of course, she may not be the best at combat, but she's amazing at drawing runes. Her relationship with the other characters in The Mortal Instrument series make me love her!
5. Evelyn Greene
With her Taser by her side and a paranormal possee, Evie is simply awesome in the Paranormalcy trilogy. It's hard to pinpoint what it is I like about her personality, but I know there are lots of things!
6. Sophie Mercer
The mouth on Sophie Mercer shouldn't be messed with. I take that back, Sophie Mercer simply should not be messed with. As a demon, she kicks ass in the Hex Hall series and she laughs the whole time she does it. Her personality makes the series unforgettable!
7. Beatrice Prior
Most people in the Dauntless faction know her as Tris, but nonetheless, she's fierce and awesome. She's got a personality I absolutely love - aggressive but gentle at the same time.
8. Percy Jackson.
Seaweed brain! Percy is simply awesome. Notice how he's the only guy on this list, and that's because overall he's probably my favorite male character I've read about! The things he says make me laugh!
9. Katarina Bishop
Katarina, aka Kat, is the burglar in the Heist Society series. I love how quick thinking Kat is and she just seems so cool and calm when it comes to stealing things. She's pretty witty as well!
10. Hermione Granger
Intelligence is the key, and Hermione proves that point many times in the Harry Potter series! She was always my favorite character in the series, and I'd love to read more about her!