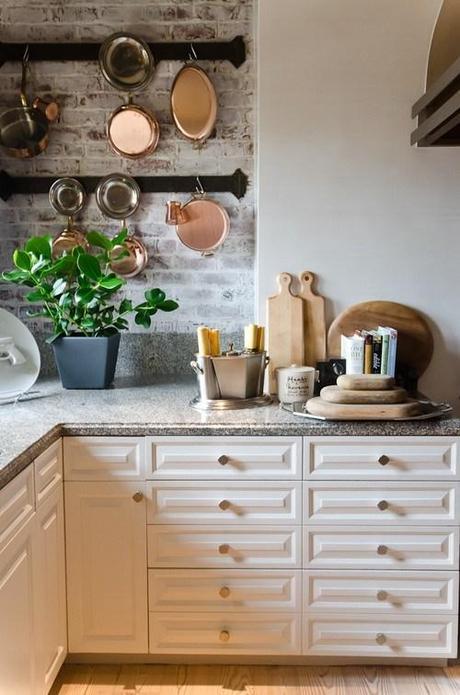 Traditional Kitchen by Los Angeles Photographers Alex Amend Photography
In the kitchen world, choosing appliances and accessories can be mind boggling. With new technologies and a variety of designs and styles, choosing the pieces that fit you and your home can be a hassle. How will you know what product is best?
Here are the 10 top rated cookware sets to help relieve some of the stress of selecting the perfect set for you.
1. WearEver A801SA74 Comfort Grip 10-Piece Cookware Set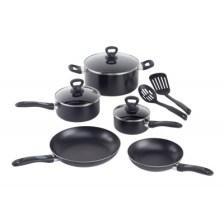 This WearEver set features 10 essential pots, pans, and utensils for your kitchen. With non-stick interiors and comfort grip handles, this is a solid, basic set for those moving into their new home.
2. Dacor ADCW7S 7 Piece Stainless Steel Signature Gourmet Cookware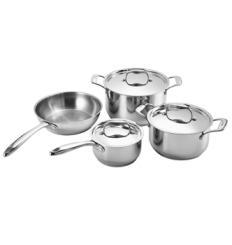 This Dacor gourmet cookware is perfect for the seasoned chef. With quick, even heat distribution throughout each pan, it's sure to give the results you expect. The pans and pots also have convenient internal marks for easy measuring. The stainless steel ensure long-lasting durability, ready for use on any type of stove top.
3. Summit 7 Piece Induction Cookware Set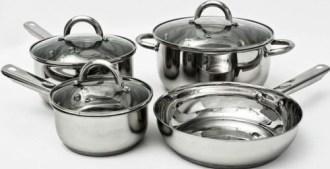 This seven piece set includes one 5 quart casserole with glass lid, a 3 and 5 quart saucepan with glass lids, and one 9 ½ inch skillet. The stainless steel offers beautiful elegance to any kitchen. All pieces are dishwasher safe. A nice added feature that you won't see very often is that each piece is also oven safe.
4. T-Fal E918SC64 Ultimate Hard Anodized 12-Piece Cookware Set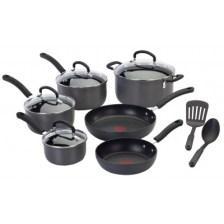 This T-Fal 12-Piece cookware set offers a unique and innovative Thermo-Spot heat indicator. This lets you know when the pan is preheated to the perfect temperature for optimal cooking of your food. The interior of the pans are extra durable and non-stick. No more fretting about scratching off the coating; this set can be used with metal utensils! There's also a TechnoResist base which resists warp. This set is perfect for a beginning cook who might make some mistakes in their new endeavors!
5. Mirro A797SA74 Get-A-Grip Black Nonstick 10 Piece Cookware Set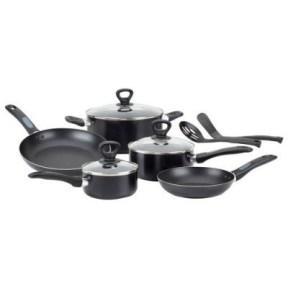 The Mirro 10 Piece cookware set includes one 8" and 10" saute pan, one 1 and 2 quart covered sauce pans, a 5 quart covered Dutch oven and two utensils. The silicone grip handles stay cool on the hot oven, and all pieces are oven safe up to 350 degrees! Perfect for someone who needs a basic, yet sturdy kitchen set.
6. T-Fal C112SC74 Total Non-Stick 12-Piece Cookware Set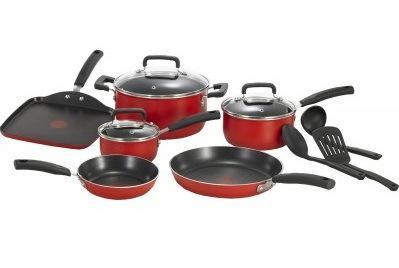 The cookware set won 2014's Best Choice Award by Best Reviews Hub and you can own it for free if you take part in our giveaway! It features all the same benefits of number four on our list, the Ultimate Hard Anodized 12-Piece Cookware Set. However, with this set, you get a 10.25 inch square griddle and ladle in place of the extra sauce pan. This is still a great set, depending on what piece you value more. Even better, it comes in three color choices: red, blue, or black.
6 Top-Rated Cookware Sets
by
Liz Carroll