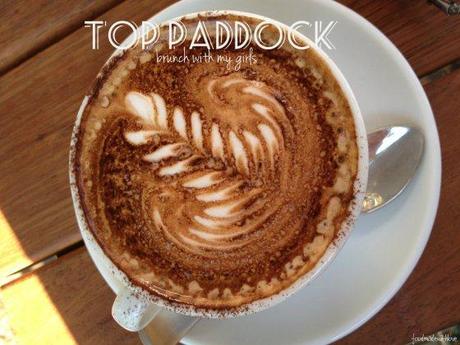 TGIF dear readers! I hope that you had a good week and if you are like me, I'm sure you can't wait till the weekend! It's not far away from now! hehe In fact, it has already started for me. Time really flies and it's already been close to 2 months since I got back from my summer vacation. One thing I truly miss is the number of brunch spots available here in Melbourne. Although the brunch scene is increasing in Singapore, it is nothing close to what there is to offer here! So when my favourite girls asked me out for Saturday brunch, I couldn't say yes any quicker! hehe
We decided to try somewhere new : Top Poddock. It's opened by the same fabulous people who opened Three Bags Full (but now sold) and more recently, Two Birds One Stone. So I knew we were in for a treat! We were lucky enough to get an outdoor table straight away without any wait, and lucky thing the weather was perfect that afternoon! But do let me apologise, as I think some of my pictures are over exposed due to the super strong sunlight!
Top Paddock
Add : 658 Church Street, Richmond
Opening Hours : Mon – Thurs: 7am-5pm. Friday: 7am-9pm. Sat – Sun: 8am-4pm 
I started the day with some much needed caffeine : cappuccino. I have to say, I've cut down on the amount of coffee I'm drinking, but this was one delicious cup of coffee! Strong and bold, it's no surprise as they use Five Senses coffee beans. Boy was it good! Slurps!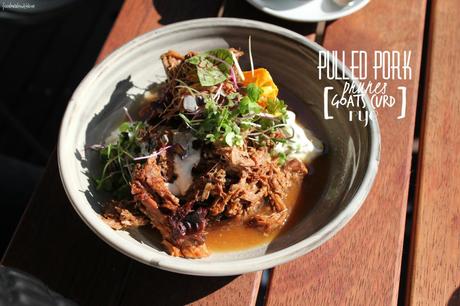 Miss D (Sweet Queen) ordered the pulled pork dish. The flavours were yummy, but she said that the pork could be a little more tender. Didn't quite fall apart like she hoped for. But it was still yummy and a really generous portion of pork if you ask me! hehe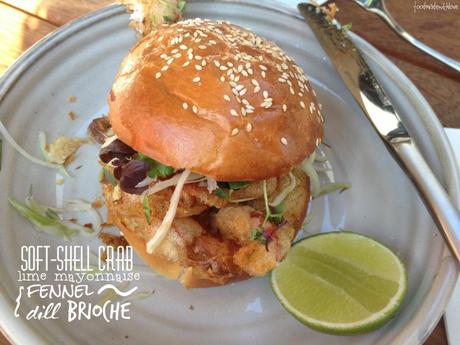 Our dear Julie was attracted to one thing on the menu : Crispy soft-shell crab roll. The crabs were delicious and so so crispy but unfortunately, due to the outdoor setting, there were some bees buzzing around the table and landed on a portion of her crab! Poor dearie. She couldn't enjoy it as much as she wanted to!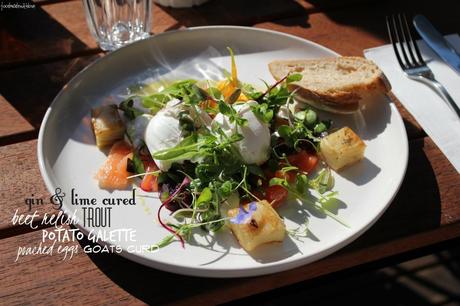 The same was for Peachie! She had a bee land on one of her poached egg! But doesn't her dish look just like an art piece? Vibrant colours and delicious flavours! Just beautiful!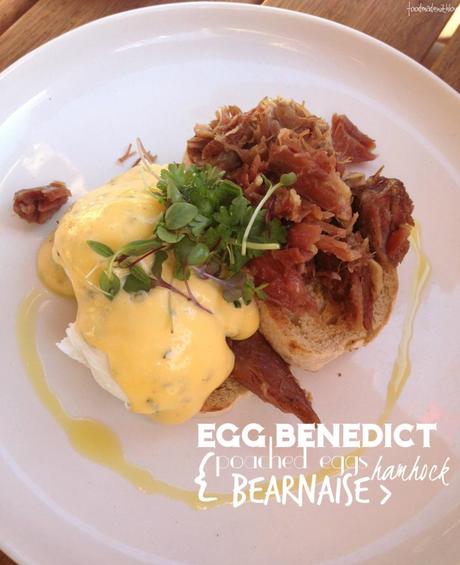 Melissa (my sis-in-law) ordered the eggs benedict and it was no ordinary eggs ben. It was one with a flare! hehe They served it with hamhock and instead of hollandaise sauce, they used béarnaise instead! A perfect combination and a variation that I would prefer anytime! Noms!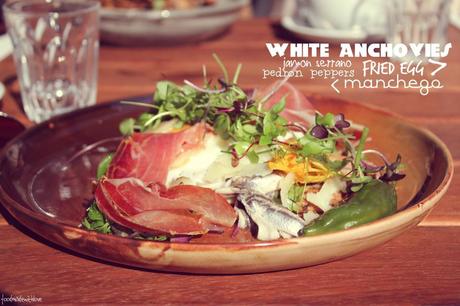 My choice was easy when I saw that they had white anchovies on the menu. The first time I had it was during my Daylesford trip with the mr at Point Drop Cafe. I have been wanting to have more ever since, so you could just imagine my grin when I spotted it on the menu! hehe It was so so good! The saltiness of the white anchovies and the jamon serrano went so well with the richness of the yolk and freshness of the micro herbs! I just didn't want it to end! Definitely heading back just to have it again hehe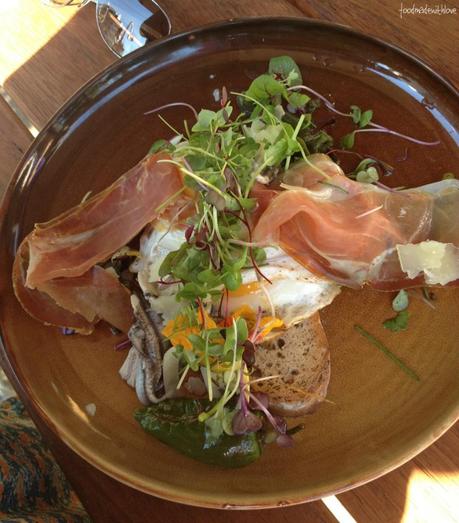 It was definitely great catching up with my girls after so long and what could be better than catching up over good food and drinks? Nothing! (: Will definitely be back and will bring the Mr next! hehe Have a good weekend everyone!
Remember to always cook and bake with love! (: