Hi Friends!
Has anyone else noticed that the overnight oat breakfast is a HUGE craze!  Have any of you tried them?
I thought I would give it a shot and was PLEASANTLY surprised at how yummy they tasted. I am a big fan of eating my breakfasts.  I feel it ramps up my metabolism :-)
There are so many variations on making overnight or refrigerator oats but here are some of my favorites.  Sometimes I'll make a giant batch and put them in individual serving containers.  It's so nice to just pull one out the evening before for when you need a healthy breakfast FAST!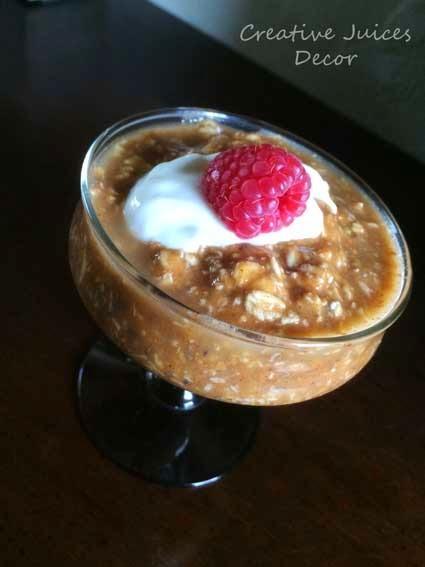 Pumpkin Pie Oats Breakfast
Recipe - Individual Serving:
1/2 cup of raw (uncooked) oats.3/4 cup egg whites (from a carton)1/4 cup pure pumpkin puree (from can is fine)1 Tbsp 
Unsweetened Shredded Coconut
1/2 Tbsp chia seedsEither 7 drops of
liquid Vanilla Stevia
or 1/4 tsp White Stevia Powder
Cinnamon and pumpkin pie spiceStir and let sit overnight or at least an hour in the refrigerator - ENJOY!
Nutritional info:
 339 calories / 28g protein / 42 carbs /10 fat and 12 fiberNOW, before you guys freak out on me (like I did my friend when she first had me eat her chocolate version of this) but egg whites from the carton are pasteurized and totally 
safe to eat raw
. :-)  Believe me, I researched it as I wasn't convinced at first :-) 
I added a blob of plain non fat greek yogurt - mostly just for the picture :-)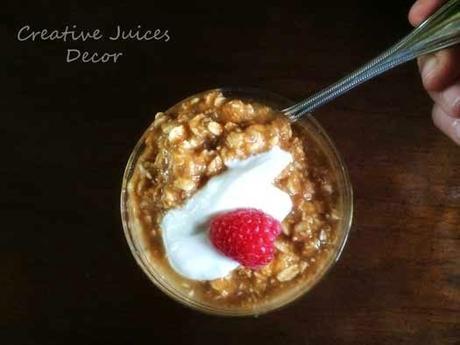 Creamy Pumpkin Pie Oats
Recipe - makes 4 one cup servings

2 cups unsweetened almond, coconut or flax milk 1- 15 oz can pumpkin 3/4 cup nonfat greek yogurt1 1/2 cup raw oats3 scoops of Vanilla Whey Protein 
 (or Casien) powder (100 grams)Splash of vanilla25 drops of liquid Vanilla Stevia
or 1-2 tsp White Stevia Powder
(or till tastes right for you!)Cinnamon and pumpkin pie spice till it tastes right
With all of these recipes - you can feel free to add a pinch of salt.
Nutritional info for one serving:
 (approx) 266 calories/ 24 protein/ 31.4 carbs/ 5.2 fat
Stir till well combined and divide one cup servings into any container (glass mason jars work fine) You can freeze or put in your refrigerator to eat soon!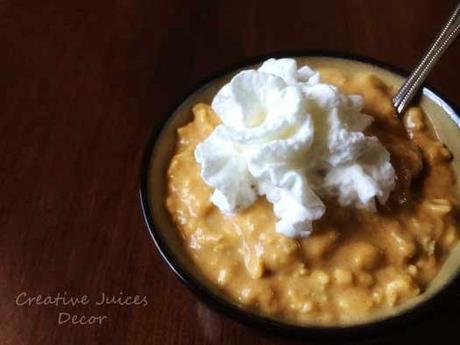 Yes, that is whip cream :-)  I guess I'm not so healthy after all - hee,hee!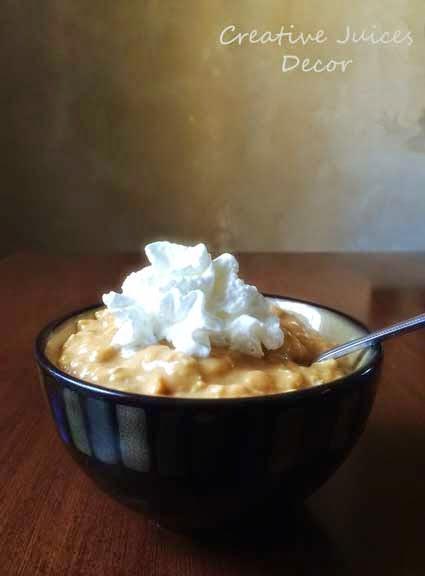 Feel free to check out (or follow) my
Health and Natural Living
Pinterest board.  I have a LOT more yummy healthy breakfast ideas pinned there. :-)  
If you are not a fan of pumpkin - how about:
CHERRY ALMOND overnight oats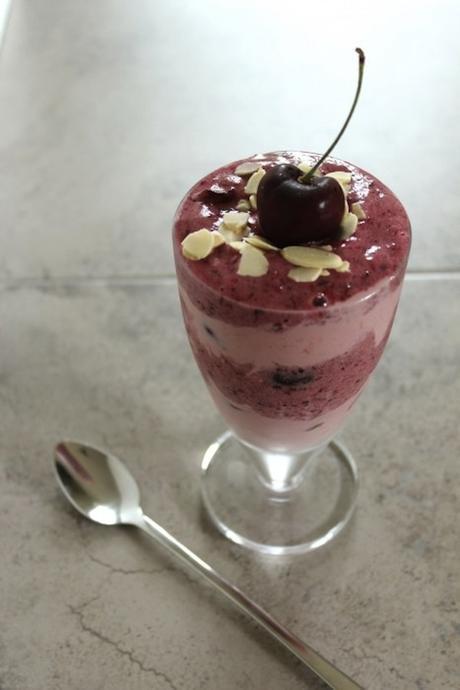 OR
Chocolate Cake Batter Overnight Oats
!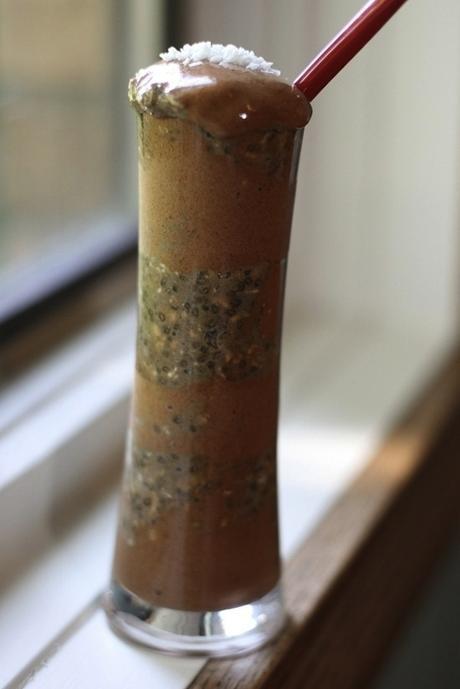 This looks SOOOO yummy!  
Coconut Chocolate Overnight Oats
.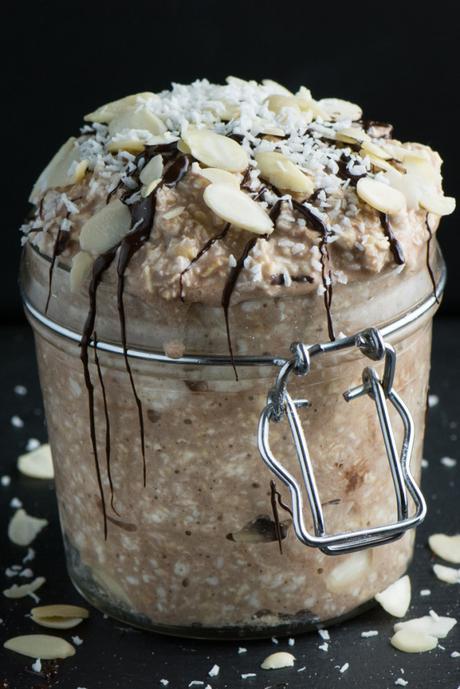 Chocolate Chips and Cream Overnight Oats
:-)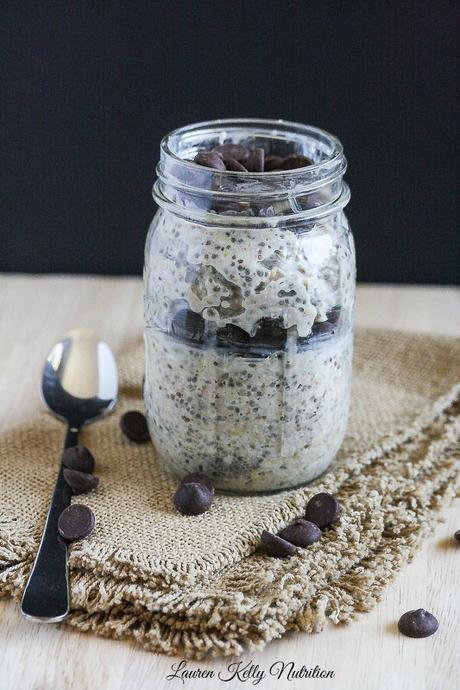 Or...
Peach Streusel Overnight Oats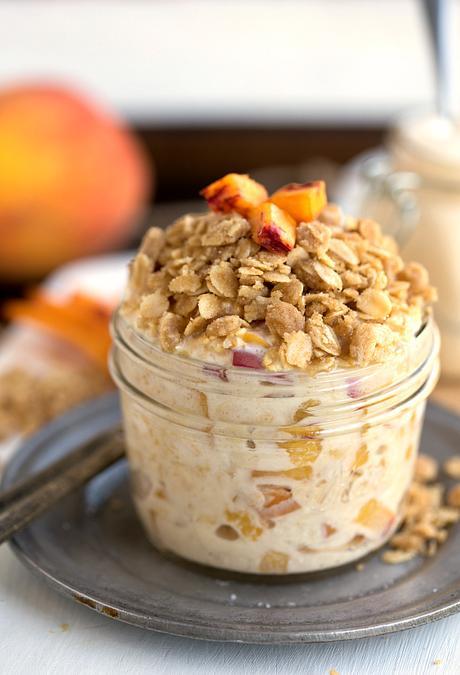 ENJOY my friends - Let me know if you try any of these!!!  
As always, I hope to inspire all your Creative Juices not only in design but in the kitchen!
 Don't miss out on Selina's home decor tips and inspirations - Sign up to receive her once a week post :-)
Enter your email address:
Delivered by
FeedBurner
Disclosure Policy
If you enjoyed this post, you can click small purple Share To Facebook button right below this message :-) I'd appreciate it! You can also head over to WWW.CREATIVEJUICESDECOR.COM and sit back, relax, grab your cup of coffee and check out my other DESIGNER SECRETS and FUN CRAFTS on my blog. (Thanks my friends!)