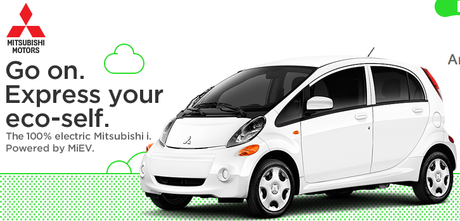 The what? Mitsubishi might have chosen a name that is a little easier to remember; that aside, I guess they are hoping the efficiency of the car makes it memorable.
According to the US Environmental Protection Agency (EPA)'s 2012 Fuel Economy Guide, North American-spec i-MiEV an all-electric vehicle (EV) produced by Mitsubishi Motors North America (MMNA), has been named the most fuel-efficient EV. MMNA is responsible for manufacturing and marketing operations for Mitsubishi Motors in the United States. Fleet and retail customer deliveries in the U.S. began in December 2011.
The yearly Fuel Economy Guide features information relating to the fuel economies of automobiles in the US market, providing fuel economy rankings as well as information on the fuel economy labels required on window stickers at dealerships. The North American-spec i-MiEV drives 112 miles per gallon equivalent (MPGe) in combined city and highway driving, 126 MPGe in the city, and 99 MPGe on the highway.