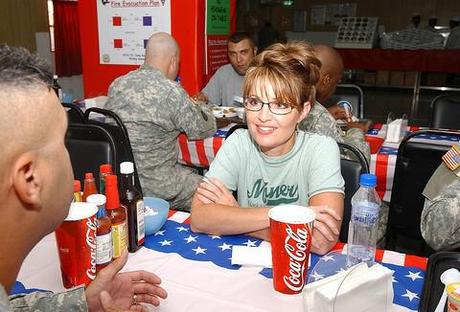 Sarah Palin. Photocredit: asecondhandconjecture http://www.flickr.com/photos/[email protected]/2811133411/sizes/m/in/photostream/
The former Governor of Alaska, Sarah Palin, has spent a lot of time and effort on her "hockey mom" image. Now all that could change, as allegations from a forthcoming biography of her by Joe McGinnis called The Rogue: Searching for the Real Sarah Palin, surface. The book will be published in America next week. McGinnis spent some time in a house very close to Palin's domicile in Alaska and interviewed about 200 people associated with her. Giles Whittell in The Times took the angle that this could be "devastating" for her political ambitions. The top five allegations made in the book are listed below.
"This might not go down so well with the hockey moms, but Guido is certainly amused," said the Guido Fawkes blog. Referring to the assertion that Palin as a young TV journalist jumped into bed with basketball star Glen Rice, Engineer commented on Fakwes' blog: "Which is worse behaviour by a young journalist, a one-night stand and a possible experiment with recreational chemicals or a habit of fabricating quotes and interviews?", whilst a lot of comments referred to the young Sarah Heath's beauty (Heath was Palin's maiden name). Alexandra Petri, in a lovely Iliadic allusion, shrugged on her Washington Post blog: "This is on the level of Book 22 of the Iliad, when Achilles mutilates Hector's dead body and drags it around the walls of Troy behind his chariot. Hector is dead. Give it a rest. You're just embarrassing yourself." The Superficial said it was  "basically the most believable shit you'll ever read in your life," adding "it could all be completely true because who doesn't love black penis?"
Danny Groner on The Huffington Post said that really he didn't care, and it was about time that writers of bestsellers were subjected to the same strictures journalists were. "Through all of Palin's Fox News appearances, dissection of her emails, bus tour, family saga, there are people wondering aloud 'Who Cares?' in hopes that others will back away. Yet, here we are again."
Meanwhile, Sarah Palin has written an essay about economics that she's posted on Facebook.
"I think Sarah Palin's hairstyle from this era is mortifying enough without bringing one-night stands into the picture," tutted Alexandra Petri on her Washington Post blog.
THE ALLEGATIONS
1. She had a one-night stand with basketball star Glen Rice. This allegedly happened 9 months before she married Todd Palin, whilst Sarah Heath, a sports reporter for an Anchorage TV station, (as she then was) attended a basketball tournament at the University of Alaska Anchorage, where her younger sister studied.  Apparently things got hot and heavy pretty quickly. Maureen O'Connor on Gawker.com seemed to think that this one was most likely to be "true", as Rice himself confirms it. Allegations that she has a fetish for, ahem, hot black men, are perhaps a little less compelling.


2. She snorted drugs off an oil drum. Whilst snowmobiling, Sarah Palin and her husband Todd were allegedly seen snorting cocaine off the back of a 55-gallon oil drum. O'Connor on Gawker thought that this was physically impossible, asking "what about wind?" Jamie Blair, however on Ibtimes.com, said "as a former fisherman on Massachusetts' Cape Cod Bay, I can confidently say that small, seasonal communities are rampant with drug use."
3. She had an affair with her one of her husband's business partners. In the mid 1990s, as originally reported in The National Enquirer in 2008, it was alleged that Palin had had an affair with her husband Todd's business partner Brad Hanson. The rumour was knocked down back in 2008, according to CBS News.
4. Shock horror – she allegedly smoked marijuana, with a professor whilst studying journalism at Mat-Su college in Anchorage. Perhaps the most believable of the allegations – according to CBS News in 2010 Palin came out in defence of marijuana, calling it a "minimal problem."
5. Perhaps the most damaging allegation of all: that she (allegedly) fed her children burnt macaroni and cheese (specifically Kraft cheese). This is more to do with the fact that despite her claims to be a regular hockey mom who looks after her children, she's actually a bad mother. Will she be able to survive the claims? We'll have to wait and see.