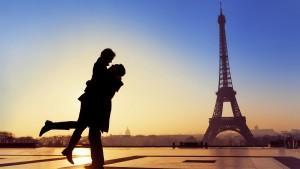 Some people gripe that Valentine's Day is a Hallmark holiday. But, for others, Valentine's Day is a holiday to go all out with romance and let their special someone know just how special they are. If cards and chocolate just won't suffice, and you have the itch to travel, there are destinations around the world where love is in the air and that simply ooze romance.
If you're looking for a romantic getaway for Valentine's Day or any other day of the year you're feeling the love, here are some places you should go.
Santorini, Greece
This Grecian destination is considered to be the most sought after spot for a Greek romantic getaway – when you think of Greek islands, you likely think of Santorini's iconic white buildings topped with vibrant blue domes, stacked like boxes. It's picture-perfect with clear waters, perched on the rim of an active volcano in the middle of the sea. Since taxis tend to be hard to come by here, rent a scooter and snuggle up together while zipping through the town. Head to the island's vineyards for wine tasting and toast with a glass of Retsina, a white wine produced in Greece. You can also enjoy swimming or sunbathing together at either the Red Beach, which is secluded with a wide cove to swim in, or the Black Beach, known for its hot black sand.
Looking for a more unique— albeit dirty – experience? Take a short boat ride to the outskirts of the volcano to hot springs, where you can take a mud bath – the mud has Sulphur in it, which is supposed to be good for your skin.
The Maldives
This tropical nation in the Indian Ocean is known for its beaches, blue lagoons and extensive coral reefs. But it's also become known to couples as a place to getaway to for romance. White sand secluded beaches and palm trees surrounded by cerulean water and skies set the stage for romance, especially when you can watch the sunset from your luxurious over-water bungalow. Get your adrenaline flowing by snorkeling and SCUBA diving together, taking in the sights of colorful marine life along the reefs. Or bond and relax together during a couple's spa treatment.
Florence, Italy
Look at beautiful and world-renowned artwork in museums, sip Chianti at an outdoor café and end your days watching the sunset from Florence's Piazzale Michelangelo. Spend a day bike riding from Florence to the Tuscany countryside (either in a tour group or on your own), which gives you the chance to see vineyards, olive groves, hillside villas and medieval castles, concluding with a wine tasting.
Leave a piece of your lasting love in Florence at the Ponte Vecchio bridge, where you can you lock a padlock and make a wish together, throwing the key over the bridge. You can also spend the afternoon at a Florentine wine bar indulging in a wine and cheese tasting, where you can try the finest wines and learn about Florence's culinary history.
St. Moritz, Switzerland
This Swiss resort town will change your idea that romantic getaways are limited to tropical beaches and lavish European destinations. St. Moritz is famous for its "champagne climate," meaning it's dry and sparkling. You can spend your days here with your significant other having an alpine adventure on snow-capped peaks, gliding around an outdoor Olympic ice rink, or zooming down a world-championship bobsled run. At night, retreat to your chalet to curl up in front of the fireplace or take a ride on a horse-drawn carriage across the frozen lake.
Paris
You simply can't talk about romance and wine without mentioning Paris. Spend your days and nights touring museums and sipping on Parisian wine in candlelit cafes here. Or find time to head to Montmarte, which is set on a hill in northern Paris – it gives you breathtaking views of the city and it was once home to studios of Salvador Dali, Claude Monet, Pablo Picasso and Vincent van Gogh. Its narrow and winding streets are lined with small cafes and shops.
Of course you should also make it a point to visit the Eiffel Town and Arc de Triomphe…no one will judge you for sneaking a kiss at these monuments in city of romance. Hint: If you scale three floors of the Eiffel Tower, treat your sweetie to a glass of pink Champagne from the top-floor Champagne Bar. If you take in the view of the Parisian icon after dark, the town sparkles every hour on the hour with 20,000 golden lights.
What's your favorite romantic spot?
Photo from Holiday Guru.