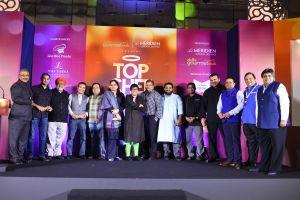 DELHI GOURMET CLUB'S Top Chef Awards Delhi-NCR 2015 Season 2 ended on Sunday, August 30, with the city's hospitality industry who's who giving Chef Arvind Saraswat a standing ovation as he received The Leela Ambience Gurgaon Lifetime Achievement Award from another doyen of the industry, Chef Manjit Gill. With more than 45 years in the industry behind him, Saraswat has been responsible for a number of cutting-edge innovations during his long stint with the Taj Group.
The coveted award, which went last year to J.P. Singh, Executive Chef of the Bukhara, ITC Maurya, was conferred upon Chef Saraswat by the awards jury co-chaired by Gill, Corporate Chef, ITC Hotels, and President, Federation of Indian Culinary Associations, and Vir Sanghvi, eminent food writer, television personality and Chief Editor, EazyDiner.
Also to be honoured with a jury award was Riyaaz Amlani, President, National Restaurants Association of India (NRAI), and Founder CEO-Managing Director, Impresario Entertainment and Hospitality Private Limited. Amlani is getting the Restaurateur of the Year Award for his benchmark-setting café concept, Social, which he has successfully rolled out first in Bangalore, followed by Delhi and Mumbai.
The Top Chef Awards Delhi-NCR 2015 Season 2 was co-presented by the Delhi Gourmet Club, a Facebook group of 7,500-plus discerning food connoisseurs living in Delhi-NCR, and Le Meridien Gurgaon, Delhi-NCR, in association with Lite Bite Foods, Massive Restaurants, The Leela Ambience Gurgaon and Nestle Professional, and beverage support from Pernod Ricard, Sula Vineyards and Kingfisher.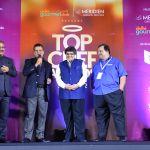 At a glittering awards ceremony held at Le Meridien Gurgaon, Delhi-NCR, winners in 18 categories voted for by the more than 3,000 members of the Delhi Gourmet Club, Sikandalous Cuisine and Indian Restaurant Spy Facebook communities who participated in the election, and the eminent recipients of the six jury awards, were honoured by their industry peers. The jury had shortlisted three to five nominees for each of the 18 award categories open for voting. In the interest of fairness, Le Meridien Gurgaon, Delhi-NCR, opted out of the awards process.
Notable among those who won the top honours in the categories open for voting were: Ghulam Qureishi (Dum Pukht) for Excellence in North Indian Cuisine (Five Star), Saurabh Udinia (Farzi Café) for Excellence in Modern Indian Cuisine; Diego Martinelli (Le Cirque) for Excellence in Italian/Modern European Cuisine (Five Star); and Palki Singh (Indian Accent) for Restaurant Manager of the Year (Standalone). Vikramjit Roy received two awards - one for the Best Asian Restaurant (Five Star) and the jury award for Young Chef of the Year.
Commenting on Le Meridien Gurgaon's association with the much-anticipated event, the hotel's General Manager, David Hopcroft, said, "We are delighted to once again partner with the Delhi Gourmet Club's Top Chef Awards Delhi-NCR 2015 Season 2, which is arguably Delhi-NCR's finest platform to recognise talent in the culinary world. Some of the finest minds have come together for the event and we have put together a food experience befitting for our honourable guests."
The dinner spread, replete with innovative Indian, Modern European, Chinese, Japanese and Thai specialities put together by Executive Chef Tanveer Kwatra and his talented team, was the highlight of the post-event party.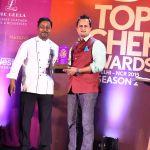 Extending his support for the initiative,
Rohit Aggarwal
, Director, Lite Bite Foods, said: "We are very excited to be associated with the Delhi Gourmet Club's Top Chef Awards Delhi-NCR 2015 Season 2. It is an incredible platform that recognises and encourages culinary excellence. Our chefs are the backbone and lifeline of any brand. They are the artistes and creators of great dining experiences. These awards have come a long way since their inception last year. They are an incredible endorsement for any serious F&B player in the country."
Sharing the sentiment, Michel Koopman, General Manager, The Leela Ambience Gurgaon, said: "I am really happy to be a part of the Delhi Gourmet Club's Top Chef Awards Delhi-NCR 2015 Season 2. The awards have been created to appreciate the talent and hard work that goes behind every successful restaurant. Cooking, I believe, is an art that appeals not only to the eyes, but also to all the five senses, and in India, guests vote for a restaurant or a chef with their stomach!"
Sharing an award winner's perspective, Pavan Jambagi of Carnatic Café said: "It is a great initiative on the part of the Delhi Gourmet Club for small entrepreneurs like us. You guys are no less than family and friends. You people support talent and nurture it, which many fail to do. Even our government agencies and the system work against us."
The winners of the jury awards were (and these included one for the Best Maitre d' of the Year, the first of its kind in any major food awards):
Jiggs Kalra Award for the Young Chef of the Year: Vikramjit Roy (Tian, ITC Maurya)
Maitre d' of the Year: Jitender Kapoor (West View, ITC Maurya)
Delhi Gourmet Club Founder Members' Award for Culinary Excellence:
Vikram Khatri (Guppy by Ai)
Jiggs Kalra Award for the Top Chef of the Year: Manish Mehrotra (Indian Accent)
Delhi Gourmet Club's Restaurateur of the Year: Riyaaz Amlani (Founder CEO and Managing Director, Impresario Entertainment and Hospitality Pvt. Ltd.)
The Leela Ambience Gurgaon Lifetime Achievement Award: Arvind Saraswat
And the voters gave their endorsement to the following 18 winners of the Top Chef Awards:
(1) Top Chef Season 2 Award for Excellence in North Indian Cuisine (Five Star):
Ghulam Qureishi, Dum Pukht, ITC Maurya
(2) Top Chef Season 2 Award for Excellence in North Indian Cuisine (Standalone):
Chiquita Gulati, Gulati's Spice Market
(3) Nestle Professional Top Chef Season 2 Award for Excellence in South Indian Cuisine:
Pavan Jambagi, Carnatic Café
(4) Top Chef Season 2 Award for Best Regional Cuisine:
Kainaz Contractor & Rahul Dua, Rustom's Parsi Bhonu
(5) Top Chef Season 2 Award for Excellence in Modern Indian Cuisine:
Saurabh Udinia, Farzi Café
(6) Lite Bite Foods Top Chef Season 2 Award for Best International Café Cuisine (Five Star):
Manish Sharma, THREESIXTYONE o, The Oberoi Gurgaon
(7) Lite Bite Foods Top Chef Season 2 Award for International Café Cuisine (Standalone):
Shamsul Wahid, Social, Hauz Khas Village
(8) Top Chef Season 2 Award for Excellence in Italian/Modern European Cuisine (Five Star):
Diego Martinelli, Le Cirque, The Leela Palace New Delhi
(9) Top Chef Season 2 Award for Excellence in Italian/Modern European Cuisine (Standalone):
Romina Lugaresi, Artusi (Award will be collected by Oscar Balcon)
(10) Top Chef Season 2 Award for Best Chinese Cuisine:
Zhang Hongshen, China Kitchen, Hyatt Regency New Delhi
(11) Top Chef Season 2 Award for Best Asian Cuisine (Five Star):
Vikramjit Roy, Tian, ITC Maurya
(12) Top Chef Season 2 Award for Best Asian Cuisine (Standalone):
Janti Dugal, Mamagoto
(13) Top Chef Season 2 Award for Best Japanese Cuisine:
Corey E. Asato, Akira Back, JW Marriott, New Delhi Aerocity
(14) Top Chef Season 2 Award for Pastry/Bakery Chef of the Year
Sahil Mehta, The Artful Baker
(15) Top Chef Season 2 Award for Mixologist of the Year (Five Star):
Joel Scholtens, Blue Bar, Taj Palace
(16) Top Chef Season 2 Award for Mixologist of the Year (Standalone):
Vijay Prakash, Social
(17) Top Chef Season 2 Award for Restaurant Manager of the Year (Five Star):
Atul Tiwari, Megu, The Leela Palace
(18) Top Chef Season 2 Award for Restaurant Manager of the Year (Standalone):
Palki Singh, Indian Accent