The consumer-level, affordable drone market is booming. Every month there is a new quadcopter in market and every new product wants to tell you they are the best. This list is complied with a hope that it makes easy for you to buy a quadcopter or drone not just for yourself but to gift them this festive season.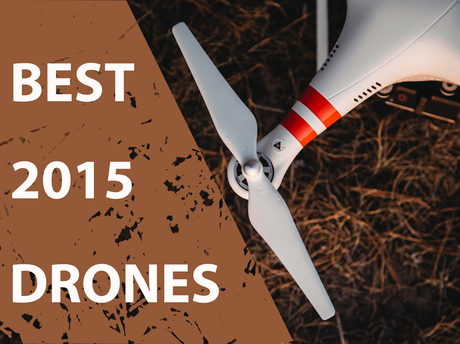 DRONE vs QUADCOPTER
Quadcopter or multirotor is a device which has four arms, each equipped with an engine and a propeller. The rotors arrangement is in such a way that both pair of rotors are turning in the opposite direction giving it the flight and stability it is designed to have. They are remotely controlled by someone on ground.
Drones are Unmanned Aerial Vehicles or UAVs which are controlled on ground by someone. You can consider them as a remotely controlled flying robot. Drones are programmed to follow certain rules with the help of their GPS receiver.
The consumer level Drones are a mix of both and the market is filled with both. You can buy Drones and quadcopter but their controls, technology and flight overlap so everything is categorised under the same blanket.
Keep in mind the most important part of these quadcopters should be its own ability to stay stable. If the quadcopter couldn't stay stable once you stop manoeuvring it, it would be so painful to control that flying a drone won't be fun at all. Also these quadcopters are small on battery life so if you spend most time trying to keep it stable when can you fly it? This list of the best drones of 2015 is complied with keeping stability as the most important aspect of quadcopter.
Use these links to guide yourself or jump to the budget of your liking.
2015's Best Cheapest Beginner Drone for less than $20
Best 2015 Drones below $100
Best 2015 Intermediate Drones for less than $500
Ultimate Drone of 2015.The Best 2015 Drone You Can Buy Right Now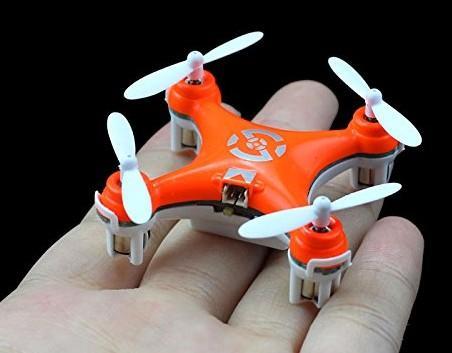 This deserves an honourable mention. Weighing for less than 12g this quadcopter is a fun little toy. This is not a quadcopter with behemoth control options. But this is everything you might be expecting from your first RC toy. The controller of this quadcopter is bigger than the winged product itself. Being palm sized this isn't something you should be flying outdoors. But don't get discouraged by its small size, it is blazingly fast, stable and responsive.
You'll be surprised to know you might not be able to fly it well in your first flight. Mostly because you have underestimated its power based on its size. Despite its small size it is surprising well-balanced and doesn't drift off when you don't want it to.
This nano quadcopter is one of the best quadcopters you can buy for this price. And that such a cheap price it definitely gives you more than you pay for. This drone retails between $15 - $20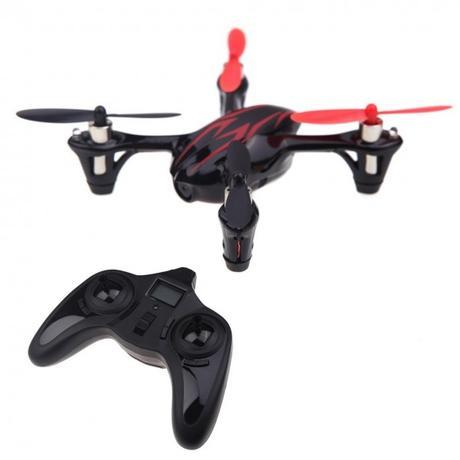 The best and the cheap beginner level drone for everyone to get their hands wet. They are not very small nor big so flying them indoors or outdoors shouldn't be a problem. Don't go by its cheap price it has as most needed features as any advanced quadcopter out there.
The Hubsan X4 come with 4 different variants, each one has one or the other extra addition to make it more fun but you can begin with the Hubsan X4 H107L with 6-axis gyro for precision control.
And comes with LEDs to assist you to fly at night or in dark rooms. You can buy this for as low as $30 - $50.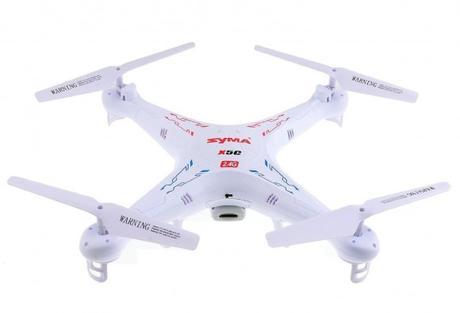 Syma is very well-known brand when it comes to RC toys. Syma 107 is still one of the best RC Helicopter with Gyro on Amazon right now. They are known to make cheap, reliable and extremely fun RC toys which are easy to fly and are well suited for beginners.
With that reputation Syma has introduced the yet another#1 Best seller RC device.
The Syma X5C is a 6-axis Gyro RC Quadcopter with HD Camera and a 2GB micro SD card built-in. With 2,500+ reviews and an astonishing 4.2 rating out of 5 on Amazon, the Syma X5C has become the #1 Best Seller in its category. It is not only built to fly indoors but also made to be flown outdoors. The wind resistant body makes it heavier than most entry-level drones and can be flown outdoors without worrying about the wind crushing it to a tree. But I would still recommend to fly it outdoors at low wind, high wind would still topple it and it would make it feel out of control.
The drone has a rechargeable battery and a simple USB charger. But its killer feature is its controller which provides the most extensive control and guidance for a quadcopter. Apart from the regular flight controls, the controller has a LCD Display which provides all the information you want to know about the drone mid-air and gives complete control to the pilot at any given time. It can even perform a flip with its 360 degree eversion control.
If you already own a Syma product you are aware of its quality and it must be a no-brainer for you to just jump in and buy this drone. And if you don't own any Syma products yet, make this your first one and you would never look back.
You would be surprised with the amount of features and control it provides for such a cheap price. It definitely feels like a steal at this price point. You get a lot more than what you pay for. Being Syma you can find this drone at a very reasonable cost, it retails between $45 - $55.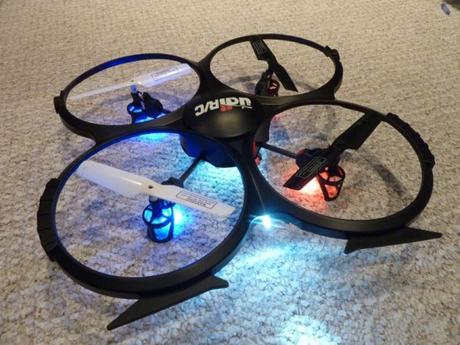 The best entry-level camera drone which is aimed for beginners to learn and just enjoy flying. With more than 1,500 positive reviews this entry level drone has amassed 3.9 stars out of 5 which makes it of the most best selling UDI drones on Amazon. It ranks just below Syma as being the second most selling drone in its category.
The UDI Drone is extremely well designed with not many small parts making it easy to install and repair if you crash or break something on your test flights. These repairs or adjustments can be done with the spare propellers and small screwdrivers provided by UDI. The drone has a rechargeable battery and the controller needs 4xAA batteries. It is extremely lightweight which gives it a bit more flight time than any other small quadcopters. The camera isn't very high quality but gives decent quality video output. If you are new to drones, this drone will teach you everything you need to know about flying drones as you can learn to fly and do stunts on it easily because of its weight, size and ease of control.
One of the major reasons why it is one of the best drones to begin with is the flight modes it has. As a beginner it has a slow mode which is still quite fast and the high speed flight mode which is quite fun to play around once you get hold of the controls and understand how a drone flies. UDI's aggressive pricing puts this drone between $80 - $100. If this quadcopter sounds too basic to you, there are a few more advanced options for you and are on sale right now, check out some best deal on drones for 2015.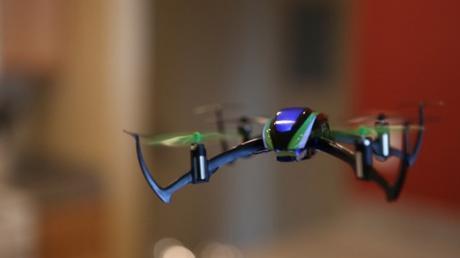 Just below $100 this nano quadcopter is just barely bigger than your hand and makes a great learning drone with precise control and two basic flying modes. The agility and stability modes are pre-programmed and are meant to make it either stable in-flight or let you make it stable everytime. The agility mode gives you complete control of the drone and it will not stabilize or auto-level itself but rather let you have full control of its motion. The stability mode will automatically level itself so it can hover in the air once you stop controlling its pitch or direction.
The best part of this quadcopter being it can be used with any DSMX RC transmitter. It even has a Sensor Assisted Flight Envelope (SAFE) which makes learning and flying this quadcopter super easy. It claims to be the easiest to learn and the most skillful to master drone out there. The only downside being, because of its sheer size and weight you need to be indoors to have complete control otherwise the wind might cause a lot of instability.
The quadcopter has blade guards and lightweight frame so it can handle a lot of small crashes while learning without breaking itself apart. Usually retails at $108 but mostly it's on the sale price of $89.99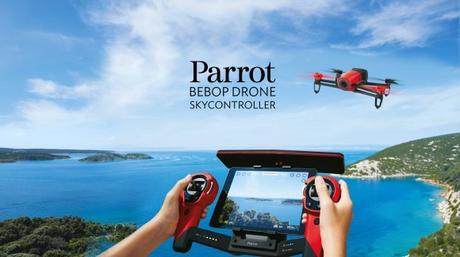 Parrot was one of the pioneers in launching affordable, consumer-grade quadcopters. In the world of drones, affordable good quality quadcopters are still an expensive toy to play with. But Parrot despite being one of the firsts, has now become an underdog. Over the past 18 months, many other drones have been launched and loved by drone enthusiasts and Parrot just kept selling various variants of their famous AR.Drone which were great but not very advanced.
This time around Parrot has a new drone to play with and it is much more affordable than its competitors. Parrot Bepop has as 14MP camera which can take stills and record full HD 1080p video and has a 180-degree field of view. The camera is attached to the body and is mounted ahead just like a headlight of a vehicle. This design along with a 3-axis image stabilization gives crisp video quality and great control as controlling the camera becomes part of controlling the drone.
It comes with two variants, one without the controller and one with a remote controller. Both can be operated with a simple app on your smartphone so buying a controller is not necessary but buying one is a great accessory to have as it gives more physical controls and access than the app can provide. The controller also extends its range from 100meters to 1.2miles. It is twice the speed of the old AR.Drone and costs about the same as the AR.Drone, so buying this is probably the best drone choice you can have.
Some early reviews show freezes and crashes causing the drone control a bit problematic but Parrot has addressed those issues and the control once it is flying is phenomenally smooth even with your smartphone as the controller. Bebop retails at $449 and is really one of the most fun drone at that price.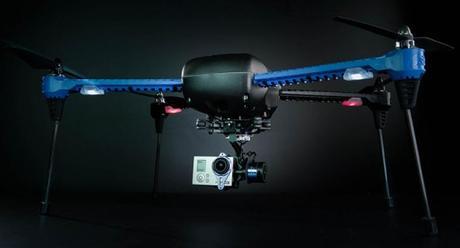 3D Robotics makes one of the most sturdiest drones in the market. With 4 out of 5 stars of Amazon this drone is one of the best rated drones. The drone has multiple flying mode from full manual controls to completely automatically following you when you want it to. The drone might look bulky and wide as it has a really wide body and tall removable carbon fiber legs which makes it a camera friendly drone. These legs can be removed if no camera is attached as it is mainly to protect the camera when it lands. It comes with rechargeable battery and a remote controller which makes it easy to charge and use as soon as you get it, it does not come with a camera built on it but the 3DR IRIS+ is equipped with a GoPro mount to attach any GoPro camera to it.
The 3DR IRIS+ has GPS navigation, handsfree takeoff and landing and even auto leveling to keep it mid-air as and when you want. And it is smart enough to come back home once it goes out of range or is about to run of a juice. In a way it is a lot like the DJI Phantom 3 but half the price and flies a bit faster horizontally. It tops at 40mph(64kmph).
If you are an athlete or want to shoot hands-free the 3DR IRIS+'s smartphone App has a follow me mode which makes the drone follow you. And the faster horizontal speed makes it much more agile. So if you already own a GoPro camera, you should buy this drone without a doubt.
You can find it drone for a really reasonable price of $499. This might not be the most best looking drone but is quite sturdy and makes it quite strong because of its unique design.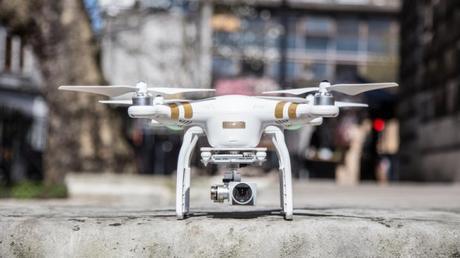 DJI Phantom 3 was the most anticipated drone of 2015, it already is gaining some good amount of praise and appreciation in the drone business and enthusiasts are playing with it around the globe. It currently holds 4.5 stars of 5 on Amazon with more than 100 positive reviews praising its sheer video recording capability and ease of use.
The key reason for its impeccable video recording capability is the stability provided by the 3-axis gimbal attached to the drone which gives the camera the most professional recording mounting position. The Phantom 3 allows live streaming of HD video and simultaneously stores it in the SD card to access and edit it later. Its special vision positioning system makes it safe to fly indoors without damaging the drone as well as your home. The DJI Phantom 3 comes with a battery and rechargeable remote controller to make it easy to use and fly out of the box without the need to buy and install new batteries. And don't worry about low battery or out of range, the drone ha the ability to return to home once it runs out of battery or goes out of range.
The design of the Phantom 3 was the only disappointing aspect as Drone enthusiasts expected it to change from its older generation but after flying it for few hours, opinions of most experts has changed to a positive one because of its new user experience and better quality batteries to make it last longer and charge faster.
If you are new to DJI Phantom Drone, you'll be surprised to know about its features which include GPS navigation, auto take off and landing and built-in database of no fly zones and paired with the powerful mobile app on your smartphone makes it a very safe buy. It not only makes it safe to fly and not worry about crashing and damaging such an expensive drone but also makes it less daunting than other cheaper versions which need a bit of learning curve to begin playing with.
The DJI Phantom 3 can reach a top speed of 35mph(56kmph) when flying horizontally and 13mph(20kmph) when ascending.
This drone is for people who seriously want the best drone and also shoot some epic footage, so the price to value is really good as it retails at $999
And then there is GoPro, who will soon be launching their own Drone called the GoPro Karma Drone
Disclaimer : This post contains affiliate links, which means we'll receive a small commission if you make a purchase using the link(s). Reviews are unbiased and opinions expressed above are our own.