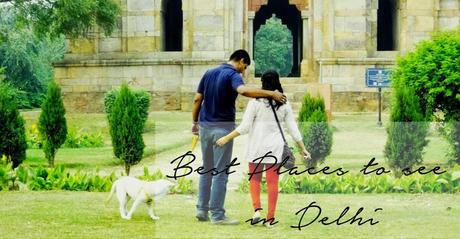 Delhi is truly dazzling. From the very first second the airport door slams shut behind you be prepared to a whole new lush of life popping around. The smell, the lights,
the weather - everything's going to be absolutely different.
Trip tip
:Try to make your way to a small prepaid taxi booth and make it till the end of the queue while numerous drivers will push and twitch you with "Dear, sir, miss, best-driver-cheap-here-gimme-money" pleads. Keep calm, name the exact address, take your ticket, pay and go to the cab with the same number. You are not supposed to pay anything over to the driver personally.

I've stayed in Delhi for 4 days total (2+1+1 due to the problems with rail tickets) and here's the list of places to see in Delhi I liked the most. 
1. Lodi Gardens

A huge green oasis in a rather luxurious neighborhood with middle and upper-class Indians strolling around, enjoying picnics or playing cricket. Grab a roti and enjoy a quiet moment lying on the grass under a palm just watching people pass by. You never know who you may see - a hijrah wondering around for a penny blessing or a young couple on a date, shyly holding hands (which is popular among men here, rather than couples).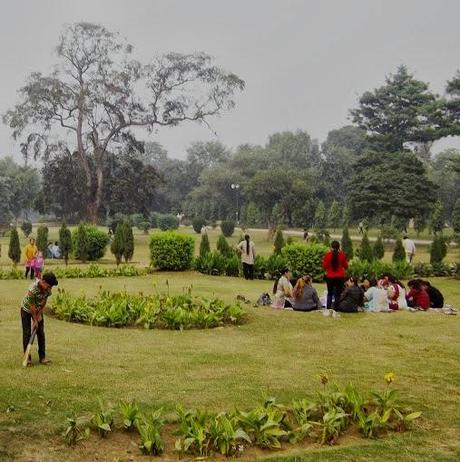 Explore 15th century tombs with all that tiniest details, amazing ceilings and wall decor with parrots climbing around the walls and pigeons nesting on huge domes.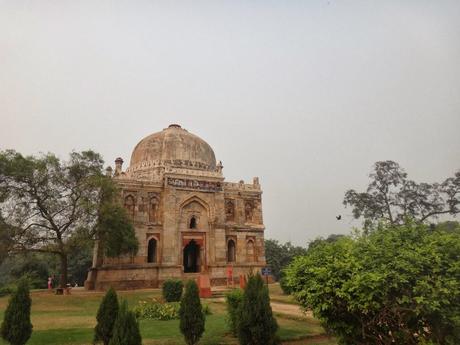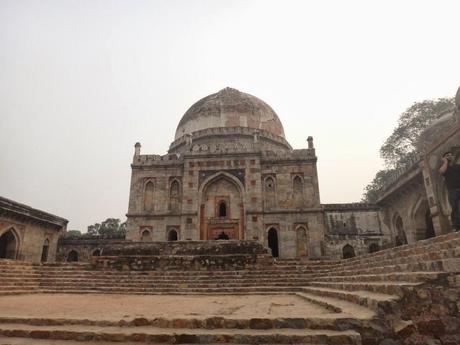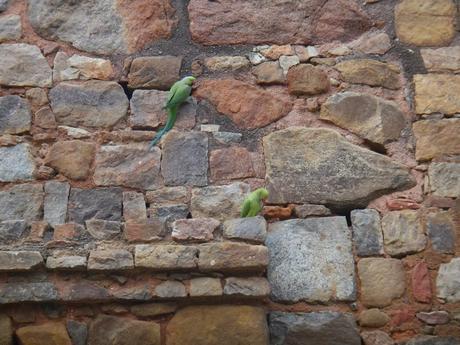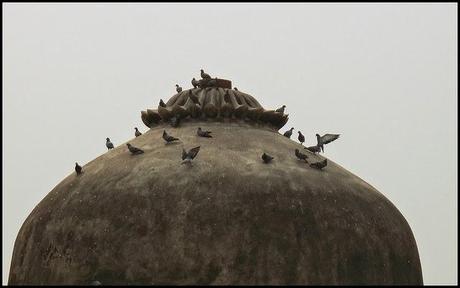 2.Bahai Lotus Temple

The temple is utterly beautiful from the outside - a huge white lotus floating above the city.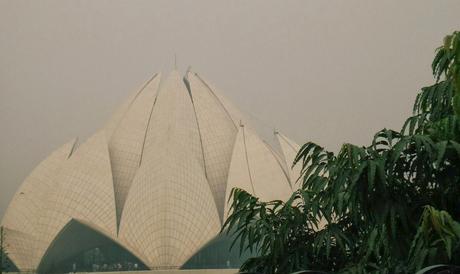 In October mist as I've seen it.
Try getting there weekend morning and you'll see festive dressed Indian girls in vivid saris of all colors. Don't be shy to ask for a pic together! Moreover, you'll be asked to pose a gazillion of times at a fam portrait, with someone's child or teenage boys who'll definitely tell their friends you've hooked up.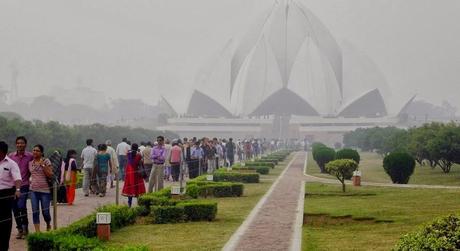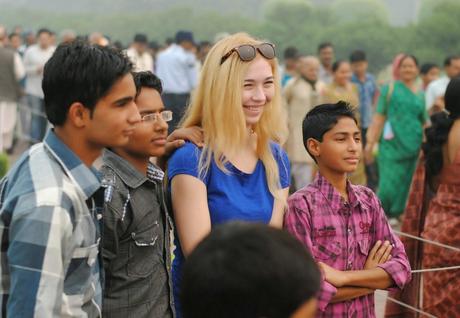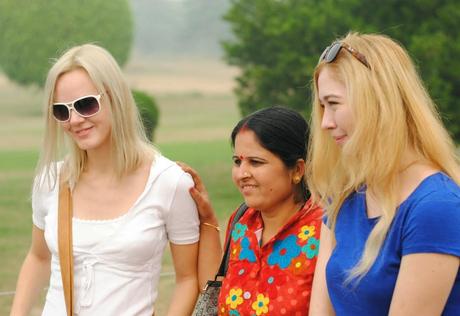 3. Humayuns tomb

Built in early 16th century the complex is pretty spectacular. Like in most tombs there's nothing much inside, but ceiling and wall decors are marvelous. 
The territory around is huge and full of  chipmunks :)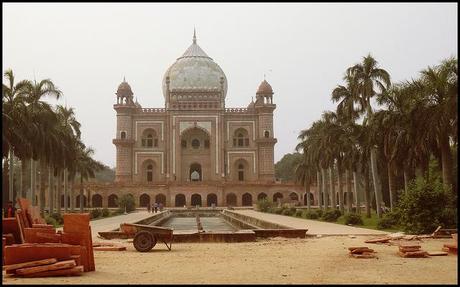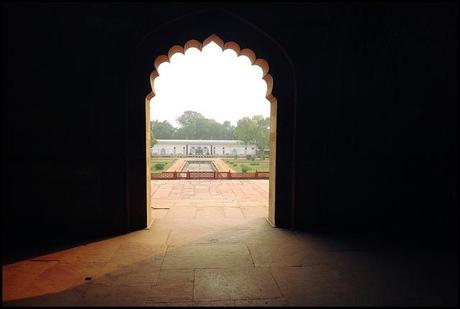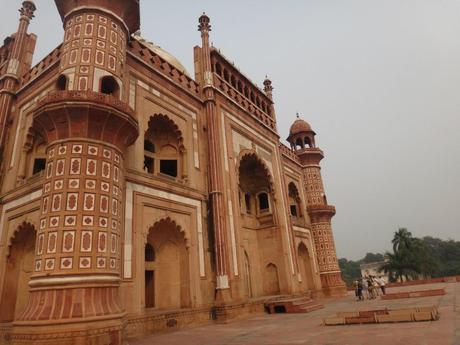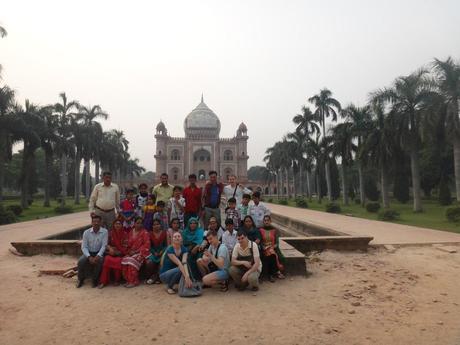 A Fam Photo with guys from Rajastan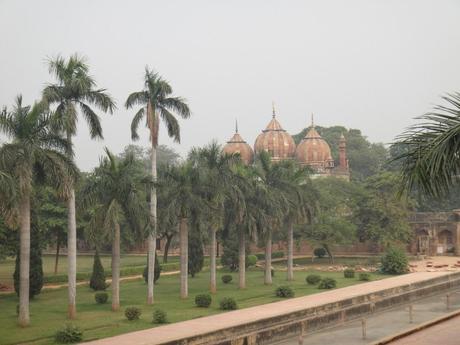 4. Noida Sector.

New Delhi's not all that narrow paths and 2 store buildings. Due to constantly growing population (around 22 million, geez!) there's construction everywhere. Noida Sector is one of the newly built areas with spacious apartments and high-rise buildings.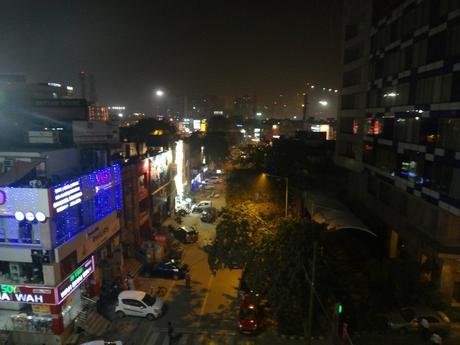 When you feel overwhelmed with all that India around you - escape here and get a shopping day atGreat India Mall. Malls are all same all around the globe. Grab a chicken burger at McDonalds (no hamburgers in this country, sorry), go to your beloved Gap, H&M or whatever. Or choose a few traditional dresses like me for like super cheap. And you can pay in dollars if politely asked.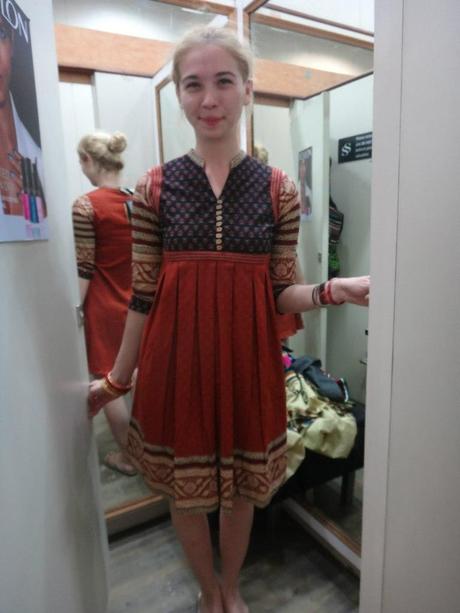 5. The Tibetan Refugee Colony
Delhi gave shelter to quite a lot Tibetans who managed to flee from the prosecutions, providing them with free area to dwell on the city's outskirts. Getting to the little Tibet is quite long, but it's definitely worth it! As it's probably the only place where you can eat beef :)
Get a plate of yummy momos, a bowl of avocado soup and tea with salty yak milk and avocado cream soup.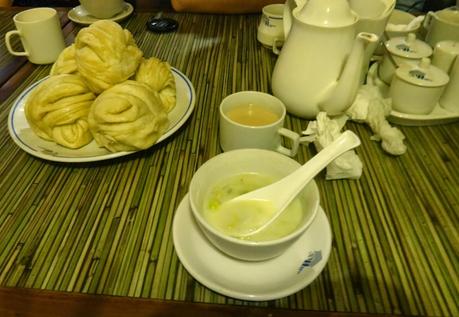 Enjoy colorful flags rustling on wind and check out a few traditional Buddhist temples.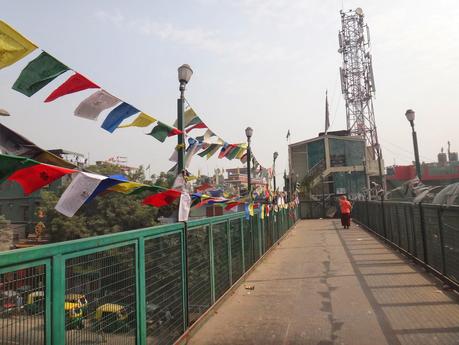 6. The Parliament Quarter
It's a huge territory with not much (if any) people around close to the city center. Finally, you can get a free breath and hardly any attention to your humble persona.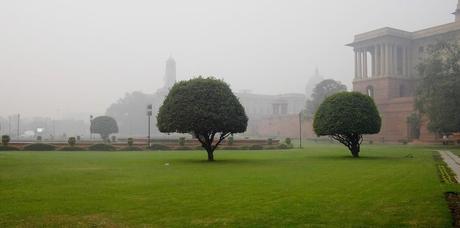 Monumental colonial architecture all around and special parliament monkeys strolling around the roofs.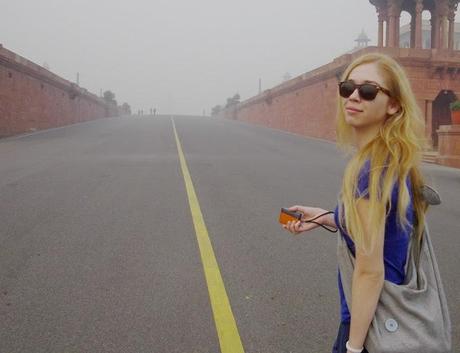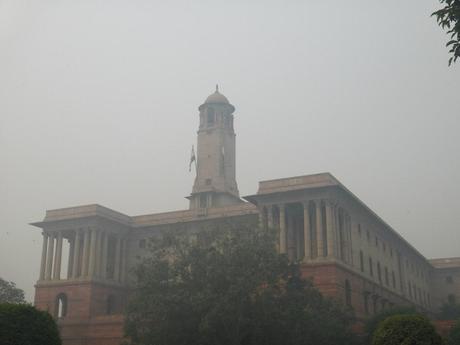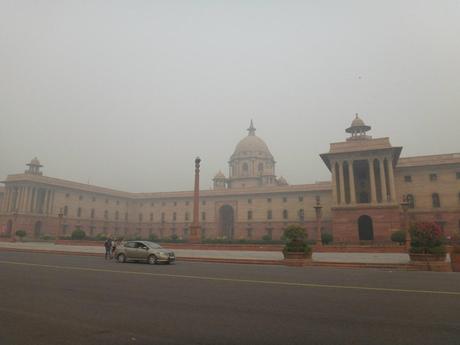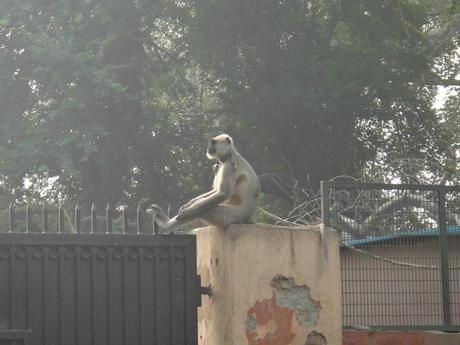 Check out Mr. President Residence with a fancy cut garden and guards marching around. Don't forget to get a must-have pic with the guard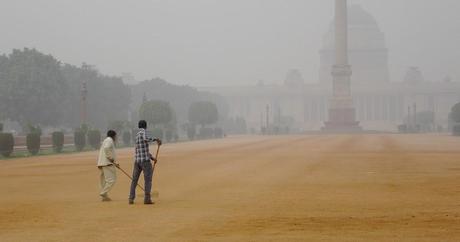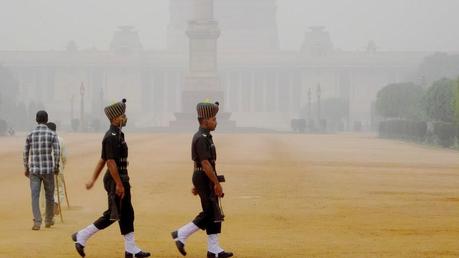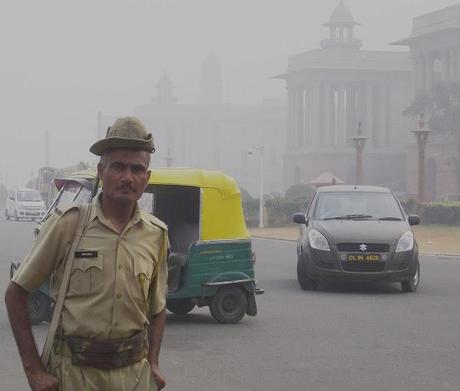 7. The Red Fort.

Gotten quite mixed feelings about this one. There wasn't much I could enjoy with a crowd following my each step and cameras aimed and clicking. First time in my life I thought that wearing a hijab isn't such a bad idea after all...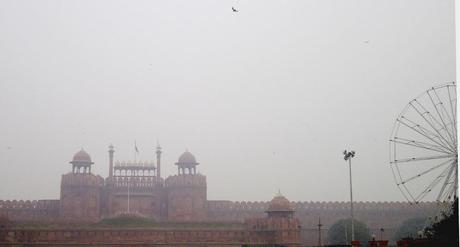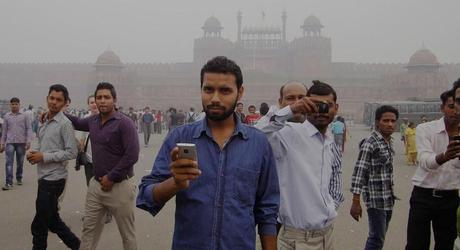 As I found out later, the Indian government has a special free tourist program for rural dwellers to show them around most important sights around the country. And it was the day when such a group arrived to the Red Fort.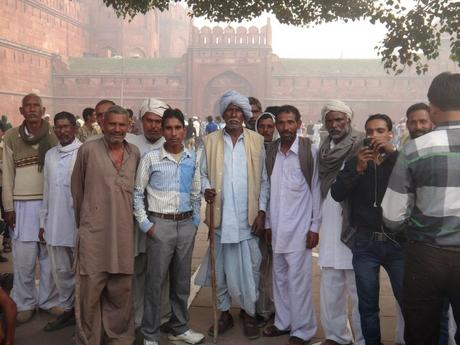 Probably, I became just another attraction of their program - a rare blond, white skinned bird. It was quite uncomfortable to move around with a curious group of 30 discussing each your move, trying to stand next to you to take a pic, demanding for numerous photos or simply staring how you drink, smoke or whatever.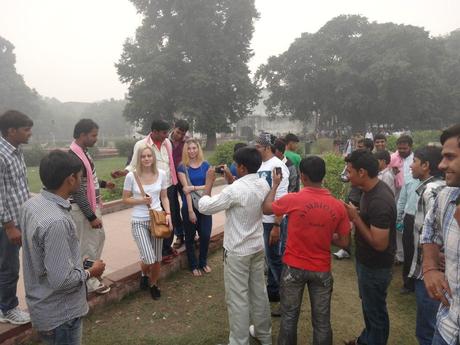 This "Photo, miss" obsession got even harder as we moved across the country.  I'm not a 
striking beauty I'd say, just a typical Slavonic type of girl with dyed hair, dressed rather modest, yet I constantly felt the attention drawn towards me wherever I went.

My friend and I even got a peaceful, all that curious stalker following us all round Kolkata for 2 hours, but that's just another story. 
You either love Delhi, or hate it. No middle options here. But you can't deny, it's a bewitching city after all. What do you think?