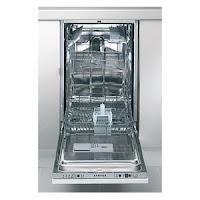 Slimline Dishwashers can be ideal for smaller families and propertieswith space restrictions. I think the Discounted Heating website have afantastic selection of kitchen appliances at really great prices. Below I havecompiled a list of my top 5 slimline dishwashers, taking into account price,quality and style.

Whirlpool Dishwasher ADP 659S Freestanding Silver Dishwasher
Whirlpool dishwashers are of greatquality and this slimline version is no different, pricewise its fantastic andprobably the best value for money on my list, it is triple A rated and offers10 place settings and 5 dishcare programmes, also available in white, it's simplisticfreestanding design offers flexible placing options and is covered with a 1year guarantee.

Stoves 450CDW 45cm Integrated Dishwasher
The Stoves 45cm IntergratedDishwasher offers a beautiful integrated designed that would suit almost any kitchen,pricewise it's the most expensive on my list however its quality shows throughwith its triple A energy rated performance and low noise level among otherfeatures, complete with 5 programmes and 10 place settings this dishwasher isbacked by Stoves with a 1 year parts and labor guarantee and 5 year partsguarantee.

Hotpoint BCI450C 45cm Slimline Fully Integrated Dishwasher
This Dishwasher offers superb valuefor money! Energy rated A, this fully integrated stylish design offerselectronic controls along with a host a features, it's made to a high quality standardand has a very reasonable price tag! Complete with a 1 year guarantee and 5year parts guarantee, this dishwasher is definitely an excellent choice for incorporatinginto a fitted kitchen.

Gorenje Dishwasher GVI5539 Integrated Slimline Dishwasher
Excellent quality and features, thisslimline dishwasher has a minimalistic & modern look incorporating 5 spraylevels and regeneration electronics. Complete with 9 place settings, 5programmes, 4 temperatures and a 2 year guarantee making this dishwasheroverall very good value!  
Bosch SRV43M03GB Exxcel Fully Integrated Black Dishwasher
Finishedin black, this fully integrated dishwasher offers a modern and stylish designwith stainless steel interior and 9 place settings. Energy rated A it's made toa very high standard and incorporated fantastic functions such as antifloodprotection and LED indicators, overall offering outstanding quality for money!
Discounted Heating UK
Price Match and Quality Service
Over A Decade in Business