A blushing bride on her wedding day deserves to look like a beautiful princess. She should be able to tease her husband-to-be as she simply walks down the aisle, letting him know that she is all his from this day forth. She should also make other women envious of her and other men wish that they had not let her pass them by. If you are going to be a bride, your dress should make a statement. It doesn't have to be your grandmother's dress.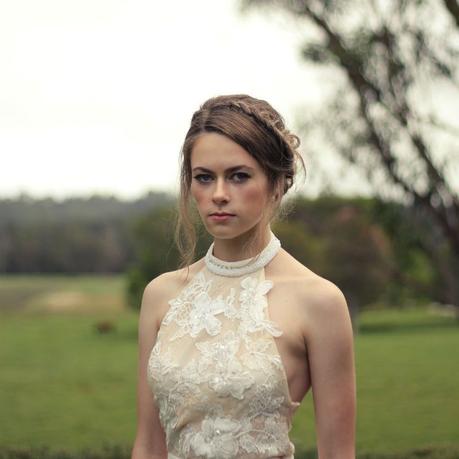 For that reason, we are including the top 5 sexy wedding dresses for you to consider.
A Plunging Sheath Wedding Dress
A sheath dress is designed to be form-fitting. Many of them have spaghetti straps and a plunging neckline that will accentuate your breasts. They can have lace details and delicate pearls on them or be simpler. In the back, you have your choice of low cut back styles. Some may tie with a ribbon and others may remain open. This style of dress billows out into a flowing gown just below the hips to give you a graceful, sexy appeal that will be noticed by all who are there.
The Tulle A-Line Wedding Dress
The A-line wedding dress is a very simple, but beautiful wedding dress for anyone who wants to feel like the most special woman around. One of the things that make this dress beautiful is the delicate lace overlay, which ensures that it is light and flowing. It has a plunging neckline and back to show off your figure and along the sides of the dress, you will find only lace. It could be the perfect dress for an outdoor wedding but also works well in a church setting.
A Halter Dress
For the bride who does not want the flowing train behind her, we have the halter dress. Its style is very simple. You could wear it to a wedding or to a club. It is designed to fit snugly against your curves and the keyhole cutout will keep your groom's attention as you walk down the aisle. If you prefer to leave the keyhole cutout behind, it will still be a dress that will look great on you. It may also have a lace overlay and stones or other adornments around the neckline. You get to chose which one you prefer.
Crepe Wedding Dress
If you love low back wedding dresses and feeling sexy, then you will love this dress. It has lace sleeves that hang off the shoulder, a deep plunging neckline, and a beautifully shaped back that is accented with lace. It is a form-fitting dress that does not feel confining. You can have accents between the breasts and down each arm. It has a good-sized train that works for both indoor weddings and out. It is also good for a variety of different body types.
Lace Romper
For the truly casual wedding ceremony, perhaps on a beach or in your favorite park, you can choose a sexy lace romper, which has been accented with laser cuts. It is a fun, sexy style of wedding dress that can be used even at the reception and the plane as you head off on your honeymoon. It has a halter style top and loose-fitting shorts so that you can simply relax and enjoy being the beautiful bride on your wedding day.
How Sexy Do You Want to Be?
Brides are sexy no matter what they are wearing, but having a beautiful dress on can ensure that you feel truly beautiful. It is a moment that you will cherish in your mind and show off in photos for years to come. When choosing a dress, you should make sure that it is light, flowing, and comfortable. Choose a dress for your body type, but also choose one that is slightly daring because you may be surprised how great you really look in it if you are not afraid to choose "bold and sexy".
**