October I was eating all sorts of cuisines from French, Moroccan, American to name a few. So no surprises my Top 5 Perth Eats are all quite different!
Top 5 Perth Eats
#1 is Chefz Table's hibiscus & mint sorbet.  Full review of Chefz Table coming soon – I was so impressed these guys were able to turn my massive likes and dislikes list into an amazing custom menu matched with wines.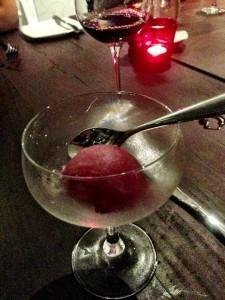 #2 is The Peasant's Table's salmon, it was so silky smooth and a dish I could eat weekly.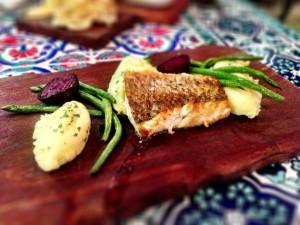 #3 is The Cooking Professor, Riki Kasper's Shak Shuka, I first discovered Riki's amazing Moroccan dish at the Subiaco Farmers Market and was delighted to find it at UnWined 2013.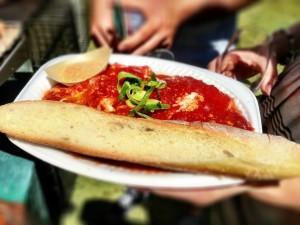 #4 The Old Crow's fried chicken. This completely surprised me, I was expecting deep fried chicken that left me feeling greasy afterwards. This was nothing like it – super tender, tasty and left me wanting more!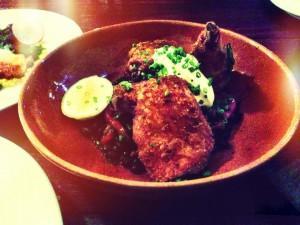 #5 is The Laneway Lounge's caramel custard tart with salted caramel, banana sorbet & chocolate. The perfect dessert to enjoy whilst listening to jazz.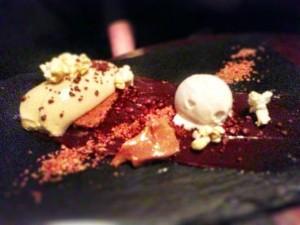 Top 5 Perth foodie news & events
My Top 5 Perth foodie news and events as submitted by Perth businesses in October were:
Unwined Food & Wine Show – we ate way too much, this is where I rediscovered Shak Shuka. My friend Mia was stoked to also win a jar of Riki's Moroccan marinade.
October marked the launch of Christina Pickard's School of Wine 
The West Winds Gin Cocktail Masterclass at Frisk – I was tempted to deliver our crust pizzas personally but I didn't think burger boy's chances of getting me back to the store would be very high after a gin or two…
Beaufort Street Festival Roving Dinners – besides being a fun foodie evening, part proceeds went to the Beaufort Street Network, the not-for-profit organisation behind the Beaufort Street Festival
The West's new 2014 Good Food & Wine Guide – may take awhile to eat through this guide, there's plenty of Perth restaurants reviewed
Events coming up in November
Visit my What's On in Perth guide to keep up to date with new Perth events as they are added and see all the details:
Sat 9/11 Hullabaloo in the Village in Cottesloe – this looked really cool and if I wasn't at Eat Drink Blog 2013 I'd be there
Tue 12/11 Five Little Creatures event at The George – beers and bites matching!
Thu 14/11 Beer Degustation at The Aviary – what a great way to celebrate Beer Week!
Wed 20/11 Yelp Perth's Hollywood Boulevard Party – if the last Garden Party at Perth City Farm was anything to go by Laura Dew sure knows how to throw a party plus it's free!
Fri 22/11 until Sun 24/11 Margaret River Gourmet Escape – burger boy can't make it this year but 6 foodie craving readers has won tickets to the Gourmet Village