Fitness apps are the big rage with the number of people looking to keep fit despite their fitness schedules. Fortunately for us, developers have worked hard to provide is with top apps for your smartphone. It does not matter what your fitness goal is, there is an app that can help you in your goals. Some of them have a repository of exercises that you can do, some keep count of the calories you consume through the day while others keep a check on your heart rate.
Top Fitness Apps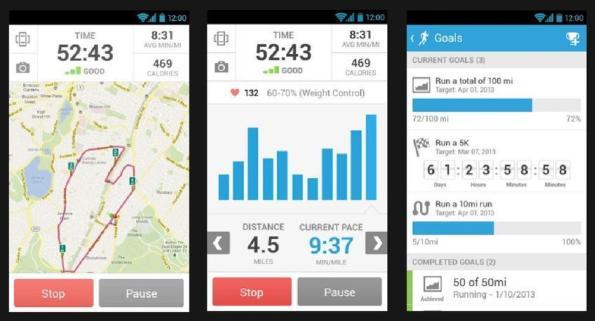 RunKeeper is an app that makes your daily jogs easier to manage. It tackles the fundamental issues a runner has to face in his daily routine. It makes use of your phone's GPS to provide you important and useful information on how to chart your run. Apart from that it offers functionality to set up run goals. For example setting up a goal of X-miles, and the app will let you know how much closer you are getting to your goal. Using this app, you would also be able to see your historical improvement in your running over a period of time.
Along with all the above features, you can also find the basic information such as calories burnt, time lapse, distance covered running and your pace. All this makes the RunKeeper app among the best fitness apps out there for you.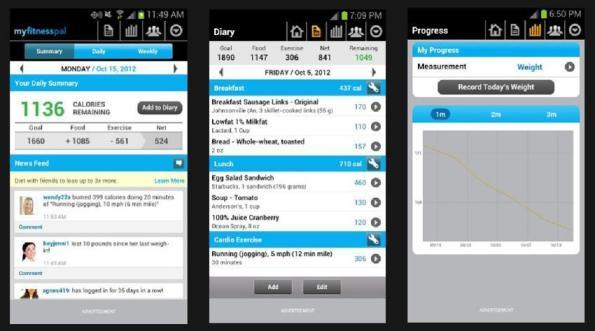 Admit it, fit or not, you would like to keep a tab on your calories. The main problem we face is that we are unaware of the number of calories in the food we eat, if we eat a portion of Turkey – we don't know how many calories to attribute. This is why My Fitness Pal is a great fitness app which comes with a huge database containing almost all food items that one can consume with the calories associated with it. You can also find the calories associated to brand products, for example if you had Lay's Salted Chips or Doritos, both of them would have different calories in them. So you can select which one exactly and add those to your calorie consumption list.
Easily, one of the easiest and most powerful calorie consumption tracking app for your smartphone. Apart from this, you can set calorie goals for each day and depending on what you have had, MyFitnessPal app tells you how much more calories you can consume for the day. An amazing app which you should try for your fitness goals.
Fitocracy adds a big level of gamification to fitness. Make it fun and motivating to use. Often people, lose motivation once they begin working on their fitness goals. Fitocracy ensures that you stay inspired and focused on your goals. Using Fitocracy, you can unlock achievement, challenge your friends and a lot more. They have a preset number of milestones, which you can unlock as you move onto a better and fitter you over time.
If you are gym rat, then a routine is probably key to your accomplishments. Using Fitocracy, you can save your routines and make additions or revisions as you go along. Get the ability to customize your routine depending on the day and a lot more. If you have no clue what routine to make, Fitocracy has made routines which you can use. Simply, an amazing app to use.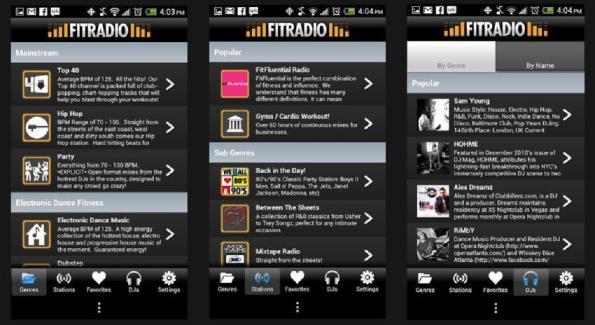 A personal favorite, FitRadio is all about the magic right music does for your fitness and motivation. Dull songs can signal the end of motivation and totally play spoil sport to a great day of workout. With FitRadio app, you can be assured the best music you can get that will amp up your workout intensity.
They have a huge number of playlists and remixes by DJs that will keep you going and your heart rate up. You can mark the songs you especially love as your favorite and go back to them anytime. This app signals the end of pesky adjustments on your mp3 gear or i-pod to get the right music for your mood.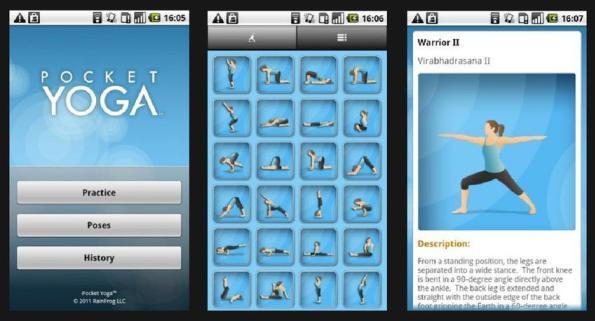 For those who are less sweat and more meditation, then Pocket Yoga serves as a great fitness app. Yoga can be expensive if you go to a trainer. And you need to do it every day to really reap the benefits which it has to offer. Hence, Pocket Yoga makes your life easy by offering all Yoga poses in good detail. You can look up at the movements and do it exactly as the app describes it. It contains advanced poses for those, who are looking at leveling up their Yoga routines.
These are a list of top fitness apps that you can try out. A few other popular one's include Google Now, Zombie's, Run and Nike Training Club. Let me know the one's which you use below.