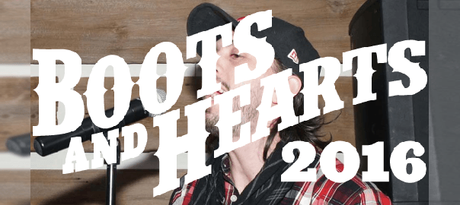 Awesome, Blake Shelton, Boots and Hearts, Cam, country music, Diamond Rio, Dierks Bentley, Karaoke, Sam Hunt, Tim McGraw Entertainment, Music
It's no secret that I love to sing karaoke with my friends and whatever strangers show up at the bar. It's also no secret that I have a soft spot for country music karaoke... I've sung a lot of it over the years. So, I thought I'd share my pics for the Top 5 karaoke songs by Boots & Hearts 2016 artists.
Ready? Let's go!
Tim McGraw - Live Like You Were Dying
I've sung a lot of Tim McGraw at karaoke over the last 15 years or so... but this really wasn't a difficult choice to make. Live Like You Were Dying is a huge song full of emotion - and if you can hold that note at the end of the song (you know the one) then you can go back to your chair and your beer feeling like you've done it some justice!
Blake Shelton - Playboys Of The Southwestern World
There are some great Blake Shelton songs out there to sing, but this one has a special place in my heart. One of my best friend in Ottawa and I used to take turns singing this song and dedicating it to each other. I won't tell you why, but it always made us smile. If you know it, sing along!
Dierks Bentley - What Was I Thinkin'
Yes, this song came out 2003... but it's still my go to Dierks song when I'm in the mood. There's just something about the energy and story and a little white tank top that makes me want to hold a beer in one hand and the microphone in the other. Also, on some level we can all relate to what Dierks is going through in this song!
Sam Hunt - Take Your Time
It's new, and it's not traditional, and I love it. When I first sang Take Your Time at karaoke there were only 3 people in the bar that knew the song... including me. But now that Sam has a little more love outside of the country radio community there are more and more heads nodding and people singing along to the parts they know!
Cam - Burning House
Now, I need to admit that I haven't sung this at karaoke yet, but I really really really want to. Burning House is a huge song that drips with emotion and I sing it in the shower all the time. Now I just need to find the right mood and the right crowd to bust it out when my turn comes up at my local karaoke show!
Bonus: Diamond Rio - Meet In The Middle
I am so excited for Diamond Rio to come to Boots & Hearts 2016 that I couldn't help but find a way to include them in this post. I grew up listening to Meet In The Middle on Country 105 in Peterborough, and I have taken a turn to sing it at karaoke before. It's a sweet song and it's a modern classic as far as I'm concerned!
Now I want to know what your go to country karaoke songs are - leave a comment here or on Facebook to tell me - and maybe I'll try them too!