For anyone new to winter sports and snowboarding in particular it can get quite expensive getting all the equipment and gear needed to indulge your winter pastime. A great snowboard is no small purchase, and whether you're dedicated to the sport or just enjoy the occasional snowy slope with friends, you'll want a great snowboard bag to protect your investment. There is the gear that you wear and the snowboard and related equipment. As the cost of buying this stuff can mount up it is natural to want to buy only the gear that is necessary. The snowboard bag might fit into this category as it does not seem to be an essential piece of equipment. This article will examine if you need a snowboard bag and what to look for if you plan to buy one. If I were to tell you how many people have damaged their precious board simply because of poor handling and storage, you would think twice about not using this handy bag. Some have accidently dropped it, others have scratched or abraded it against rough surfaces, while there are some who lost the board because it slipped or fell off without them knowing. First up, if you are buying a new snowboard there is a chance that you can get a deal on a free bag. This might be more appropriate at the end of the snowboard season or even the beginning.
A snowboard bag will also protect the board from rough handling and potential scratching or denting of the leading edges. To come up with this list, I paid attention to the essential aspects. These included the size, capacity, design, material, portability, durability, effectiveness, and affordability.
If you decide that you want a bag then you will be struck be the wide variety of choices available. There are bags and covers. Snowboard covers are lightweight and aimed at protecting the board from surface scratches. They are cheaper than bags and ideal for storing a snowboard or when you don't have to transport the board far. Snowboard bags come in all shapes and styles. Many bags are designed to carry more than one snowboard. They also have space for other gear to be stored in the bag. You can choose the snowboard bag which can be worn like a backpack, or you can choose one that has straps with which to carry it about. Another important feature to look for in your snowboard bag is that it is durable and built to last and can withstand the elements as well as rough handling, and that straps can easily bear the weight of the snowboard.

Keep your gear protected during travel and storage with the Dakine Low Roller 165. The Low Roller is fully padded to protect your boards and features an exterior boot pocket so you can pack your boots in there as well and not have to carry an extra bag. A full length two way zipper makes it quick and easy for you to access your gear. The high quality urethane wheels and dual end carry handles make it easy to transport the Low Roller. The Low Roller Bag from Dakine comes in at the middle to high price point. It's on the larger side and can hold two boards, one pair of boots and has room for outer wear. The size is 9″ high and 22″ wide with a choice of length. This bag is best for people that travel a lot and like to go on extended snow holidays due to the strong construction and extra room.

Founded in Hawaii in 1979 and located at the base of Mt. Hood in Hood River, Oregon, Dakine builds backpacks, travel bags, accessories, outerwear and clothing for people who love to surf, snowboard, skateboard, mountain bike, ski, windsurf, kiteboard and travel. It has an exterior made up of a nylon mix designed to withstand a lot of punishment. This is the perfect bag if you're traveling with a companion. Its nine inches in height and 20 inches wide. It can hold up to two snowboards at once. There is even a lifetime warranty that comes along with it. This covers any manufacturer errors that may cause the bag to break.
3. Burton Wheelie Board Case Snowboard Bag

 It is made up of  a combination of thinner and thicker materials 600D and 1200D polyesters so you get extra protection where needed but the bag isn't super heavy.  A Burton snowboard bag features a large interior. It allows you to carry up to three snowboards. Wheels are the main feature of this snowboard bag. It has two wheels located at the bottom of the bag. These give you an easier time traveling between terminals. Burton Wheelie's snowboard bag also has a removable padded shoulder strap.
4. High Sierra Snowboard Sleeve & Boot Bag Combo

High Sierra has been one of the most reliable brands since it opened in 1987. This snowboard sleeve is made from 600D polyester that is tear resistant and water resistant and includes an additional water resistant coating, making it perfect for rough and snowy terrain or airplane travel.  This model comes with a small boot bag that has the same features as the main nag. It also has tough webbing grab handles that are resistant to breakage. If you don't need to store your boots, use the small boot bag to store your other accessories. 
5. Athalon Fitted Snowboard Bag

Built with the quality and care that Athalon bags are known for, the Fitted Snowboard Bag. This compact snowboard bag is perfect for those traveling by themselves. It can hold one snowboard up to 170cm in length. The metal hardware is reinforced and plated for extra durability. This bag includes ergonomic handles that are rubber coated for a comfortable carrying experience. The full length nylon coil zipper gives you full access to the main compartment and includes locking zipper pulls for extra security. This snowboard bag is available in 7 different stylish patterns that are anything but bland, so you don't have to have a boring snowboard bag.  Constructed of heavy gauge, water repellent polyester with super strong plated metal hardware and heavy duty self-repairing nylon coil zippers with signature locking zipper pulls, the bag is built to last for the long haul. Ergonomic, heavy-duty rubber grip carry handles make it comfortable and easy to tote your board.
6. Thule RoundTrip Snowboard Roller Bag, 165cm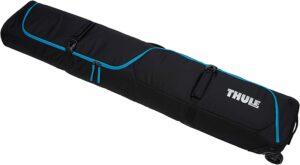 If bags less conducive to your gear-junkie ways have forced you to leave boards and gear at home on past trips, reach for the Thule RoundTrip Double Snowboard Roller the next time you're chasing storms and steeps. Its extra thick padding and water-resistant fabric protect your precious gear from careless baggage handlers, while internal and external compression straps keep your gear and boards secure when you're on the move. It has enough space left over to store your boots inside along with the boards. It features several compartments where you can store your gear while keeping them organized. Heavy-duty rollers and a padded shoulder strap give you a couple of different options on how to put the handle on this big and spacious gear hauler.
7. Winterial Snowboard Bag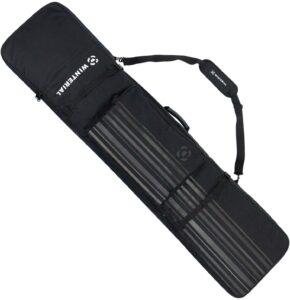 The inside has waterproof lining designed to keep excess snow from your board from escaping to get your car wet! This bag has been designed to carry multiple snowboards while maintaining its durability and structure. Feel free to throw this bag in with all your other gear without the worry of a tear or your board getting damaged. The dimensions are monstrous – 60.5″ x 15″ x 6.5″.
8. Sportube Series 3 Ski Bag

The Sportube Series 3 is an excellent option for you to haul up to three pairs of skis or two snowboards on your next winter vacation. Made from HDPE, this Hard Plastic Shell gives your skis the ultimate in protection against rough airline travel. The Telescoping Design allows you to adjust the length of the Sportube from 107-183cm to accommodate skis of all styles and shapes. A TSA Approved Locking Pin keeps your skis safe and secure. When a padded cloth bag just isn't enough, the hard-shell Sportube is impenetrable.
9. EQ SPORT Fully Padded Snowboard Bag with Wheels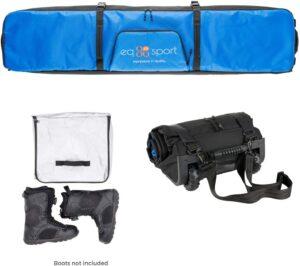 Slide your board (or TWO) in our large snowboard bag and hit the slopes. Hold up to two boards, a pair of boots, helmet, snow pants, jackets, thermals and more. This bag is thickly padded at the base to safeguard your boards from damages. It is durable, convenient to use, and best of all spacious, measuring 62 x 13 x 6 (L x W x D) inches on the interior, enough to hold two boards, a pair of boots, helmet, and your snowboard clothing so that you will have all your gear zipped up inside one bag.
10. DEMON UNITED 2020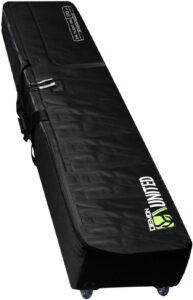 The Demon Flight 2020 Snowboard bag is the ultimate world travel bag. Plenty of room for all your gear and a friends! XL Sized wheels and EASY-ROLL bearing make this a breeze pulling through the airports. Made of thick 1680D, the roomy 65 x 14 x 8 (Lx W x D)-inch bag will carry snowboard gear for two including two snowboards with their bindings, two sets of boots along with other clothing. There are big wheels and 16 inches curb rails that help hold the bag in shape.
11. UNISTRENGH Waterproof 

This makes them resistant to most damage. On the inside, this snowboard bag has a large space with many compartments. This makes sure your board doesn't get water damage. The exterior of the UNISTRENGTH bag has three more compartments. It also has a detachable, padded shoulder strap. This allows for an easier time when carrying it around.
12. Burton Space Sack Snowboard Bag

The Burton Space Sack Board Bag is straightforward and just what you need to take care of travel priority number one — keeping your board intact. A lightweight, durable design that fits multiple boards, this bag comes in a range of sizes to fit decks that are between 129 cm and 181 cm. The removable travel strap offers multiple carrying options. Despite its small size, the Burton space sack is 100 percent polyester, has a multiple board capacity, and features a removable padded shoulder strap. These make it a durable bag that you can carry around with ease.
13. Ride Battery Board Bag

Snag your board and toss it over your shoulders, thanks to the backpack straps on this bag. Keep your wet gear separate, with the outer zipper pocket. The Battery Board Backpack snowboard bag frees up your hands while traveling, making it easier to get out your wallet to pay for a round of drinks at the airport bar.
14. Dakine Women's Board Sleeve Bag

We all have those friends that refuse to get a rack for their car, so we are stuck cramming our gear into the way-too-small trunk like a bunch of puzzle pieces. This board sleeve is a must to keep unnecessary scratches at bay. The print also makes this a killer accessory.
15. BoardBagz Fully Padded Snowboard Bag with Wheels

This wheeled snowboard bag is fully padded and holds multiple boards and gear. With fully padded protection, multiple boards are safe and sound. The padded bag is well constructed with a durable waterproof rip stop polyester. It has multiple decks which are 170 cm long. Use gentle detergent to clean the inside and outside of the bag.  There are handles and shoulder straps that make it easy to roll, carry or haul the bag
Conclusion
A snowboard bag is very important because snowboarding equipment is not cheap.  No one wants to have their valuable equipment ruined because of a poor bag.  So it has to be able to withstand some wear and tear as well as being able to hold enough equipment to completely satisfy the owner.  Because snowboarding is done in the elements- mostly cold and windy- equipment is generally pretty expensive simply because it is made with materials to keep you warm.  A lot of times, these types of materials, like jackets, boots, socks, and other things will be kept in there in addition to the snowboard itself, so you need to make sure to have something to protect all of it.  Better still, you can simply pick any of the listed objects. To come up with this list, I paid attention to the essential aspects. These included the size, capacity, design, material, portability, durability, effectiveness, and affordability.