Racing has been the favorite game of young kids. If you have a kid who is a big racing fanatic, buy a good quality racetrack for him/her so that they can enjoy playing with their cars. A racetrack will enable your kids to play at one place, rather than roaming around all across the floor with their toys. It will also save you from a lot of mess as your child would be glued to one place. These also improve the hand-eye coordination of your kids and allow them to use their creative sides.
Here are the best racetrack toys that will fascinate your kids and give them an amazing toy to play with.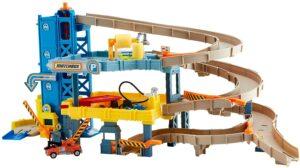 This is a 4 level racing track and features a sturdy set of ramps. Your child can enjoy moving his car through the spiraling ramps and will have loads of fun while playing with this racetrack. It has detachable parts that can be joined to form a beautiful set of ramps. It even includes a mini carwash that has a striking resemblance to the actual one. It has a matchbox tow truck for moving your car across the ground levels. It is perfect for all kids aged 3 and above. Smaller kids should be kept away from this toy as it has tiny parts that can become a choking hazard. The multiple levels add to the fun and there is one gas pump at the ground level. This is a wholesome racing track set and is a perfect toy for your adventurous little ones.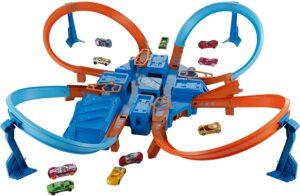 This exclusive hot wheels product is a perfect toy for any kid who wishes to explore his love for cars and automotive. It is compatible with all kinds of hot wheels vehicles and has a crash zone at the end of the ramp. You can have unlimited fun with this toy. It features 4 sets of loops through which the vehicles can pass through at lightning speed. It has all the necessary parts that will enable your child to create a special story. Let your kids have a fun-filled adventure with this amazing racetrack toy. It is easy to store as you can dismantle the set and store it inside a box. The parts have been made from no-toxic phthalate free plastic that can withstand rough usage.
3. Carrera First Disney/Pixar Cars 3 Slot Car Race Track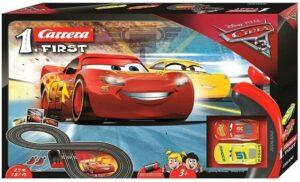 Disney lovers have a reason to cheer.  This Disney/Pixar based toy includes a 3D model of the actual Cars set featured in the Disney film. It has plenty of amazing tracks and loops which are covered with a black tarmac that resembles an actual track. It even has a 2-player mode in which 2 kids can play at a time. The first slot car racing track features exciting accessories like a gas pump, car wash and a tire changing platform. This will keep your kids engaged and will allow them to have lots of fun. The flyover featured in the track has exciting grooves and curves and will definitely make your child happy. 
4. Fisher-price Little People Loops 'n' Swoops Amusement Park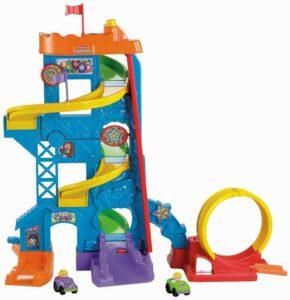 This tiny racetrack has been made for special tiny tots. It is a miniature version of a hot wheels racetrack and has easy to use loops. The function and assembly is simple, so your child won't have to fuss with the assembly. It features a large hoop and a slide through which the cars can slide down to the ground. It is a colorful track and has amazing features o make your child happy. You can attach a mini pool at the floor to create a splash effect when the cars go tumbling down the slides. It requires 2 AA batteries to create sounds and music and is made from non-toxic parts. 
5. USA Toyz Glow Race Track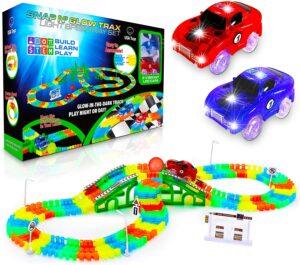 Glow toys are really popular with kids and they love playing with them. This glow racetrack has 2 cars that can light up while running. The track is made up of a series of pieces which are multi-colored and also glow up in the dark. It is perfect for kids aged 4 and above. The cars that you get with the set are durable and can withstand getting thrown around on the floor. It has bright LED lights which will create an amazing visual effect if you play in the dark. The track is totally flexible and is made from kid-safe material. The custom speedways are perfect to test the creative side of your child and they can create their own tracks from scratch.
6. HOMOFY Dinosaur Toys 192 Pieces Race Car Flexible Track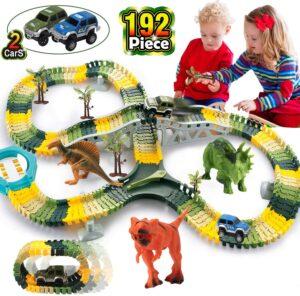 This is a Jurassic Park themed racing track and is built by combining 192 pieces. The pieces are set with the color tones of an actual jungle like scenario. It is ideal for kids aged 3 and above. The track is flexible and has various accessories to complete the forest safari look. There are toy dinosaurs that you can implant within the racetrack to create an amazing look. The extended track has an olive green color and there are gaps in between each piece from where you can pull them apart to dislodge the set. It is easy to store and can be cleaned with water. 
7. Cubic Fun Race Tracks for Car Adventure Toys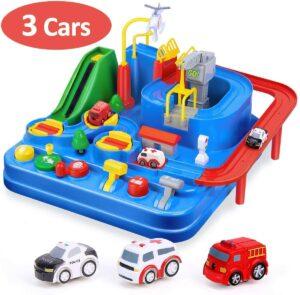 This is a compact and fun toy having a miniature racetrack. It is built for tiny tots and can be used to educate your child. There are 3 cars: a fire-truck, an ambulance and a police car. It will improve the hand-eye coordination of your child and is perfect for pre-school children. The rounded edge design is completely safe for your kids to play with and it also featured a water-splash pool. The slide at the end of the set has a roller at the end that will create a vibrating effect when the car rolls over it. The color combination is really good and can stimulate the color perception of your child. There are 6 buttons in the track that control the movement of the cars on them. 
8. Hot Wheels Monster Trucks Downhill Race & Go Playset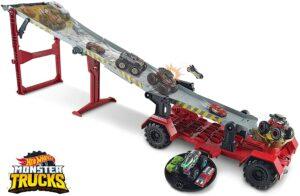 This has been made for slightly older kids and featured a ramp for a monster truck. The truck has 4 giant wheels that glide across the ramp with ease. It is a perfect toy for kids to build their hand-eye coordination. The ramp has been made smooth to provide minimum friction. A frictionless surface ensures that the cars roll down freely and smoothly on its surface. The hot wheels car and monster truck that you get with this racetrack have smooth mechanisms and can roll over with ease. It also features a towing device that can tow your monster truck.
9. iHaha 236 Pieces Construction Tracks Car for Kids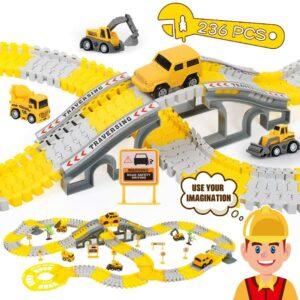 This racetrack is no less than a puzzle set. Make your kid a building master by gifting him this amazing racetrack. It consists of 236 separate pieces that can be joined by pressing them together. It has a yellow, white and gray color theme that has been designed to resemble an actual construction site. Your kids will love playing with the racetrack after building it from scratch. Let their imagination run wild by allowing them to create a custom racetrack of their choice. It is ideal for 3 or 4 year old kids and features a car and an excavator. The track is flexible and won't break under pressure. It is safe for kids to play with. 
10. Ontel Magic Tracks Xtreme Race Car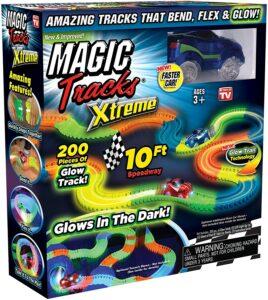 There are thousands of things that you can do with this toy. It is a perfect gift for your young ones and allows them to get as creative as possible. This is a glow-in-the-dark toy and features a 10 feet long racing track that is flexible. It can easily bear the weight of the cars and has an innovative design. The track can be built by joining the pieces together. It can be washed after each play and you can store it in a box. It has many loops and slides and you can play with anything of your choice. 
11. Top Bright Toddler Toys Race Track Car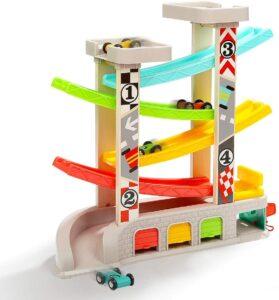 This is a colorful track having all the lovable features of an actual racing track. It has a set of crisscross tracks that have a level like mechanism. When you let go of a car from one end, it bears down on the other tracks and they all align in the required direction to let the car reach the bottom. It is a fun toy to play with and is gravity based, so you can even educate your child about gravitational force. It features a realistic parking lot and a gas station. 
12. Simplay3 Carry and Go Durable Track Table for Toy Cars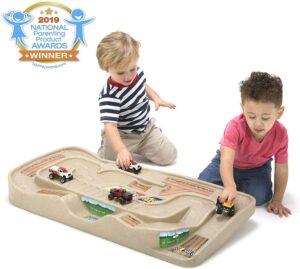 This is the simplest track available in the market yet has amazing features packed into it. There are toy cars and trucks that you get with this set. It has many slides and each of those slides has a unique path. You can make your below 3 year kid to play with this as well as it contains no detachable parts that they might choke on. It is great for outdoor play too. 
13. Hot Wheels Super Speed Blast way Track Set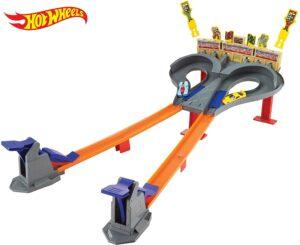 Hot wheels is known for its quality products and this exclusive track is a proof of that. It has been built from high quality, non-toxic plastic that has non-ingestible parts. It can be used with any hot wheels vehicle and has a two-player mode of playing. You can race along with your friends and embark on an adventurous journey. It has a checkered flag at the end that is motion activated and will pop out when you reach the finishing line.  
14. KKONES Dinosaur Toys Race Flexible Track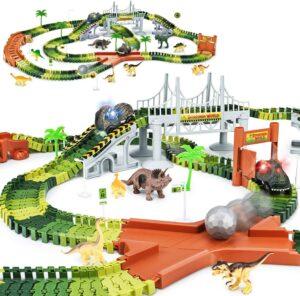 Dinosaurs seem to fascinate kids a lot. This is the reason why most of the toy manufacturers base their products on the Jurassic Park theme. This product contains 273 pieces that can be joined to form one solid track. It has a green color theme and includes various accessories as well. There is a ball, tree and tires that will become a part of your adventure and will allow you to weave a story out of your imagination. There are LED lights in the track that add a beautiful effect at night. 
15. Hot Wheels Car and Mega Track Pack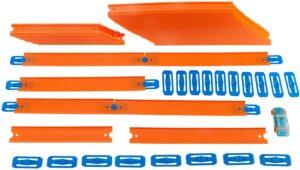 This is a versatile and amazing track pack that includes 6 pieces of tracks. It can be interconnected with the help of the clips provided in the box. The tracks have different lengths and are compatible with most of the hot wheels cars. It has a durable body that can be washed with water. The material is non-toxic and cannot be ingested by little kids.
So these were the best racetrack toys that you can buy online for your kids. They are easy to play with and will make their play-time super fun and enjoyable.