Meditation is the best for mind, health and body. It helps to calm down and provides us relief from stress. It has a soothing effect on our body. Meditation, if done regularly, can help us keep a perfect interaction between our mind and body and this provides us with a healthy body. Although there are many ways to perform the meditation but, the meditation chairs are specially designed for this purpose. To get the best meditation chair, we need to consider some things. It should provide a proper back support, should be eco-friendly, the material used for making it  and something which makes it comfortable for regular use. There are several other things too that we should consider while getting a perfect meditation chair for us. The meditation chair provides relief from back pain and supply a more comfortable seat. They try to make our meditation practice more comfortable so that our energy can only be focused on breathe and positive mindfulness. Here is the list of the best meditation chairs for you to meditate on.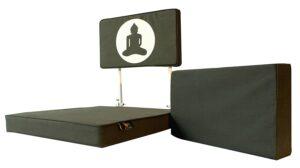 This amazing product designed by Swami Dhyan Unmesh is one of the most selling meditation chairs in the market. This chair is well known for facilitating yoga alongside meditation with efficiency. This product is fully foldable and comes with a carry bag which makes it very handy to carry around. The seat size of the product is 20*18*3 inch. The makers of the product are so confident about their innovation that they provide a warranty of 7 years. It is well cushioned and allows the person to sit back on it and relax up and down.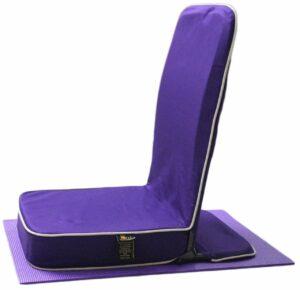 Coming next on the list, we have the Friends of Meditation Relaxing Chair with the dimension of 59*14*39 inch. This chair comes in a pre-assembled state and does not require much efforts for assembling it. It is light weight meditation chair. It weighs around 2kg and is much easy to carry anywhere. It comes with the facility of getting folded easily. The seat size of this meditation chair consist of 14*4 inches. It is purple in color and is made out of high quality cotton fabric. It's one of the best product's available within the price range of 2000-3000.
3. Friends of Meditation Back Jack Meditation Chair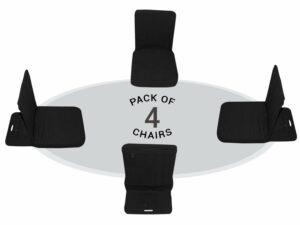 This wonderful meditation chair is currently used in Osho International Resort in Pune. The product has a dimension of 62*50*46 cm with a seat size of 18*18*3 inch which makes it one of the most comfortable meditation chair in the market. It is one most prominent design adapted by Dhyan Unmesh. The meditation chair comes in a pre-assembled state which definitely makes it easier for use. The maroon color makes it more attractive with some more advantages like having a cut for stacking at locker or having a pocket for keeping mobile phones or keys. This amazing product is provided with a 7 year warranty period.
4. Halonix, Folding Meditation/Yoga/Relaxing Chair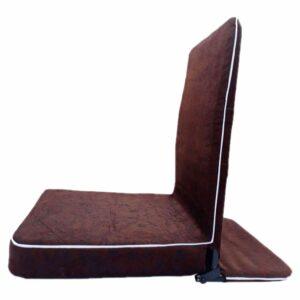 This meditation chair is toping at 4th in our list and is designed with an idea to make meditation camps and satsangs more comfortable. The Brahmakumaris, International Organization is using these meditation chairs for Rajyoga Meditation since last 40 years. This yoga chair provides a comfortable sitting for a long time and it is even popular among students for providing them comfort while they are studying, painting or doing anything apart from this. This foldable meditation or yoga or dhyan chair is delivered in a pre-assembled state with a comfortable seat size of 19*17*3 inch. The amazing beneficial meditation chair has a gross weight of just 1.5kg making it suitable to carry everywhere.
5. TipTop Meditation Chairs/Yoga Chairs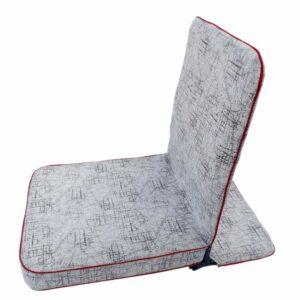 Toping to the 5th position of our list is the TipTop meditation or yoga chairs. It's a foldable meditation chair which comes with the dimension of 73.7*35.6*53.3 cm made with cotton fabric of high quality. This pre-assembled chair provides ease while doing meditation or yoga. This is also favourable for sitting long hours while watching television, reading books, painting or so on. The seat size of this comfortable chair is 19*17*3 inch with the weight of just 1.4kg making it most suitable for carrying it anywhere we want. This meditation chair has 3 inch 40 density feather foam with 7 years warranty period.
6. Urban Buddha Lotus Meditation Chair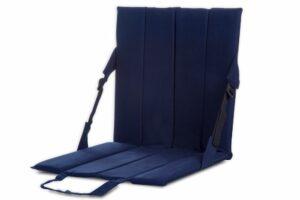 The Lotus brand combines utility and the comfort in an ultra-compact form factor that makes it an ideal product for meditation camps and outings. It is the lightest and most portable product without compromises on basic comfort and ease. It is a high density duraflex foam product with an unique folding design and an adjustable back support. This meditation chair promises to have the premium upholstery. The product has 2 separate dimensions of 17*8*2 inches while it is folded and 17*17*13.5 inches while it is opened. This meditation chair is apt for traveling purpose as it weighs only 500 grams.
7. Friends of Meditation ® Extra Large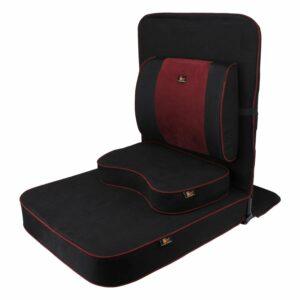 Coming back to this amazing brand developed by Swami Dhyan Unmesh, this meditation and yoga chair is rated number 1 by Wiki Ezvid (USA) under 10 Best Meditation Cushion 2016. This wonderful chair comes with a complimentary bag and can be easily folded. It fits everyone with below 6 feet 2 inches and has a seat size of 24*22 inch. Compared to other meditation chairs, this relaxing Buddha meditation and yoga chair weighs 5.20kg, making it a little heavier. The company delivers a 7-year warranty period and is much helpful to people with back pain and it makes sure to avoid numbness in legs while sitting in cross leg posture.
8. rion 7 Sunshine Medi-Buddy Meditation Chair With Bairagon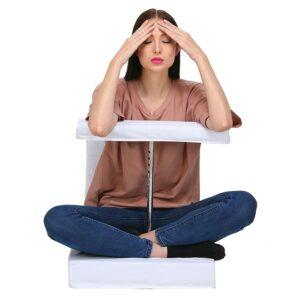 The Orion 7 presents its great creation Sunshine MEDI-BUDDY Meditation Floor Chair with Bairagon for elbow or arm rest. This Bairagon is used to listen to the sound currents according to the techniques taught by the Masters. The Bairagon is fully detachable and is very easy to adjust for once according to the height of the user. This chair's actual color is navy blue and it comes with complementary white covers which are washable and made of pure cotton. It comes with a very comfortable of 40 density foam with the seat size of 23*20*3 inch. It provides a great back support for sitting straight and focused.
9. Orion 7 Medi-Buddy Meditation Floor Chair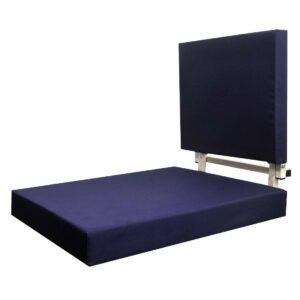 Moving further on our list, we have Orion 7 Medi- Buddy again with a bigger and more comfortable seat size of 23*20*3 inch. It is a great companion for meditation during long hours. The meditation chair comes with an extremely comfortable 40 density imported foam which gives a great back support. The brand provides the meditation chair along with a carry bag which makes it portable. It is made to be the best buddy for meditation. The multipurpose meditation chair can also be used for outdoor purposes too. It has soft cushions attached to it.
10. Blissage Quiet Fiesta Light Weight Meditation Chair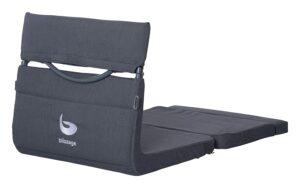 Completing the 10th number of our list, we have Blissage Quiet Fiesta Light Weight Meditation chair. It has a pretty dark blue color with unique properties of seat ergonomics specially developed for meditation in cross legged posture. It has the construction of the metal frame inside the molded foam with dual layered ankle cushion providing a long time comfort. It is made up of high quality cotton fabric and is very compact. It weighs around 2kgs and is comfortable to carry anywhere. The meditation chair comes with 2 different seat sizes of 14*17.5*22 inch while it is opened and 17.5*9.5*5 inch when folded. 
11. Blissage Quiet Fiesta Light Weight Traveling Portable Floor Meditation Chair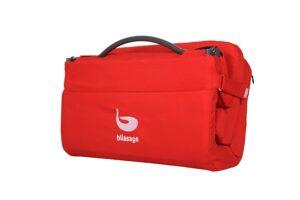 Listing up next with Blissage again, we have an affordable meditation chair with the price ranges between 2500 to 3000. The brand's unique properties of seat ergonomics developed for cross legged posture remains the same. It ensures premium quality molded foam with dual layered ankle foams for providing lasting comfort. It is extremely light weight of only 2.2kgs promising to be compact and portable so that it can be easily carried along with us. The product also provides back pockets to hold diary, mobiles, keys etc. The meditation chair promises to maintain an orthodox back posture effortlessly.
12. Urban Buddha.in Lotus Meditation Chair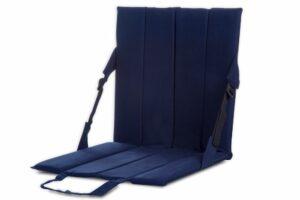 As we know, Lotus combines utility and comfort that makes it an ideal product for meditation camps and outings. This meditation chair is the lightest and most portable product without compromises on basic comforts. We can adjust the back and even pull the straps from the sides. Pulling the straps makes the angle straighter and if we loosen, it slips backward. The meditation chair is amazingly designed to hold up the weights up to 110+ kgs. The product has a dimension of 33*43.2*43.2 cm and comes with an affordable price of 1200.
13. JSB BS64 Meditation Yoga Seat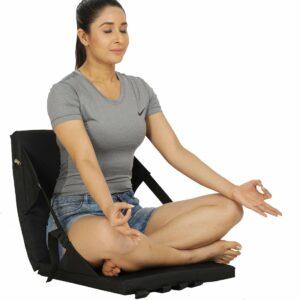 Moving on next with our list, we have the JSB BS64 Meditation Yoga set which comes within the price range of 2000. It provides comfort for sitting long hours providing a firm support to our back. This yoga seat is easily foldable and is travel friendly. The covers provided along with it are easily removable and washable. The product dimension turns to be 16*12*8 cm. It can easily be used in the garden, home, yoga center or anywhere else.
14. Dhyan Viaan Meditation Floor Chair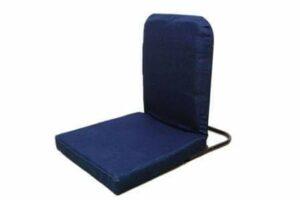 The Dhyan Viaan Meditation chair is the first in India to export meditation char in U.S.A and Canada. The meditation chair has an amazing qualities of fitting into any room and is even eye catching product. It can be used for meditation, watching television, relaxing in it or using it for office purposes too. The pre-assembled floor chair has extra soft cushion support and provides comfort to the back. It's extra under feet cushion support helps to avoid ankle twist and foot pain. It comes with the capacity of 18*18 inches.
15. Karigari Home Decor Meditation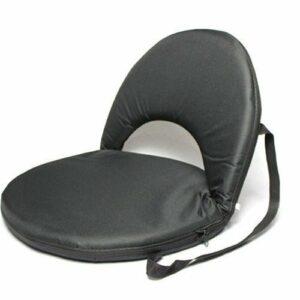 Ending up the list with our last suggestion for best meditation chair available, we have the Karigari brand providing us with 5 step folding posture requirement. It can easily satisfy all our posture requirements, the biggest being the 180 degree posture. It has an adjustable back rest and can fold flat easily for storage. The meditation chair comes with a durable steel frame with cushioned polyester seat and a zipper which can be easily washed. It provides relief from sitting in one single position during meditation. It is black in color and is round in shape.
So, here we are ending up with suggesting15 best meditation chairs available in India. Each being unique with their own qualities and benefits, the meditation chair provides relief to us and is great for maintaining a good posture while practicing meditation and yoga. It can be used indoors or outdoors while we are watching television or doing other sitting works.